June 13, 2022
950 SMC Grads Celebrate at Grad Walk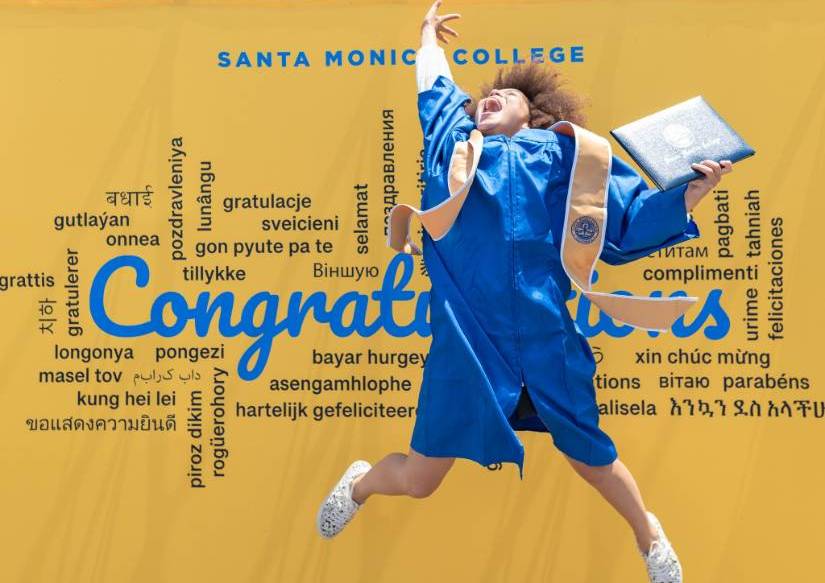 Santa Monica College Holds Grad Walk, 950 Graduates Celebrate with Families and Friends
SANTA MONICA, CA—The Santa Monica skies overhead may have shown traces of June gloom, but there was zero gloom at Santa Monica College's Bundy Campus on Saturday, June 11. Cars decorated with balloons and colorful signs—"UCLA Bound!" and "I am so proud of you. Love, Mom," among others—filed into the campus's parking lot at pre-assigned times all day long. These cars were filled with Santa Monica College (SMC) graduates, most accompanied by family members and friends.
Joyous cries and cheers, photos at SMC booths, personal greetings and congratulations from college leaders including Superintendent/President Dr. Kathryn E. Jeffery, and members of the SMC Board of Trustees, gift bags and customized diploma cases—these were a few things that marked SMC's second annual Grad Walk, an in-person event held prior to the virtual commencement which will be held online on Thursday, June 16. Nearly 185 volunteers, college employees, helped make the all-day event possible, while SMC's Associated Students sponsored regalia for all participating graduates. Approximately 950 graduates took part in the June 11 Grad Walk. This is the second consecutive year SMC held this in-person event, an opportunity for graduates to safely celebrate while observing the college's COVID-19 safety protocols.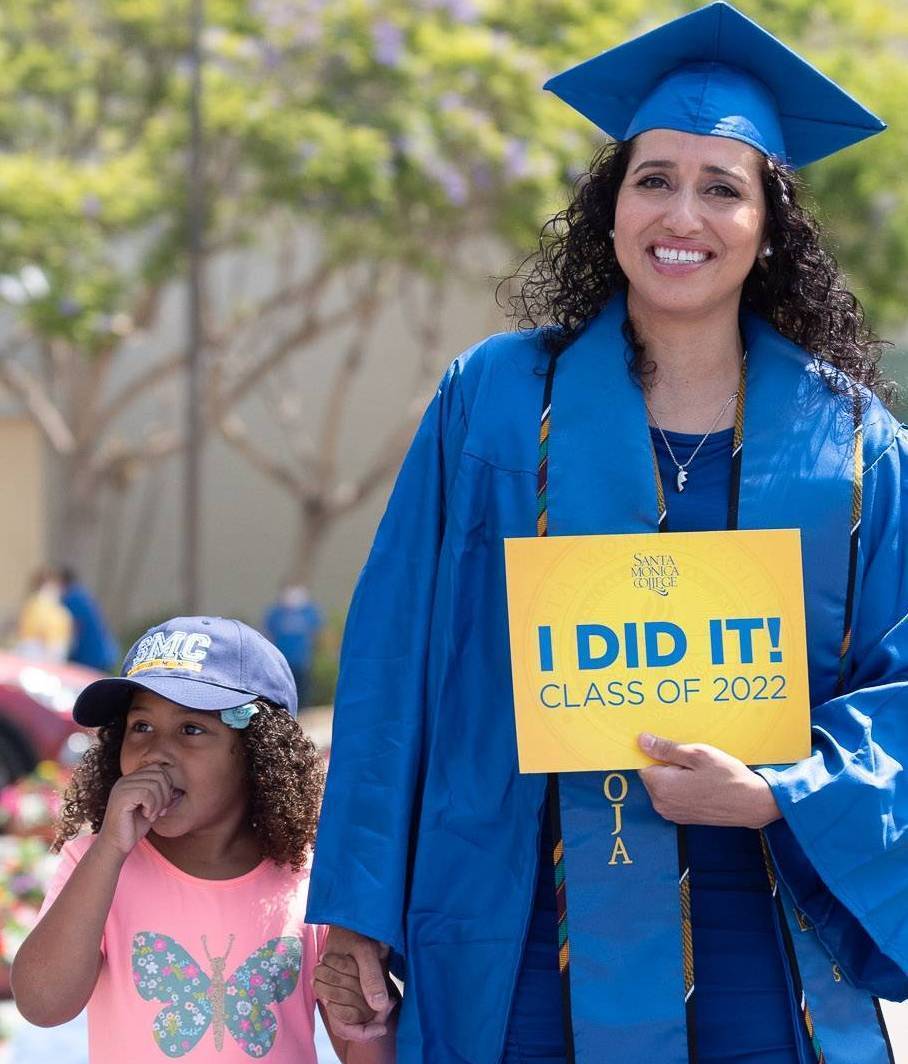 Khadija Backrien—who overcame crushing circumstances including losing a son to gun violence, substance abuse, and who survived several abusive relationships—was present with one of her daughters. "I have been emotional all week," Backrien said. "It is a dream come true." She pointed to a tiny silver locket that hung from a necklace, which holds a portion of her son William's ashes (he died of a gunshot wound at the age of 14 in an unsolved crime). "I am trying my hardest for him—to live my best life since he didn't get a chance. I am thinking of him, celebrating him and everything I have been through—I know he is looking down and he's proud of me today."
She is transferring to Cal State Dominguez Hills, and dreams of owning a small business and launching a gun-violence education nonprofit to honor her late son.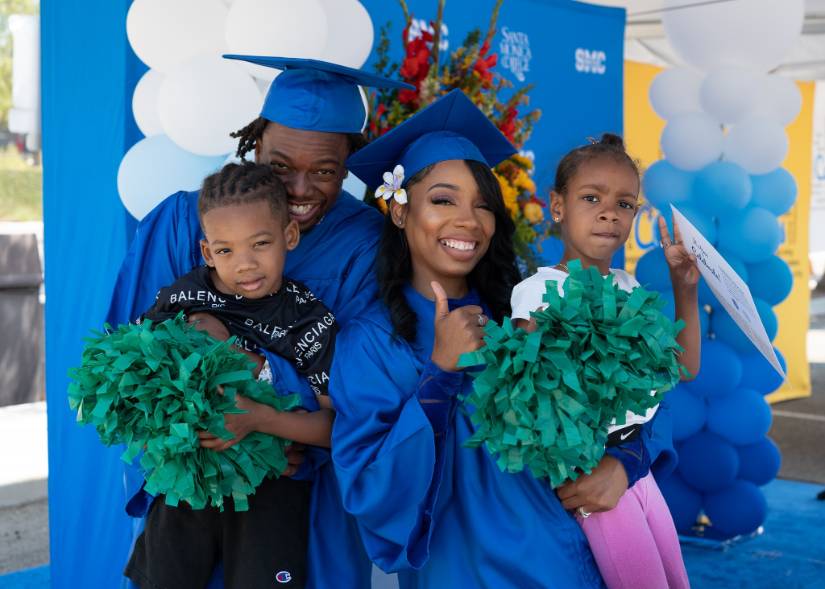 Aaron Bell and Arion Bell—husband and wife—were present with their children, both graduating this year. Arion, who dreams of owning her own salon, completed a degree in Cosmetology while juggling caring for kids—this was her third attempt at college. "Third time's the charm!" she said.
Aaron explained that they'd met in high school, and after Arion told him about SMC's online offerings, he enrolled and is graduating this spring with a Business Management degree. Looking at his children, he said, "Right out of high school, life put me on a different path—but eight years later, here I am with my kids and my lovely wife. Today is a dream and I get to live it with her."
Jose Alejandro Ramirez had a large group with him—"Mama Bear" (his words), a friend, sister and brother-in-law, cousins, nephews. Graduating with three Associate degrees, in business, economics, and liberal arts, Ramirez is transferring to Cal State Northridge to "keep moving forward." This is a watershed moment for him, as he explains: "I was impacted by the judicial system since I was a young kid—I got released from an institution in Venice and applied to Santa Monica College since it was local. I have been here for two years, and I changed my life. The SMC RISING Program, counselors Patti del Valle, Nick Bravo, and others, they helped me. I took a major step here—I am grateful for where I came from and where I am today. [The future is] uncharted territory, but I know things are going to get better, for me and my family."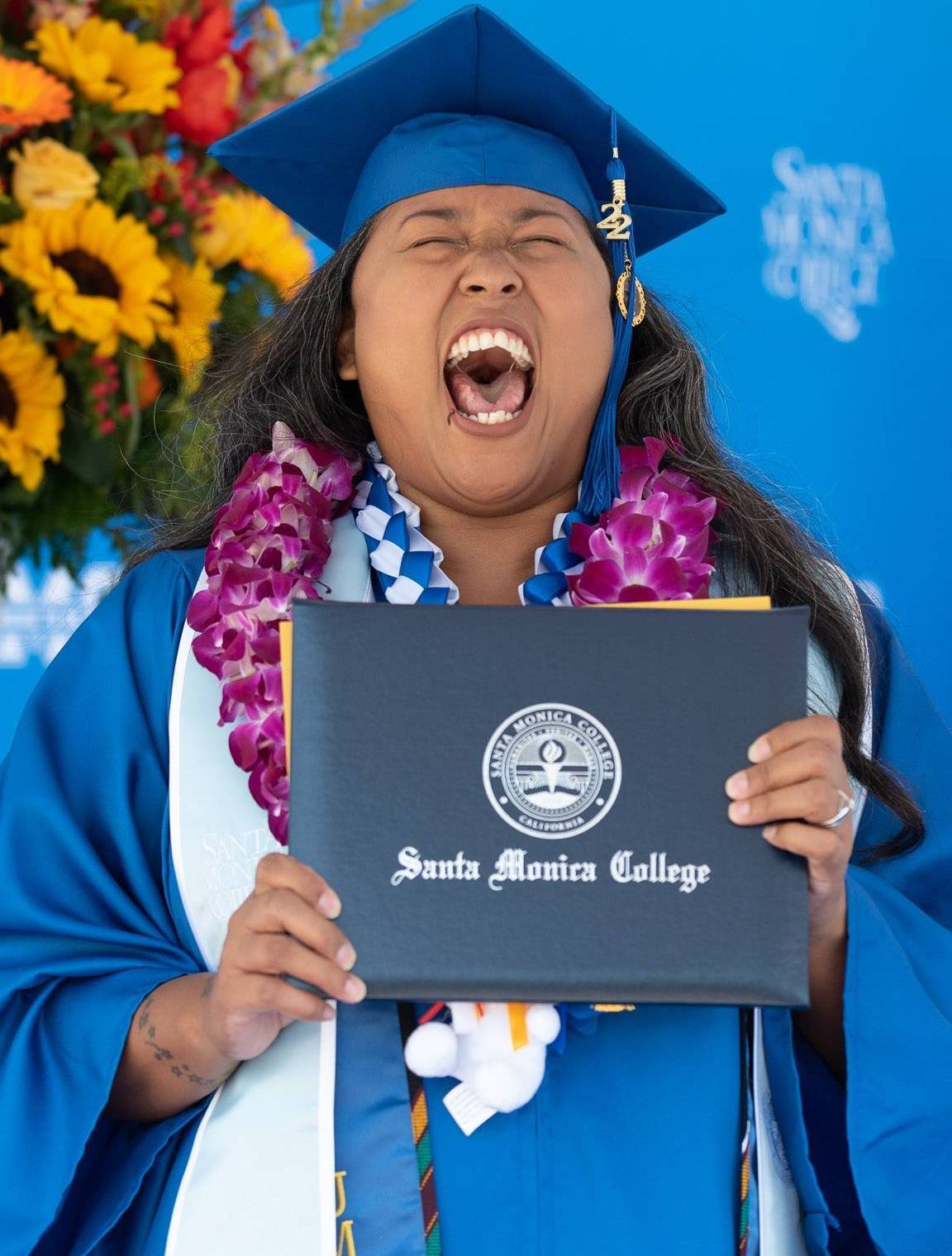 Lilian Guzman, who in addition to a colorful garland, wore a sash featuring the trademark stripes and logo of SMC's Latino Center/Adelante Program, has a creative marketing internship lined up at Disney ABC thanks to SMC's Promo Pathway Program. "Today means that I made it," Guzman said. "And as a Latina, a Mexican-American, it means I beat the system that was meant to oppress me. It feels great!"
The all-day event was several months in the planning, stated Esau Tovar, SMC's Dean of Enrollment Services. "It is absolutely amazing," he said, as he flagged incoming cars towards designated lanes, "there is no one here who won't say that graduation is the top event at SMC. This is the culminating experience. Hearing all this cheering, you cannot help getting a little misty-eyed and emotional."
This year, a total of 7,952 degrees and certificates will be awarded to 5,215 students. The youngest graduate is 16 years old and graduates with an Associate in Arts for Transfer (Political Science). The oldest graduate is 98 and graduates with an Associate in Arts for Transfer (Business Administration).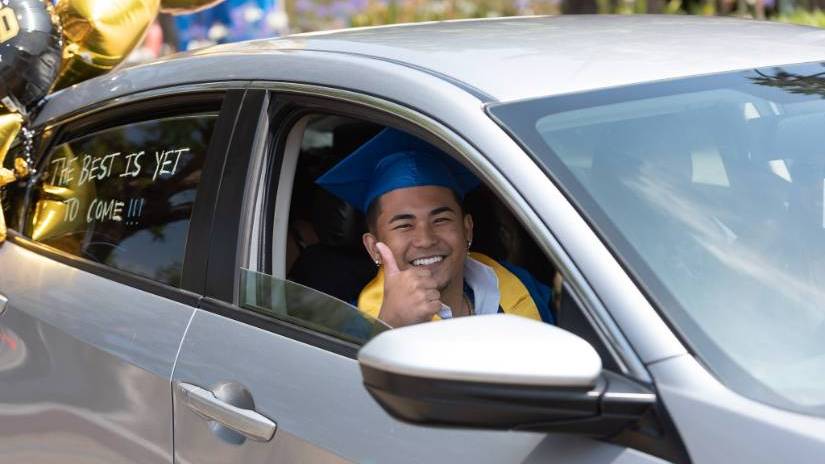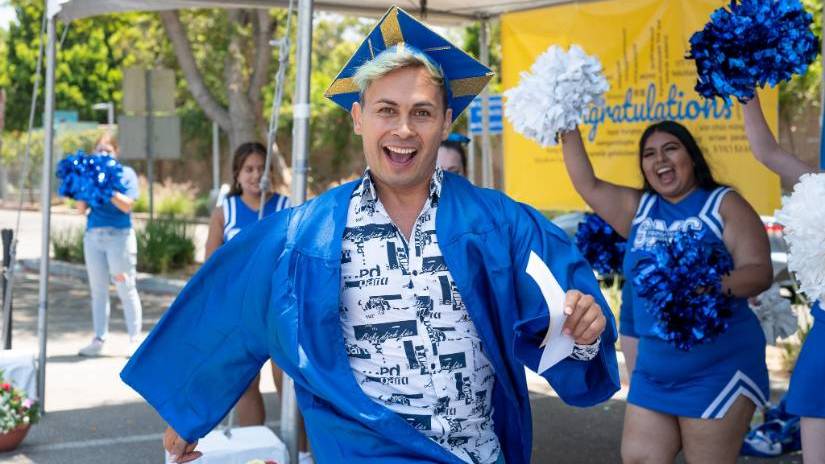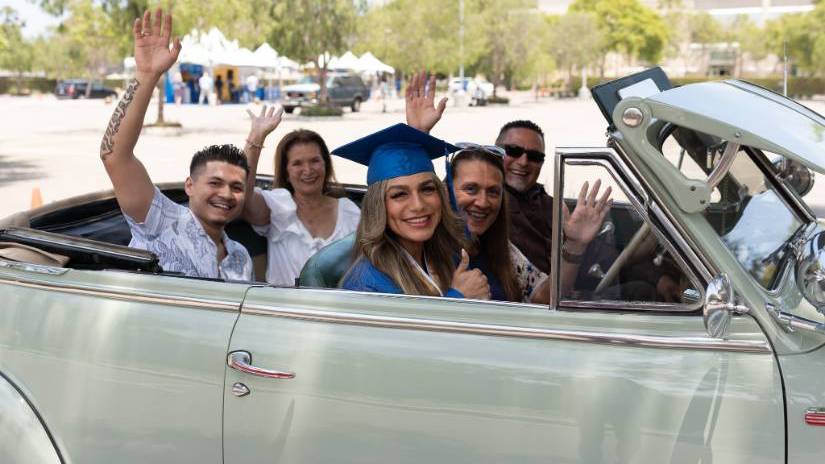 For more information about SMC's commencement festivities, visit smc.edu/graduation.
# # # #