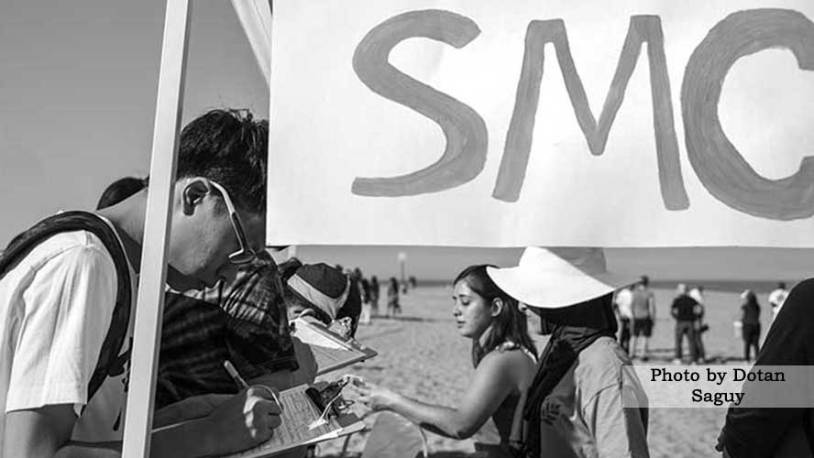 • Mark Tomasic believes in the power of dance to transform lives and is an expert in physically integrated dance – part of the disability culture movement which celebrates the first-person disability experience as a social phenomenon through artistic means, dance, in this case. This summer, the Cleveland-based Dancing Wheels Company – the nation's first physically integrated dance company – commissioned the SMC dance professor to create a new choreography. The piece titled "Going Up", commemorates the twenty-fifth anniversary of the Americans with Disabilities Act and premiered at the Allen Theatre in Cleveland. Read the preview!
• Interim Associate Dean of Student Life Nancy Grass is pleased to announce that she has been appointed to the Advisory Board of the National LGBT Museum project. The museum will be opening in NYC in June, 2019 to mark the 50th anniversary of the Stonewall Riots that catapulted the LGBT movement to the front pages.
• Network administrator Ish Shabazz designed a journaling app for the iPhone and iPad called "My Daily Journal" – and it is doing more good than he ever imagined. It made Healthline's list of "Best Alcoholism Recovery Apps of 2015," selected by editors based on quality, usability and contribution to the community. Click here to see the full list.
• SMC not only talks the talk, but walks the walk of sustainability! Ferris Kawar, Director of Sustainability, is proud to announce that SMC students participated in the world's largest day of service to help rid our beaches of debris. 516 volunteers collected 295 pounds of trash and recyclables at SMC's adopted beach site which spans from Tower 20 near Pico Boulevard to the pier. The annual event organized by SMC's Center for Environmental and Urban Studies and supported by dozens of professors and student clubs made a big impact!
• "Thousand Skies" is the name of a solo exhibit on view in Culver City's George Billis gallery. The artist is adjunct art professor Adam Harrison. The show runs from September 12-October 24 and displays Harrison's large-scale cityscape paintings of West Los Angeles.
• The diavolo was at Santa Monica College! Dance professor Jae Lee is proud to share that a company member from the highly acclaimed LA-based dance company Diavolo Dance Theatre was in residence from September 28-October 3 at SMC. Funded by Jae's Chair of Excellence award, SMC dance students had the opportunity to learn from a world-class professional. A major piece from Diavolo's repertoire, Bench, will be performed by SMC's modern dance ensemble Synapse Dance Theater at the Broad Stage on November 6 and 8.
• Painter, Guggenheim fellow and SMC Art professor Marc Trujillo received a wave of publicity – in China. The New Weekly magazine and the news website Sina.com featured Trujillo and his work. Closer to home, one of Marc's paintings was also featured on the cover of the fall issue of the "Catamaran Literary Reader", a literary and visual arts magazine.
• Martha Romano, Senior Student Services Specialist in SMC's Veterans Success Center, was proud to help organize and host the Veterans "Welcome back" event for Fall 2015. The event was sponsored by the American Legion Post 283 Pacific Palisades, on September 24.
• Mario Garcia, adjunct English professor, is pleased to share that an article he wrote, titled "Literary Narrative as a Cognitive Structure in the Brain," has been accepted for publication in the forthcoming edition of the journal "Narrative Inquiry". The paper describes the likely neural basis of fiction.
• Trustee Susan Aminoff is the proud co-author of "Autobiography Matters: Themes of our Lives" published by USC Figueroa Press. The book is now available on Amazon.com.
• Gary Gray was tickled to be part of Big Bird's entourage at a Make-a-Wish event – where (of course) Big Bird was the "wish." The SMC performance accompanist played the piano for his friend, who sang children's songs while Big Bird took a few breaks. Make-A-Wish grants the wishes of children diagnosed with life-threatening medical conditions.
• College students graduate during an economic crisis…and they decide to move to Venice, California to start their lives. This is the premise of Venice Beach the Musical which will run from November 18-21 at the Greenway Court Theater in Los Angeles. English professor Mario Padilla wrote the music and lyrics to thirty songs in the musical. Don't miss it!
• SMC on the red carpet at the Emmys! In the form of adjunct film professor Roxanne Captor, that is. A former Emmy-nominated director/producer, Captor attended both the Emmy Red Carpet and HBO after party.
• English professor Carol Davis had a poem featured on the website www.americanlifeinpoetry.org in August. This is a free online column run by U.S. Poet Laureate Ted Kooser that boasts a readership of over three million, and is distributed electronically to 70 countries around the world.
• Gordon Dossett, English Professor and Chair of the Global Council gave a presentation called "The Global Citizenship Initiative at Santa Monica College" at the Creating the Global Experience Conference, held at West Los Angeles College.
IT'S KIND OF PERSONAL!
• A very first grandson equals bragging rights! Lisa Rose, longtime SMC employee and Board Coordinator is proud to announce Sean Riley Harrold, born July 10 to her daughter Heather, an SMC alum.
• Martin Goldstein, adjunct Communications professor, is pleased to report his son's accomplishments! Benjamin Goldstein – SAMOHI, SMC and UC Berkeley alum – just became a dean at Los Angeles Trade Technical College and was also honored at the Interstate Renewable Energy's Council for his distinguished work in energy efficiency.