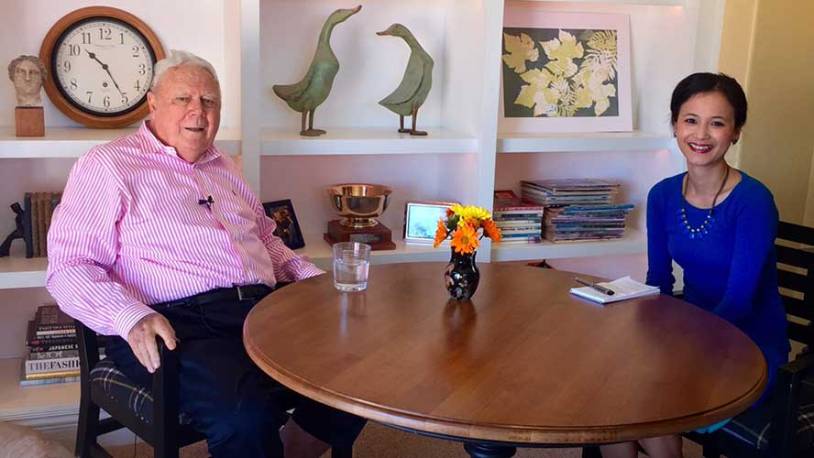 Two decades – and two more presidents – have come and gone since. And yet, the name "Richard Moore" is as good a conversation starter as you may ever have at Santa Monica College. The "Reading Hour" (when employees were required to drop what they were doing and read something, anything); Spanish language lessons piped into the restrooms for linguistic enlightenment; and a penchant for brightly painted buildings – these are a few favorite Richard Moore memories.
But to remember just these conversation-worthy tidbits is akin to saying that Jackson Pollock liked to drip paint on a canvas and forgetting that he is arguably one of the greatest artists of the 20th century. The word "visionary" comes up often in reference to Dr. Richard Moore, and even that word misses the point. From 1974 to 1994, this strategic planner set forth on an unflagging goal to provide educational opportunity to as many as possible and to put SMC on the map as the best community college in America.
"Working during the Dr. Moore years was an incredible adventure," reflects Brenda Benson, Senior Administrative Dean for Counseling and Student Wellness. "He walked a fine line between genius and madness but the genius always won! He encouraged us to take risks – I think the entrepreneurial spirit we are known for today stems back to the Dr. Moore days."
From the very beginning, Dr. Moore's plan was to push unceasingly for growth and excellence. In response to Proposition 13, he lobbied for (and was instrumental in) the passage of the "free-flow" bill. This allowed students to attend community college outside their district boundaries and changed the landscape for all community colleges, not just SMC.
"That was a revolution we started," recalls Dr. Moore. After finding out through a study that students who transferred to UCLA from SMC did better than all the other students, Dr. Moore set out to build a guaranteed transfer program.
"We said, 'let's build on our strengths,'" he recalls. "We really might become a powerhouse in transfer. So I picked 20 faculty members, and I asked Jeff Shimizu to be a counselor for that program." "That program" was SMC's Scholars, which celebrated its 30th anniversary this year. SMC was the first community college to get this Transfer Alliance Program with UCLA, guaranteeing students' admission if they met certain qualifications. Today, it is the most robust program of its kind in the state. And to call SMC a powerhouse in transfer is an understatement.
Dr. Moore set up SMC's first personnel and business services offices and added a new role for SMC – to provide for those seeking career advancement through programs such as the Career Center, the erstwhile SEEK and the Women's College. He founded SMC's Emeritus for older adults: a national model which turned 40 this year.
He also encouraged new traditions – from SMC's NPR station KCRW to the former College of Design, Art and Architecture which has produced many distinguished artists like Mark Bradford and became a model for today's Arts Mentor program.
"We're going to be the best radio station in America," Dr. Moore recalls, of a conversation between him and Ruth (Hirschman) Seymour, whom he hired as KCRW's General Manager in 1978. Seymour went on to develop KCRW's signature mix of music, news and spoken-word programming that established its reputation as a standard-bearer in public radio.
Dr. Moore also enjoyed walking the campus – a ritual that was both strategic and practical.
"So, I would go to the cafeteria, get a coffee, then take it down to the Women's College," said Dr. Moore. "I would sit there for a half hour. If you want to attack the Women's College – take me on! I wanted [my support] to be visible."
Former trustee and retired Vice President of Student Services Herb Roney recalls another aspect of these "campus walks."
"If he asked you to walk the campus…which way you walked determined whether the outcome would be good or bad," said Herb. Word had it that those taken on a "clockwise" walk of campus would have good news coming – a promotion, a new assignment – and those taken in the opposite direction were faced with less positive outcomes.
Herb also recalls the "dynamic ideas of change" Dr. Moore would bring to weekly senior staff meetings.
"He wanted growth, he wanted the college to be exceptional, and he wanted communication between us and faculty," Herb said. "He demanded excellence and he wanted it quickly– he wanted students to have the very best education here, so the College grew from around 9,000 to beyond double."
Dr. Moore's flair for the dynamic extended also to the beginning-of-semester gatherings, a.k.a. "Flex Day."
"We would open with Randy Lawson playing classical piano," recalls Dr. Moore. "Then, off we went, featuring programs and staff!" One of Dr. Moore's favorite memories is of how he introduced the then newly hired faculty member Tommie Smith, the former Olympic gold medalist known for his symbolic "human rights" salute at the 1968 Summer Olympic Games in Mexico City.
"I loved 'Chariots of Fire'," said Dr. Moore. "So I played the theme music from 'Chariots of Fire' and had Tommie come on stage. I was not against a little drama!"
Drama aside, no article about Richard Moore would be complete without recalling his commitment to diversity. His concern that SMC serve underrepresented minority students and make it accessible to all led to the creation of Black Collegians and the Adelante program (Black Collegians celebrated its 25th anniversary this year). And SMC's transfer success story includes sending more African-American and Latino students to the University of California system than any other college.
"What is the biggest lesson I learned from Dr. Moore?" says Interim SMC President Jeff Shimizu. "Don't be afraid to step out of the box and shake things up."
Today, dozens of distinctive programs and the singularly SMC "Never say Never" spirit point to the impact of the president who earned the nationally-bestowed title of "transformational leader".
English professor and novelist Jim Krusoe writes about an open house that Dr. Moore and his wife Susan (an SMC counselor) threw for faculty at their house.
It was a beautiful, sunny afternoon and scores of faculty and their spouses milled about indoors and outside. Computers were relatively new then, graphic programs as well, but somehow Richard had gotten hold of a flight simulator game, the first I'd ever seen. It was there and then, with dozens of people wanting to speak with him, that he pulled me aside to take ten minutes to demonstrate exactly how it worked.

"See," he said, his expression completely alive with pleasure as I squinted skeptically at the screen, "isn't it great?"

I still don't know if it was great or not, but my point is that Richard lived in a world where greatness was possible, and as often as not, he made it so.