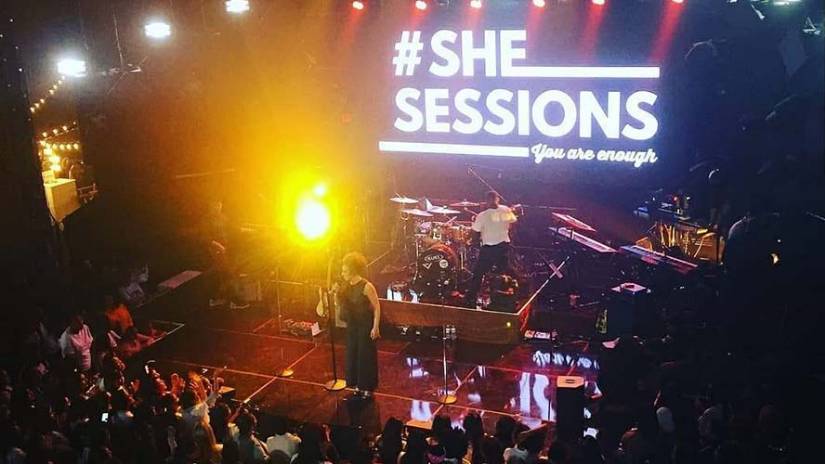 As a kid, Crystal Starr Knighton would roll on the floor pretending she was Tina Turner. This San Gabriel Valley girl knew she was born to sing.
She grew up steeped in soul and R&B curated by her African-American dad, who'd sung backup for gospel great Jackie Wilson. On her mom's side, Crystal imbibed steamy Puerto Rican salsa. She never took voice lessons, but regularly belted gospel and hillsong at church. At 12, she landed a spot backing Jessica Simpson. By 16, she was singing with several girl groups.
Crystal dreamed of being Whitney Houston.
But in the cut-throat music industry, only 10 percent of success is about raw talent. The rest, she says, is all about the business.
"Know your craft. Pay attention. Come prepared." These were some of Crystal's big takeaways from Santa Monica College, where she completed the rigorous Applied Music Program in 2006-07.
"I write my own songs. I edit my own videos. I come up with the concepts. Sometimes I've had to be my own manager and spokesperson," she says. "SMC gave me the foundation and structure for that."
"Applied" Lessons
Composition and theory professor David Goodman remembers Crystal as an 18-year-old straight out of high school who routinely arrived late for his 8 a.m. theory class. She had a good excuse, driving 35 miles from La Puente. But David held her feet to the fire.
Today, this "jazz diva and R&B phenom"—David's words—embodies what's possible for graduates of the conservatory-style program.
Some 130 students have passed through the Applied Music Program since it launched in 2001. The four-semester curriculum prepares performance majors to transfer to bachelor of music programs. Admission is by audition, with only a third of candidates accepted.
Crystal recalls "crying like a baby" when her first audition fell short. The next semester, she made the cut.
Applied music majors run the gamut from composors to jazz and classical vocalists, to instrumentalists of all stripes. But musical silos melt away as the 20-to-30 students enrolled at any given time forge a tight-knit artistic community, David says. The punishing pace of required performances—four apiece in the continuous "Concert Music" class, plus a formal faculty jury and benefit showcase each semester—drives student collaboration. Rigorous coursework in theory, musicianship, harmony, piano and solfege cements these bonds. A dozen years after graduating, Crystal regularly collaborates with former classmates. Her husband, saxophonist Austine Howell is a fellow graduate.
But the program's biggest perk -- if the $46 per unit fee each semester is broken down on an hourly basis -- is weekly private instruction with a professional musician at only $16 per lesson.
"I Needed to Learn My Craft."
Crystal credits SMC's Applied Music Program with whipping her into shape.
"I needed to learn my craft," she says. "Dr. Goodman taught me about being responsible, showing up on time and knowing your stuff. With my voice coach, Diana Zaslove Kahn, I learned classical technique and all about projecting. But I think we did even more counseling than voice training."
Diana remembers those heart-to-hearts.
"Crystal was a ball of fire on the stage, but the discipline of becoming a performing artist, staying on course, practicing consistently, working on technique, were skills she acquired slowly," she says.
Crystal's first epiphany came while rehearsing for a tour with jazz vocalists Lalah Hathaway and Jonathan Butler. (Through her SMC years, Crystal continued to take backup singing jobs. She later shared the stage with headliners like Stevie Wonder, Chaka Khan, Ariana Grande, John Legend and Kanye West.)
"I would watch Lalah talking to the musicians, and she really knew what she was talking about," Crystal recalls. "I was like: 'Oh my God, she's the boss!' I wanted to be able to do that."
Gradually Crystal transformed herself from a Whitney Houston-wannabe to a self-confident artist. To stay in Los Angeles, she turned down a transfer scholarship to the Berklee College of Music in Boston. She walked away from a top-30 spot in "American Idol" because she disliked the experience and worried it might hurt her career. And she left a tour with Mexican pop stars Joan Sebastian and Cristian Castro to join the cast of an original musical. That decision led to a star-turn on Broadway.
Neon Lights
Crystal's Broadway debut came in 2011, reprising the role of Doris Coley in Baby, It's You, a jukebox musical about the Shirelles. She'd been in the show's original 2009 cast at the Coast Playhouse in West Hollywood, and later appeared in The Boy from New York City, a 2012 musical about "street-corner do-wop" that also premiered at the Coast Playhouse.
David, who follows the careers of his former students, recognized early on that Crystal was a good actress. "She really would present a song. It was very convincing," he recalls.
Still, when he saw her name in neon lights on Broadway, "it kind of blew my mind," he says.
Today, Crystal, 35, is an established figure on the jazz, pop and soul scene. She plays about 250 gigs a year. In December, she opened for Drake in Houston. This spring, she embarks on a European tour with her band, Crystal Starr and the Bowties, with whom she's released two albums of original songs. A third album is underway.
Crystal's compositions gravitate toward a retro vibe, recalling the dense Motown sound of the '60s. To shake things up, she regularly collaborates with Soul Station, an R&B band led by Kiss front man Paul Stanley, and with the Jazz and Blues Revue, a 1940s Andrews Sisters-inspired ensemble.
Sitting in her South-Central L.A. home with Thumbelina, her Yorkie, in her lap, Crystal reflects on the importance of formal musical education to her thriving career.
The ability to read, understand and ask for changes in band charts is an essential skill that vocalists sorely lack, she says. Ignorance about voice health is another gaping hole in singers' repertoires. "I vocalize every day," she says. "That's how I was able to survive on Broadway."
Raising Up Little Voices
When she isn't singing, Crystal pours her energy into Little Voices, the nonprofit she co-founded last year leveraging music to raise the spirit of thousands of youths in foster care.
The project grew out of her 2018 album, She—an homage to the inspirational women in Crystal's life, most importantly her mom, who survived a brutal kidnapping and knifing attack only to emerge stronger than before.
"She's my hero," says Crystal, of her mother, a nurse. "So joyful and bright."
Though her parents divorced when Crystal was 6, they remained good friends, and Crystal had a very stable childhood. "We had the most amazing Christmases," she recalls. It was those memories, contrasted with the bleak reality of the foster youths she'd met in her next-door neighbor's home, that led Crystal to dip into her savings in 2011 to stage "A Crystal Starr Christmas"—the first of what would become a yearly concert gala.
"I wanted foster kids to have a place to be joyful and receive Christmas gifts," she says. "So I thought: if my gift is singing, then why not give that?"
Each year, Crystal enlists high-profile guest artists to share the stage. Last year's program featured Lexi Lawson, who currently plays Eliza in the Broadway production of Hamilton.
Her first Christmas show reached 300 foster youths; the audience has since grown to 1,200 kids.
In 2017, Crystal launched a spin-off concert series, called #She Sessions. Aimed at raising the self-esteem of girls in foster care, this all-day experience combines pre-concert TEDx-style talks given by powerful professional women with fun pop-up activities like tap-dancing lessons and hair-and-cosmetics makeovers for the 250 attendees. In March, Crystal will roll out a new program of monthly mini-workshops, called Listening Sessions.
Crystal's SMC mentors can only look on in awe.
"She is all love, all the time," says Diana, her former voice coach. "She has a huge heart. I'm so proud of this young woman!"
* * *