About Arizona State University
Arizona State University (ASU) is a public metropolitan research university on five campuses across the Phoenix metropolitan area, and four regional learning centers throughout Arizona. The 2018 university ratings by U.S. News & World Report rank ASU No. 1 among the Most Innovative Schools in America for the third year in a row and has ranked ASU No. 115 in National Universities with an overall score of 47/100 with 83% of student applications accepted.
ASU is one of the largest public universities by enrollment in the U.S. It had approximately 72,000 students enrolled in fall 2017, including 59,198 undergraduate and 12,630 graduate students. ASU's charter, approved by the board of regents in 2014, is based on the "New American University" model created by ASU President Crow. It defines ASU as "a comprehensive public research university, measured not by whom it excludes, but rather by whom it includes and how they succeed; advancing research and discovery of public value; and assuming fundamental responsibility for the economic, social, cultural and overall health of the communities it serves."
ASU is classified as a research university with "R1: Doctoral Universities – Highest Research Activity" designation by the Carnegie Classification of Institutions of Higher Education. Since 2005, ASU has been ranked among the top research universities in the U.S., public and private, based on research output, innovation, development, research expenditures, number of awarded patents and awarded research grant proposals. The Center for Measuring University Performance ranked ASU 24th among top U.S. public research universities in its 2015 report. ASU was classified as a Research I institute in 1994, making it one of the nation's newest major research universities (public or private).
Students currently compete in 24 varsity sports; Sun Devil Athletics fields teams in 10 men's and 14 women's sports. Women's lacrosse has been added and will begin to play in spring 2018, while men's tennis will return to ASU in 2017–18. The Arizona State Sun Devils are members of the Pac-12 Conference and have won 24 NCAA championships. Along with multiple athletic clubs and recreational facilities, ASU is home to more than 1,100 registered student organizations, reflecting the student body's diversity. To keep pace with the student population's growth, the university continuously renovates and expands infrastructure. The demand for new academic halls, athletic facilities, student recreation centers, and residential halls is being addressed with donor contributions and public-private investments.
---
Transfer Student Stories
Find out how Kyle utilized MyPath2ASU to save time and money on his educational journey!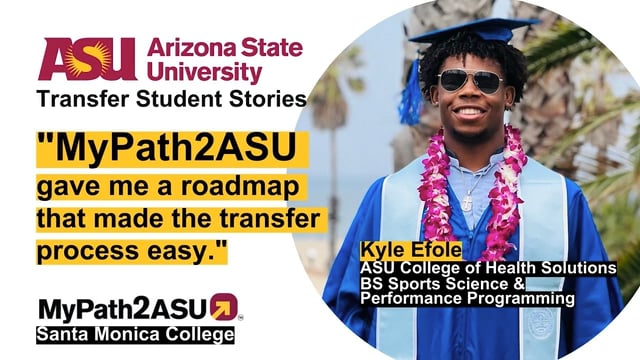 ---
Agreement
RaiseMe
Made Simple
Get ahead of the transfer process: earn scholarships directly from 4-year colleges and universities while you complete your Associates' degree.
Connect with 4-year colleges and track your progress towards successful transfer during community college.
ASU and SMC Website
Additional Websites