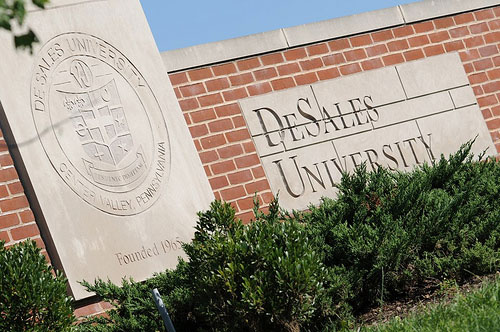 DeSales University is a private Catholic university in Center Valley, Pennsylvania. The university offers traditional, online, and hybrid courses and programs at the undergraduate and graduate levels. Named for St. Francis de Sales, the university was founded in 1964 as "Allentown College of Saint Francis de Sales" by the Oblates of St. Francis de Sales.
DeSales University ACCESS Program
Community College Tuition Match Scholarship*
Complete Your Bachelor's Degree Online at the Community College Tuition Rate
Online Degrees Offered:
Accounting
Business Administration
Criminal Justice
Finance
Human Resource Management
Marketing
Psychology
Supply Chain Management
Theology
Scholarship Requirements include:
A 2.7 or Higher GPA
A Completed Associate's Degree
Transfer to DeSales within 6 months of completing your associate's degree
Scholarships are good for 2 consecutive years**
The DeSales ACCESS Program accepts u to 75 credits (25 courses) for transfer.
For more information or to apply, email Michael.Yergey@desales.edu
*$180.00 per credit (our estimation of the average national per credit cost of community colleges including fees).
**Must maintain good academic standing. All courses must be part of your approved bachelor's degree.
More information on DeSales ACCESS Admissions and Aid.