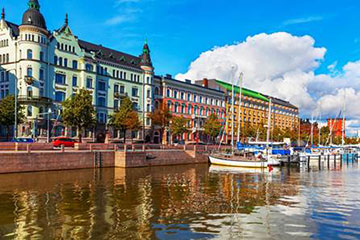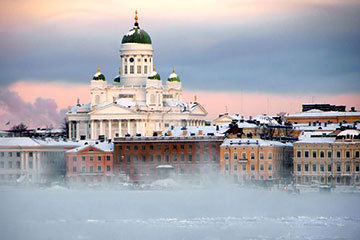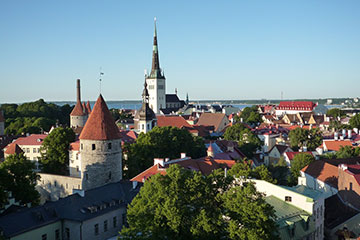 Spring Break 2020 (April 10-19, 2020)
THIS PROGRAM IS NOW CLOSED .
Helsinki and Tallinn: From A-P (Art/Design, History, and Politics)
Join professors Carol Davis and Zeny Baduel over spring break to visit two of the world's most dynamic cities, Helsinki, Finland and Tallinn, Estonia. Both cities endured years of foreign occupation and conflict but have emerged in the 21st century as forward-looking cities. You will study the cultural heritage and traditions of each city while observing how they have become breakthrough innovators.
Visit Helsinki, the capital of Finland which has been named 2019's Happiest Country in the World. Examine Finnish history from the Stone Age to the present by visiting the National Museum of Finland. Tour Uspensky Cathedral, the largest Russian Orthodox Church in Western Europe. Helsinki has established itself as a leader in technology and design. This city is the home of Nokia, one of the first mobile phone companies. Visit the Design Museum Helsinki to view exhibitions on modern industrial, fashion, and graphic design.
Estonia is known as the Singing Nation for its folk songs and choral music. While in Tallinn, walk around the Old Town, a 13th century walled city which is a UNESCO World Heritage Site, to discover its history of occupation and liberation. In the new part of Tallinn is Roterman Quarter, home to many high-tech companies and the birthplace of Skype. Students will gain insight into how technology has transformed Tallinn economically, socially and culturally.
Both of these vibrant cities offer a unique look at how history and culture shape a country and how a country can reinvent itself in a rapidly changing world.
Program Excursions
Helsinki and Tallinn city tours
Course Descriptions
Global Studies 35 – Field Studies Abroad – Helsinki and Tallinn – 1 unit
On this field study, students will discover the beautiful cities of Helsinki, Finland and Tallinn, Estonia. Students will learn about the history and cultural traditions of each city and explore locations of unique interest. They will gain an understanding of how each city has emerged from the past to become innovators in design and technology.
Faculty Biographies
Program Details
Helsinki-Tallinn Trip Itinerary- coming soon
Program Cost
Expense Type
Cost
Deadline

Program Fee

accommodations, ground transportation, cultural excursions, and travel insurance

$1750*

*Airfare not included. Students will purchase their airfare separately.

Program fee: First deposit due by Dec 17: $650

Total final deposit due bystrong>

Jan 17: $ 1100 (Students will be notified of Global Scholarship awards by January 8 and the scholarship amount will be credited to the final deposit)

Tuition for 1-Unit Course

$46 Resident Tuition

$316 Non-Resident Tuition

International Education Center will register you for class before program departure. You must pay tuition before departure.

Meals

Breakfast daily at hotels
Budget approx. $525 for other meals not included

Total Estimated Costs

$2321 *
Additional Costs
| Expense Type | Cost | Deadline |
| --- | --- | --- |
| Personal Spending Money | $200 | |
| Course Materials | TBD | |
| Passport (new – if you do not have a current passport) | $145 (U.S. Passport fee) | Please allow up to 6 weeks for processing of a new passport. |
Scholarship
SMC Global Citizenship Scholarships available!
Deadline to apply for scholarship is Tuesday, December 17, 2019. Late applicants will not be eligible for consideration for scholarship. FAFSA used to determine eligibility.
Payment Options for the Helsinki-Tallinn program
Personal Checks, Cashiers Checks, Money Order - No cash or credit cards.
Dates to Remember
Title
Dates
More Information

Informational Sessions

Mon Sep 23 BUS 111- 11:15 am
Thu Oct 3 HSS 256 - 11:15 am
Thu Oct 10 HSS 256 - 11:15 am
Thu Oct 17 HSS 256 - 11:15 am
Mon Oct 21 BUS 111- 11:15 am
Mon Oct 28 BUS 111- 11:15 am
Thu Oct 31 HSS 256- 11:15 am
Thu Nov 7 HSS 256 - 11:15 am
Mon Nov 18 BUS 111 - 11:15 am
Thu Nov 21 SMC Quad
Int'l Fair - 11:15 am

Complete the Online Study Abroad application

Application Deadlines and Payments

Late applications will be considered on a case by case basis.

Final Payment due Friday

Jan. 17, 2020

Complete your application and pay your first deposit to reserve your space.

Bring deposit (check or money order), passport, & mandatory forms to International Education Center

Student Services Center 3rd floor

SMC Global Citizenship Scholarship

Last day to apply for scholarship is Dec 17th.

Notification of scholarship amount by Jan. 8, 2020

The scholarship may not be used toward an initial deposit

Mandatory Forms

Overseas Release Form and Medical Release Form due at time of first deposit.

Passport is due at the time of first deposit.

Online Study Abroad application
Eligibility Requirements
Be a current SMC student and take the offered courses. If you are not currently an SMC student, you may apply online
All participants must be 18 years old by December 17, 2019
Have a valid passport by December 17 , 2019.
U.S.citizens do not need a visa to travel to Finland and Estonia. If you are a permanent resident or SMC F-1 visa student, please contact the Consulate of Finland and the Consulate of Estonia to see if you need a visa.
Pay all program fees and tuition by the deadline. If you are a financial aid recipient, check with the Financial Aid office about using financial aid to your tuition and fees.
For additional questions, please email: studyabroad@smc.edu