Sustainability Week 2021
Celebrate national Sustainability Week with SMC's Eco Action Club. Attend one or more of the sessions, answer a quick quiz and receive extra credit* (from participating professors)
---
Extra Credit: If your professor is offering extra credit for these SMC events you must submit a "knowledge check". The deadline to submit the knowledge check is October 29 at 11:59 p.m.
You will have to login to your online SMC account to access the knowledge check. (Same login you use for Canvas, your SMC Google account, and most of SMC's online services). The user name would be your official SMC email: doe_john@student.smc.edu
All events are from 11:15 a.m. – 12:30 p.m.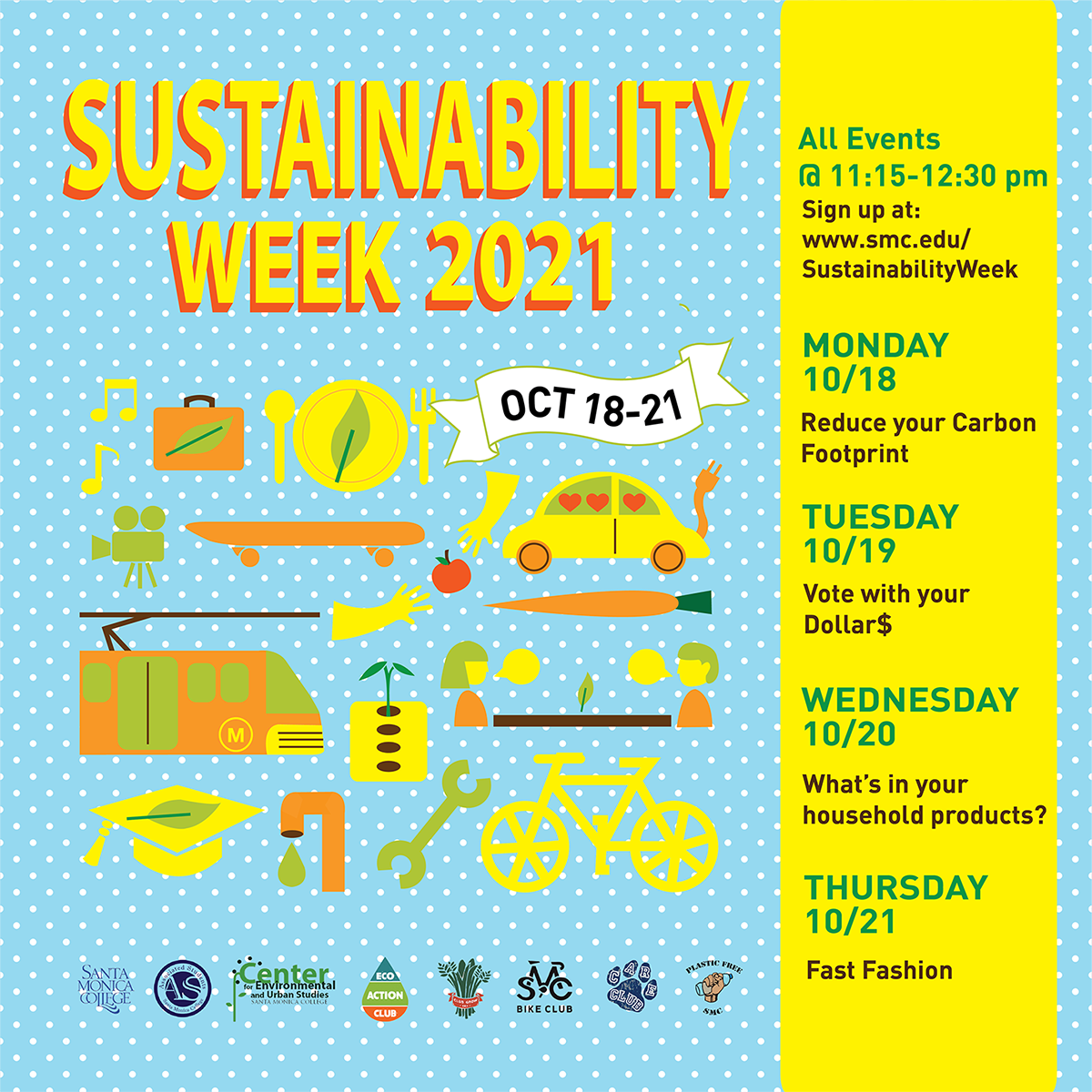 Monday 10/18
Reduce your Carbon Footprint – find out how to reduce the amount of carbon you create using electricity and getting around.
Recording from Monday
Tuesday 10/19
Vote with your Dollar$ Everyday we have a choice to spend out money on products and services that either degrade our environment or protect it. Find out how to shift your spending to support to support your values.
Recording from Tuesday
Wednesday 10/20
What's in your household products? – Hear from Karl Bruskotter, The City of SM's expert on chemicals, about why you should be aware of the dangerous chemicals that are in the personal care products and cleaning products we find on the shelves…and how to find healthier alternatives.
Thursday 10/21
Fast Fashion – The clothes we buy have a high price…even when they are cheap. Find out what the issues from Taryn Hipwell, an Eco Fashion expert.
Recording from Thursday
Previous Sustainability Week Events at SMC