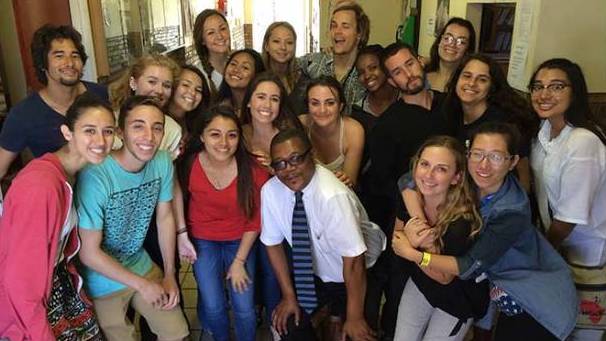 Santa Monica College has a long Study Abroad tradition. Take Life Science professor Ed Tarvyd, for example. He has been leading natural studies and marine biology field studies trips to Tahiti, Galapagos, and other islands since the 1960s. Or Anthropology professor Brandon Lewis who has led excavations of ancient Maya ruins for the last 20 years, with about a thousand students. In the last decade, the College's Global Citizenship initiative has led to many more exciting and life-changing opportunities for students, faculty – and even staff.
This winter, students studying intercultural communications with Dr. Nancy Grass Hemmert and physical anthropology with Dr. Catherine Haradon went to South Africa where they found the nation's true wealth: its people.
They met small children at a Soweto orphanage who sang for them and shared some of their joys and struggles. At the "Rehoboth Old Age Home", they met a woman named Aunt Myrtle who lived to see both the beginning and the end of apartheid. She told of how she was not allowed to speak to her sister in public because her sister was deemed to be a superior "colored" while she was deemed "black," and accounts of the forced relocations of whole communities where they bulldozed people's homes while they were at work during the day. She also described the day Nelson Mandela was freed and what that meant to her and her family who fought so long for freedom.
"We all cried at the cruelty and rejoiced in the victories she experienced," says Nancy, describing their reaction at hearing firsthand how the people of South Africa struggled, fought, celebrated, and lived in one of the most cruel systems in human history. "No amount of lectures or books could ever convey what apartheid was really like as much as getting the chance to talk to those who lived through it."
They heard guest lectures on apartheid at the University of Cape Town, visited Johannesburg and historic sites like Robben Island, hiked to the top of Lion's Head peak, petted baby lions at the lion park and went on a safari in the 7,500 square mile Kruger National Park. And that wasn't all: they even had a visit from Christo Brand, Mandela's prison guard who became his lifelong friend.
Catherine and her students possibly found the trip's defining moment at the Sterkfontein Cave – a set of limestone caves northwest of Johannesburg designated a world heritage site – in an area called the "Cradle of Humankind."
"We had previously discussed the cave formation and fossilization processes in lecture, but the students were taken aback by the sheer size, different geologic structures, and preservation of fossils," says Catherine. "It was really exciting for me to witness their engagement with what we had learned."
"Study Abroad is one of those opportunities that will very likely change the course of a person's life," says SMC Dean of International Education Kelley Brayton, who describes the experience as "jumping into the unknown and exploring the possibilities."
There were 17 Study Abroad scholarships made possible in Winter 2015 from the College's Global Citizenship fund, and from the Lani & Mark Verge Grant through the Santa Monica College Foundation.
SMC's pursuit of 'global citizenship' doesn't necessarily require students to get a passport and visa. Each year, about 50 SMC students, faculty and staff get to take a day field trip of Los Angeles– a 'study in-broad tour' – with Geography Professor Bill Selby and Dr. Nancy Grass Hemmert. They spend a day traveling to historic and cultural LA landmarks, sample tamales at Mama's Hot Tamales in MacArthur Park, pupusas in Echo Park, bean cakes in Little Tokyo, traditional Ethiopian coffee in Little Ethiopia; and go home with a full stomach, but having learnt that there's much more to LA than palm trees, beach babes and Beverly Hills. The idea is, as Selby puts it, "to tour the world in our own backyard, and learn that we have to understand each other to make LA, and the world, work."
The Study Abroad Summer 2015 program will be in Latin America: Belize and Guatemala. The program will consist of three weeks of classes at SMC (June 22-July 2; July 27-30), and three weeks in Belize and Guatemala (July 5-July 26, 2015). The Latin American Education Program was developed by SMC Earth Science Professor Brandon Lewis, who brings a passion for Central and South America from his archaeological research in Belize, Guatemala, and Ecuador. This program strives to provide an intensive experience for students, encouraging them to better understand the people and cultures of Central America.
Find more details about the program at: Study Abroad.