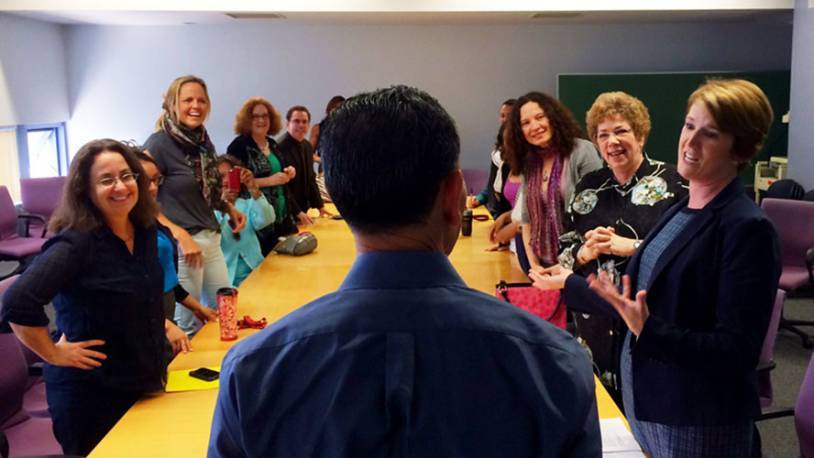 If there were such a thing as a Santa Monica College household name, Jeff Shimizu would probably be one. After a 30-year career at SMC – as counselor, athletic director, dean of instruction, and vice president of academic affairs – he retired in June 2014. At his retirement party, in a nod to his love for baseball, colleagues brandished face kabobs with an image of a much-younger Jeff and sang Take [him] out to the ball game.
"Buy him some peanuts and cracker jacks;
It's time to relax – there's no turning back"
But Jeff would turn back.
When Executive Vice President Randal "Randy" Lawson passed away unexpectedly a couple months after Jeff's retirement, Jeff told his wife, Amy, "Don't be surprised if I have to go back to work."
"There was no question in my mind," says Jeff. "It was the right thing to do – I'd worked with Randy for 20 years, we knew each other's jobs very well." So, when he was asked to return as Interim Executive Vice President, Jeff did not think twice. It was one of those things you just feel in your heart, he says, and his heart told him he needed to come back to SMC.
Then, in February 2015, SMC President Chui Tsang announced his decision to retire and in March, the Board voted to appoint Jeff to the role of Interim Superintendent/President, beginning July 1. "We were all counting on Jeff Shimizu to provide direction for the College at this crucial time," said Rob Rader, Chair of the SMC Board of Trustees.
SMC in Focus caught up with Jeff in his first month as CEO to talk about SMC (of course):
What job stands out as a highlight in your long career at SMC?
Jeff Shimizu (JS): I was recruited by Bobby Adams (former SMC VP of Student Affairs) from Venice High School, where I was a counselor, and I came to SMC as a part-time counselor. I was the first counselor for the Scholars program, back in 1985. That was a highlight, because I was working with students directly, counseling and hand-holding them through this new guaranteed transfer program to UCLA. That job had the strongest impact on my career here.
When I moved into administrative roles, I no longer had the opportunity to interact with students that way. You know when you get that email or thank you letter from that student you helped 20 years ago, who is now a CEO or something? I missed those. That's when you never doubt the power of what you do.
Why do you think SMC is such a special place?
JS: The culture here is that we need to strive to be the best at what we do – that's probably why. It had a lot to do with our former leaders like Richard Moore who established our brand as the number one transfer institution (he wasn't afraid to "shake things up"!) and Dr. Chui Tsang who brought in a unique, major initiative like global citizenship to advance the college. It's not just in transfer – international education, academic programs, our radio station (KCRW) or our performing arts center (The Broad Stage), Career Technical Education – anything we do, we're always going to try to be number one, and that's what sets this college apart.
What lessons can we learn from our past to ensure that SMC keeps its place as one of the most innovative community colleges?
JS: Well, I think we've learned that we always have to be ready to take chances and not be afraid to step out of the box. Even in times of difficulty – when we were hit by the worst financial crisis in 2006 and we were forced to cut classes, or when we had the tragedy hit our campus in June 2013 – we did not let those things stop us from moving forward. During the financial crisis, we had every reason to pull back and stop doing things, but we didn't. We tried to think of different strategies and initiatives to keep going. After June 2013, we pulled together and redoubled our policies and infrastructure to keep SMC safe.
What would you want Santa Monica College to be known for, say, in a decade?
JS: There is an arrogance at Santa Monica College – we think we are the best, and that's a good thing because we're always striving for better. We don't ever settle for "what goes." So, in the future, I think we would want to expand our brand, so that we are the best for students who come here to fulfill their goals: transfer, CTE, or lifelong education. The SMC brand will be known for quality education, outstanding faculty who will help them transfer or get a job…so that it becomes a flagship like Berkeley is to the University of California system. So that a student comes to SMC knowing that they will find quality and opportunity. But we are already headed in that direction – make no mistake about it.
What are some things on your "to-do list" as Interim President?
JS: I want to spend more time with students – I did not have the opportunity in my recent jobs. I want to be on campus more. I think it is my responsibility to keep the college moving forward, advancing and to get ready for the next president coming in. I am not in a position to make sweeping policy or other changes. I will need to make decisions on things that are critical to keep things moving forward…but I don't necessarily have a check list.
Let's switch gears for a minute. You came back to SMC after Randy Lawson passed away. What do you see as Randy's legacy?
JS: That's a large question…he had a huge influence on so many areas. I don't know if I can answer that in a few words. Our whole planning process, accreditation – these are the things we learned to do better because of his input. His dedication and the quality of his work were unbelievable. I used to get irritated because I wanted him to travel, to take a vacation, to get away once in a while…but it was difficult to convince him, he had such a love for this place. This was his life.
When you leave – again, after the new president is hired – what will be your fondest SMC memories?
JS: If I was kind of outside looking in…I would just remember the whole picture, this really unique dedicated college community. The great students, the faculty and staff – really, the whole environment that has been built here.
If I said "Santa Monica College" to you, what words come to your mind?
JS: When I was driving home the other night, I was thinking that Santa Monica College is a life changing experience. That's it! We are change-makers for our students, and obviously, for better. Also, resilience, excellence and quality.
When you "re-retire" how do you want your colleagues to remember you?
JS: I guess I would like to be remembered as somebody who was fair and respectful…who tried to do what's best at the end for students.
After this interview, a few SMC employees were asked what they would remember about Jeff. The superlatives came pouring in and one even sent a list so long it necessitated scrolling: unassuming, humble, reliable, compassionate, student-centered, caring, and fair.
"What will I remember other than he really sucks at retiring?" wrote Dan Nannini, Transfer Center Faculty Leader. "He really believes in this college. He cares."