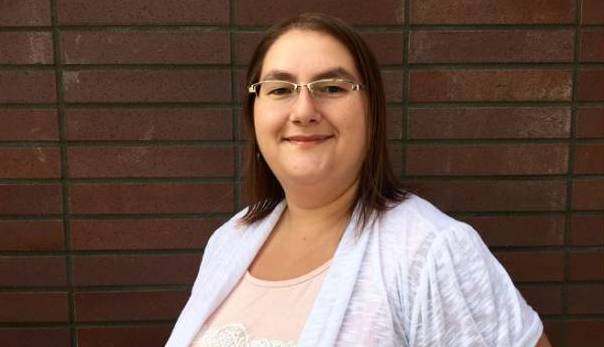 Santa Monica College helped put Angela Smith on the path to her dream. But it took her a while. First she had to find her way to SMC.
"I always wished I could go to Stanford University, but didn't see how that would be possible," said Smith, who grew up in Missouri. "My dad died a month after I graduated from high school, so I stayed home to help my mom raise my younger brother and sister. For a while, I had a really great job as a cave guide. Then I was hired at a yacht club and worked my way up to being its administrator."
And that led her into the world of politics.
"My sister graduated from high school and my brother was a junior, so I had some free time," said Smith. "I started volunteering for a national presidential campaign, and I ended up as the campaign's statewide volunteer coordinator for Missouri."
When Smith found out that the campaign was looking for interns in New Hampshire, she packed her bags and headed to the Northeast. Less than three weeks later, she was promoted to National Director of Logistics, which led to a paid position. Months later, as the campaign wound down, her responsibilities included relocating campaign members from across the nation to Cleveland.
Smith moved to San Diego, where she worked on other political campaigns in various roles, and to Los Angeles, where she went to work for the international environmental organization Greenpeace as a financial and volunteer coordinator, an on-the-ground fundraiser, and a coordinator of the types of "direct actions" for which the organization is renowned.
Then she hit a ceiling: If she wanted to continue rising in the organization, she would need to leave Los Angeles.
"I was talking about it with a really good friend," said Smith, "and he told me, 'This is the time for you to go back to school, get your college degree, and then come back out and make change happen. And he was right."
Funds for school kept Smith's dream of Stanford distant, so she did what thousands of others have done. "I looked at my options at community colleges in the area," she said. "There was one I visited that's closer to where I live, but I chose SMC because of its great transfer reputation, and I loved the campus."
A lot happened once Smith reached SMC in 2013 – too much to mention – including joining the Scholars Program, spearheading various on-campus activities and actions, and working on political campaigns on the side. She also volunteered as a research assistant in the Anxiety Disorders Research Center at UCLA.
Smith was awarded the SMC Faculty Association's 2014 Jim Prickett Scholarship and traveled to Sacramento for the annual Faculty Association of California Community Colleges (FACCC) Advocacy Conference. "I have Lantz Simpson to thank for that," she said of her SMC English instructor. "He's the one who reached out to me and suggested I apply – it's the first scholarship I ever received! – and it gave me the chance to get to know some of the Faculty Association members, including Tom Peters and Mitra Moassessi, who have been so kind and generous to me."
Throughout it all, Smith maintained a GPA of 4.0 as a psychology major at SMC. She applied for transfer to UCLA and UC Berkeley, nervous, yet feeling prepared and confident of being accepted. With strong encouragement from teachers, friends, and former bosses, she also applied to Stanford. "I doubted I'd be accepted," she said.
One morning, while taking a short break from a seminar, Smith opened an email from Stanford. "I was just stunned!" she said. "Not only did Stanford accept me – and I still can't believe it happened – but they also gave me a scholarship for tuition, room and board, and other expenses."
While the scholarship covers a great deal, Smith is still expected to contribute $5,000 to her education. "I have until the end of the summer to come up with the money," she said, "so I'm looking for tutoring and other short-term jobs, and I've started a crowdfunding site – gofundme.com/stovertostanford – I am so close to making my dream become real, and I'm not going to let it slip away from me."
While at Stanford, Smith plans to earn degrees in political science and psychology, then focus on a Doctorate in clinical psychology. "Some things are being made into political issues that really aren't, and we have to find a way to craft a message to take those out of politics and put them back into a human framework," said Smith. "I'm hoping that my studies will help lead to social programs and advances that will benefit the nation as a whole."
To those considering a return to education at SMC, Smith says, "Don't hold back. Just go ahead and apply. And when you get there, make a beeline to the Scholars program, don't hesitate or be afraid to talk to your professors or ask for help, and definitely get involved in some of the activities on campus. You won't regret it!"
Smith is not the first student SMC has sent to Stanford, but she is still a rarity as a student transferring into the prestigious university from a community college.
SMC has had a longstanding relationship with Stanford for more than two decades. As far back as 1993, Nigerian pre-med student Alvan Ikoku transferred from SMC to Stanford as a Rhodes Scholar.