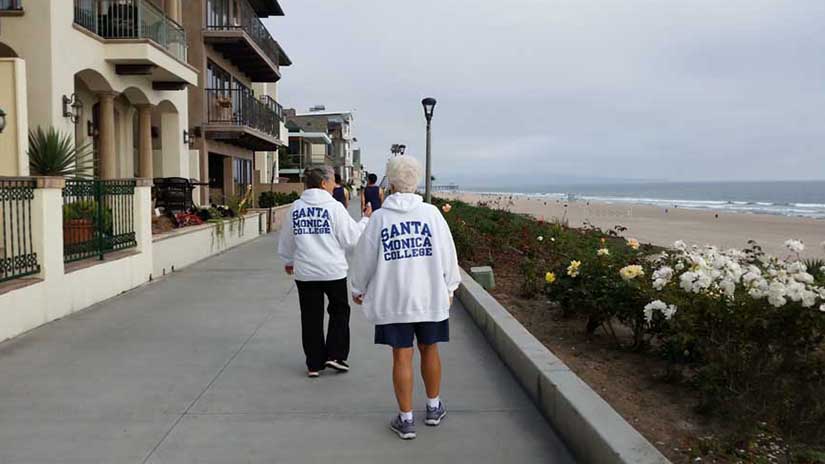 (The slideshow includes images of Santa Monica College employees proudly wearing SMC garb everywhere, from China to South Africa and on campus)
• Music professor Janelle DeStefano is teaching in Italy this summer at the International Lyric Academy (ILA) - a 20 year old opera program attended by students from all over the world – in Viterbo and Rome. In addition, an SMC student will be in the lead role in Puccini's Suor Angelica at ILA !
• Dr. Eric Williams, faculty leader for Nursing, made history as the first ever male President of the National Association of Black Nurses. NBNA is the oldest and largest minority professional nursing organization in America.
• My Blue Skin Lover – a novel written by Emeritus adjunct professor Monona Wali – won the Gold IPPY 2015 Award for Best Multicultural Fiction from Independent Publishers.
• Santa Monica College was at the Virginia Center for the Creative Arts (VCAA) this summer….in the form of Anne Marie Karlsen! The SMC art professor was awarded a fellowship to be an artist in residence at VCAA, one of the country's largest year-round artists' communities.
• The SMC sustainability team is proud to share the results of their zero waste efforts at the events around this year's graduation – they were very successful in minimizing the amount of waste sent to landfill. Just one example: the Graduation Reception had 1,500 guests but only two pounds of trash was generated, which translates to a 98 percent diversion rate!
• Anntippia "Tippy" Short, Nursing Professor, had a chapter published in a book "Health, Healing and Shalom" on cross-cultural healthcare ministry in an urban setting, based on her experience working at a clinic in Watts, Los Angeles.
• Adjunct photography professor Rollence Patugan has exhibited in a number of gallery shows recently. He received the Signature Artist award for having his work accepted three years in a row at the City of Brea Art Gallery's annual Made in California exhibit. He also received a portrait runner up award for being a finalist at the Month of Photography LA's Analogue Project show. In June, Rollence had two images exhibited at the Smashbox Assistants show. To see more of his fine-art work, go to http://www.rollence.com.
• SMC's Counseling department cultivates achievement, for both students and employees! Julia Gothold, Administrative Assistant I in the counseling department received her Bachelor of Arts in Liberal Studies this May from California State University at Channel Islands and thanks her colleagues for helping her realize this dream!
• Carol Karol-Crowther teaches entertainment technology at SMC – and is currently also judging the Student Oscar awards. A veteran in the animation business, she is also a member of the Shorts and Feature Animation Branch of the Motion Picture Academy.
• Earth Sciences professor Jon Hulls was featured in an interview on Time Warner Cable.
• "God: User Reviews," is the title of a short story appearing in the September 2015 issue of Cleaver Magazine. The writer? Adjunct English professor Diane Arieff.
• SMC is everywhere! Martha Romano of the Veterans Success Center is also President of the American Legion Unit 283, Women's Auxiliary, and Sergeant Jere Romano of the Santa Monica College Police Department is Vice Commander of American Legion Post 283 – and they were both in the Pacific Palisades Fourth of July Parade, along with SMC student and veteran Jaime Rincon, who also rode in the parade with City Councilman Mike Bonin.
• Speaking of veterans, SMC parking enforcement officer Bill Kagan (who turns 97 in September) was honored for his service during World War II at the July 9 meeting of the Sons of the American Legion, Squadron 283 Pacific Palisades.
• SMC trustee Rob Rader has several achievements to brag about – he was interviewed by the Daily Journal, a legal newspaper, on his career as an entertainment lawyer and (among other things) helping to save MGM's James Bond franchise. He was a speaker on a panel for The Association of Media & Entertainment Counsel in July, and received an award from AMEC earlier this year.
• Robin Mitchell, Associate Professor of Art, is a proud recipient of a 2016 City of Santa Monica Arts Cultural Affairs Division Project Fellowship – a $4,000 grant to realize a series of digital prints developed from her paintings. A member of the Feminist Art Program at the California Institute of the Arts in 1973, documentation of a room installation that Robin did as part of the historic Womanhouse project of the Feminist Art Program, has been included in the exhibition, "PRETTY RAW: After and Around Helen Frankenthaler" at the Rose Art Museum at Brandeis University in Waltham, MA and will also be included in the companion publication by Katy Siegel, "The Heroine Paint: After Frankenthaler" by Gagosian Gallery to be released in September 2015.
• Modern Languages professor Aned Muniz writes regularly in Spanish for several publications – a recent article on Baja California and the wine route appeared in a June edition of La Brujula.
• Robert Myers, campus counsel, was awarded a Post baccalaureate Certificate in Geographic Information Systems (GIS) from Penn State. His GIS journey started at Santa Monica College with Professor Vicki Drake's Introduction to GIS course and continues with his acceptance into the Master's in GIS program at Penn State.
• SMC's Student Health Services is proud to report that they have their very first full time Nurse Practitioner! Not only is she well qualified, knowledgeable, personable and dedicated to our students' health, she's one of our very own SMC nursing graduates, class of 1996! Welcome, Kasiani Gountoumas, MSN, FNP-BC!
• It's her fifth book of poetry – yes, you read that right. Emeritus adjunct professor Ellen Reich's newest book of poetry Sacrifices Have to Be Human (Tebot Bach Press) has been hailed as"…a gritty, image-rich navigation of love, loss and longing." She has given readings at bookstores including Beyond Baroque, The Ventura Library, and Bank of Books.
• Communications professor Rosalyn Kahn was featured in June on the Saturday Morning Success TV Talk Show and the Saturday Morning CEO Radio Show produced by the non-profit Saturday Morning Foundation.
• Marketing professor Marce Kelley was interviewed for the CBS Los Angeles "Let's Get to Work" website. The full interview can be read here.
• Supervising Personnel Analyst Michael Cool was also featured on CBS Los Angeles's website. He talks about how candidates can ace interviews. Read More.