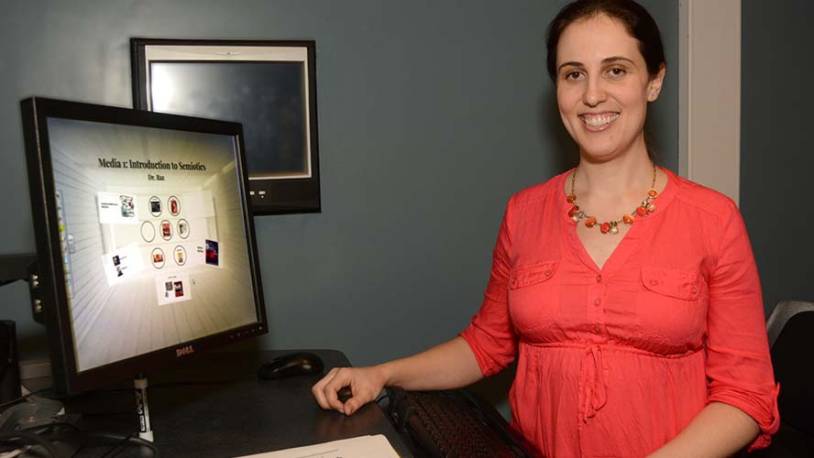 From flipping and clicking to gaming and tweeting, Santa Monica College instructors across the arts and sciences are using technology to build a more active learning experience for students — and one that extends beyond the classroom.
The flipped classroom model expands the teaching environment by reversing the order of lectures and coursework. Online videos and other media enable students to absorb lecture content at their own pace and on their own time. Classroom time is reserved for discussion and working through problems together.
"It's a more in-depth way of learning," says Chemistry Professor Sehat Nauli. "They're not just copying what I wrote on the board — they actually have to do a lot of the work on their own."
The Flipped Classroom
Nauli makes and uploads videos to YouTube for students to watch before each class. The videos stop periodically and ask students questions they must answer before they can move on. Each video has a deadline for viewing, so Nauli can check his students' answers before the next class.
Jonah Okike — SMC alum and recipient of a Jack Kent Cooke Scholarship who has since transferred to Cornell University — appreciated the videos because, he says, "I loved being able to rewind if [I] didn't understand something."
Nauli usually starts each class with the questions most people got wrong. As the students work through the problems again, they use wireless, handheld devices called clickers to send their corrected solutions to him in real time.
"I've definitely had students who said that having to watch these videos outside of class makes them develop study habits that they later find to be very important to succeed in the sciences," notes Nauli.
Fantasy Art Collector
For Professor of Art History Walter Meyer, the flipped strategy incorporates gaming. Building on a concept created by Duke University faculty, Meyer developed a game called Fantasy Art Collector, which takes a Fantasy Football approach to exploring artists and their creations.
"What really intrigues me is that, once something is a game, there's a different type of ownership of the material," he says. "It's no longer so much a task as allowing people to have open-ended learning."
In his class, students are randomly assigned works of art and they have to research the artist, date, and title, for instance. As they complete various tasks, they get "money" in the game. Then Meyer puts additional artworks up for "auction," and students can bid on additional pieces. At the end of the semester, they write a paper on their collection and its theme.
"Some students want to make a collection that's worth a lot of money, so they look for famous, valuable pieces for their collection," he explains. "Others might focus on photography or architecture. They get to choose what they collect."
Corina Perez, an SMC music student who took Meyer's art history class in fall 2015, focused her collection on the theme of morality. "Fantasy Art Collector made us think about how pieces related to each other and to our own lives," she says. "It was a lot more interactive, in that we'd have to come up with our own ideas and discuss them with other students."
Meyer continues to refine the game and will present it at an SMC technology forum in April. "It could be used for any number of subjects, like quotations for English literature," he says. He is also working on a new pedagogical model he calls "flip the flip," in which the students themselves will create content to replace lectures.
Technology in Mass Media Communications
Technology and digital content are pivotal in the field of mass media communications, taught by Adjunct Professor of Media Studies Julia Raz, who also trains fellow faculty on such programs as Prezi, which she describes as "PowerPoint to the next level." In the classroom, Raz also uses Flipboard, a news aggregator app.
"Most of my students don't read a traditional newspaper, which is not surprising," she says. "Many say our classroom discussions and use of Flipboard really helps them pay attention to the news."
Class assignments might include choosing between making a Prezi presentation or a YouTube video. "There are many ways of expressing yourself, and students feel more empowered when I allow them to do that with technologies they're already using all the time," she notes.
Another tool she uses to engage students might surprise people. "Class participation goes up when I use Twitter," she says. Raz might post a question on Twitter and have students tweet responses with their smartphones, laptops or tablets.
Promoting Interaction and Participation
Adjunct Professor of Physics Asma Said uses clickers to increase classroom participation, promote interactivity and gauge understanding of — or difficulty with — a particular topic. She finds the method especially helpful for getting shy students and those worried about wrong answers to join in discussions. "They now have more courage to talk and ask questions, because they know that mistakes are a part of learning," she says. "Sometimes my class will divide between two answers, and I'll start a debate about why this or that solution was chosen."
Other tools Said uses include Canvas, an app through which lessons are updated online and students maintain logs of their course readings and questions, and Kahoot!, a digital platform that uses games to monitor student progress by measuring how quickly they solve problems.
Across academic disciplines at SMC, these new technologies and educational models are improving learning by increasing student interactions with the material, their teacher — and themselves. "I don't like it when my students aren't talking," says Said. "I want them to interact in finding solutions and become more active in the learning process."