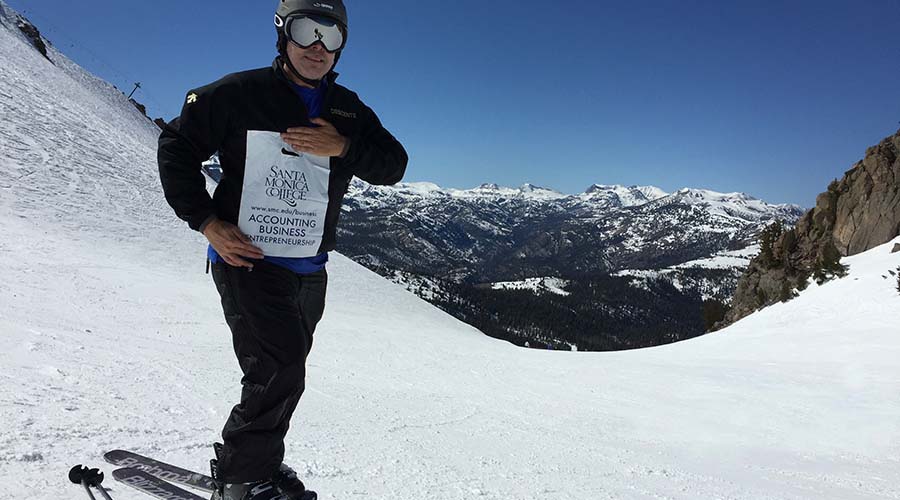 It was Sunday morning and all photography instructor John Thawley wanted to do was watch the news. His cat, Henry, and his black lab, Ellie, however had other—err, less peaceful intentions. The video of the resulting contradiction of intentions went viral, garnering 11 million views in just over a week and is now being represented for commercial distribution. It is an absolute must-watch, and is available on YouTube.
The Sustainability department is proud to report that Santa Monica College received the award for Excellence in Stewardship of the Natural Environment. The award—known as a Sustainable Quality Award—is awarded by the City of Santa Monica, The Santa Monica Chamber of Commerce, and Sustainable Works. Awarded annually, the SQA promotes the efforts of local businesses making significant achievements in the areas of sustainable economic development, social responsibility, and stewardship of the natural environment. This is the second time SMC has won the award (the last time was in 2009).
Ronn Davis, Art Department Chair, is proud to report the success of SMC alum, former instructor and artist Debbie Han. Han is included in an exhibition—called "SHE: Deconstructing Female Identity"—at ArtsWestchester Art Center in White Plains, New York, which investigates through works by 11 artists the meaning of womanhood in contemporary America. Read the New York Times review here.
The Chronicle of Higher Education ran a cover story "Ripples from a Protest Past" in April, on the 47-year anniversary of an occupation by black students at Cornell University. Frank Dawson, Associate Dean of Career Technical Education, is quoted in the article. Frank is a former Cornell Afro-American Society member who occupied the Straight, and recently made a documentary with a fellow Cornell graduate that draws a line from the 1960s protests to today's activism. (The article is available to Chronicle subscribers, but a copy can be obtained by emailing an SMC librarian).
Economics professor Anthony Chan was invited to present his paper—"The Ineffectiveness of Monetary Policy Under a Fixed Exchange Rate Regime"— at the Annual Business Conference at Cal State LA, May 10-12. His colleagues (and SMC in Focus) congratulate Anthony!
Communication and Media Studies instructor Brad Lemonds was segment producer on a documentary called Wichita Vortex, for KPTS-TV, the PBS Station in Wichita, Kansas. He interviewed Santa Monica artist Bob Branaman. The documentary—available on YouTube—focuses on the work of Beat poet Allen Ginsberg and his visit to Wichita and his poem, "Wichita Vortex Sutra."
Communication instructor Sheila Laffey is proud to report that Love Thy Nature a documentary of which she was Associate Producer, will screen at the newly remodeled Laemmle's Monica—now called the Santa Monica Film Center on May 6-13. Love Thy Nature is narrated by Liam Neeson, and has won 25 awards. More information is available on the film's website: lovethynature.com. In addition, Laffey's Film 1 class had producer Curtis Burch—who produced the 2013 film Words and Pictures starring Clive Owen and Juliette Binoche—visit for a special guest lecture.
The Centre for Teaching Excellence is pleased to report that LAUSD math instructor Anthony Yom will be presenting a session entitled "Culturally Responsive Teaching Practices" on Tuesday, May 17 at 11:15a, Room M104 focusing on how he connects with his students, especially those with challenging situations. Yom was recently featured in the Los Angeles Times for his teaching abilities, which earned his classes a 100% pass rate on the Advanced Placement Calculus exam for the last three years. Yom and his student Cedrick Argueta (one of only 12 students worldwide to pass the AP Calculus Exam with a perfect score) was also honored by President Obama at the 2016 White House Science Fair.
***
(SMC in Focus thanks the SMC Foundation for sponsoring the prizes received by the first three entries for the "SMC Spring Break" Photo Contest: Sal Veas of the Business Department, Christina Marcial of Admissions/Records, and Jeanne Laurie from Modern Languages. Their photos are included in the slideshow above.)