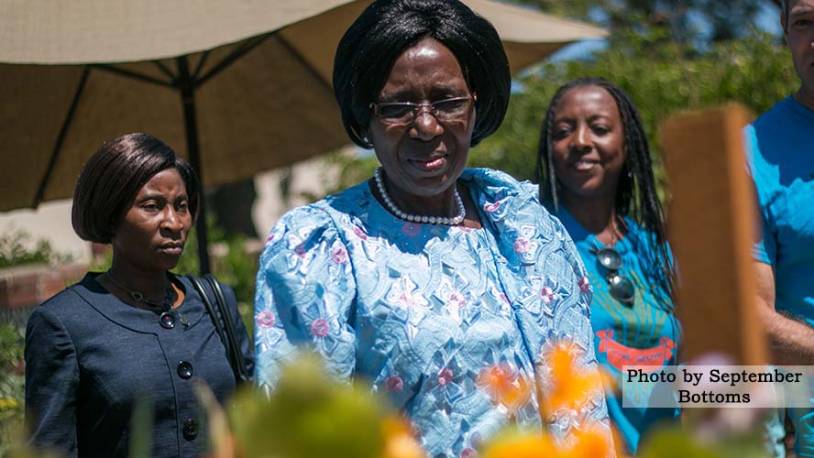 Inonge Mutukwa Wina—the first female Vice President of the Republic of Zambia—was a student at Santa Monica College in 1962, when John F. Kennedy gave his memorable Inaugural Address.
"When John F. Kennedy said, 'Ask not what your country can do for you, ask what you can do for your country,' that statement was not meant just for the USA but for every youth in the world," Wina said, upon her return to her alma mater for the first time in more than 50 years. She remembered how she certainly felt that those words were meant for her.
Wina went on to live out JFK's inspirational words in her country—over a prolific decades-long career championing women's rights to participate in political and developmental decision-making—during which she served as a Presidentially-appointed Minister, the chair of a political party and an elected Member of Parliament.
On Monday, April 18, VP Wina—now the highest-ranking woman in her government—was welcomed back with a reception and tour of the campus by SMC officials and a special luncheon organized by the Office of Student and Alumni Relations to recognize her as a "Distinguished Alumna."
Time Changes Some Things—But Not All
When she was a student in 1962, SMC had only 12,000 students. Now there are close to 33,000. The campus was entirely different, too: back then only the south campus buildings existed. "I recognized some of them," said Wina, "like the Letters and Science Building and Humanities Building. But even those have been done over!"
"And traffic was much different then, too," she said to laughter from the assembled crowd.
But some things remain the same, she noted in a personal interview. "You can see that there's order and organization," she said. "The international, global spirit is still here, also, along with the spirit of excellence."
A Small Seed, A Powerful Tree
Wina said that she was glad to return to the place where "a small seed was planted in [me] so many years ago."
Asked about the impact of SMC on her life, she said that studying the history of the United States and sociology was "foundational." And although at that time, she did not study the history of Africa at SMC, she found her perspectives "enlarged" through interaction with both American and international students.
"I began to see the problems of my country through others' eyes," said Wina. "Remember, this was the era of The Cold War, the black and civil rights movements in America, and the decolonization of Africa, so all of these had an impact on me and contributed to shaping my outlook on life and my dedication to public service."
Born to Lead
Born in a small village and married by age 18 to Arthur Wina, a nationalist freedom fighter and university graduate, Wina's father would agree to the marriage on the condition that Arthur promise to continue her educational advancement.
So when Arthur came to study political science at UCLA—where he helped establish the first Center for African Studies—Wina enrolled at Santa Monica High School and moved on to what was then called Santa Monica City College.
Wina obtained an Associate Degree in Social Work from SMC, and when she returned home in 1964, she enrolled at the newly-opened University of Zambia, "As a mature student, this time around," she added, candidly.
She joined the Young Women's Christian Association (YWCA), soon becoming its general secretary and then national leader. Community work followed, including free service to women's movements. She helped create the Non-Governmental Coordinating Council (NGOCC) to fight for women's involvement in politics.
Her husband died young, leaving her a widow with three children in 1995; later she would also lose her two sons. By 1996, she was elected national chairperson of the NGOCC; and in 2000, she ran for a seat in Parliament. Although she lost in 2006, the following year saw her become the Patriotic Front Party's chairperson. Then, in 2011, Wina won back her Parliamentary seat. The country's then-President appointed her as Minister of Chiefs and Traditional Affairs, and later Minister of Gender and Child Development.
In January 2015, Zambia's new president, Edgar Chagwa Lungu, appointed her to the position of Vice President.
"This was one of the greatest things to happen to Zambian youth," said Wina. "It was a privilege for me, but it also had the benefit of renewing the ambitions of young women in my country."
SMC student Precious Onuohah, president of the Black Collegians Club, thanked VP Wina "for never giving up" and for inspiring her with the message that if she stands her ground, she can reach her goal of making a difference in the world.
After receiving a certificate and plaque honoring her as a Distinguished Alumna, Vice President Wina in turn gave SMC a gift: a wall-hanging made of copper, a major natural resource in Zambia, consisting of a clock and a representational map of Zambia.
"This will stand as a reminder that one of our students was once here," said Wina.