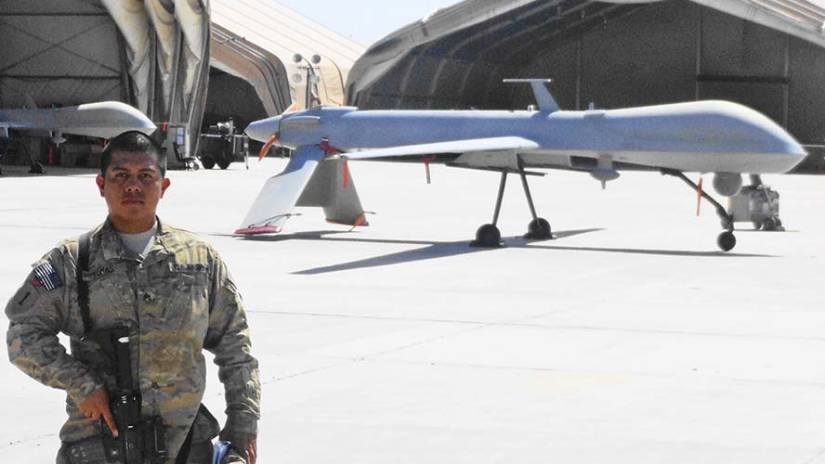 And once the storm is over, you won't remember how you managed to survive…," writes the Japanese writer Haruki Murakami. "But one thing is certain. When you come out of the storm, you won't be the same person who walked in. That's what this storm's all about."
Santa Monica College student and U.S. Army veteran Domingo Tomas is an example of how one can not only survive a storm, but thrive in it. He was born in the Rampart neighborhood of Los Angeles, but his father moved the family back to their native Zaculeu, near the western Guatemala city of Huehuetenango, because Domingo's brother had become a gang member.
His father then moved back to the U.S.—where he had no luck finding work and struggled with alcoholism—and left Domingo's mother to fend for herself and her nine children, plus the seven grandchildren who would later join them.
"Any good in me comes from my mother," says Domingo. "If there was someone sick, she would take care of them, share whatever little she had. If someone carrying a lot of wood on their back was passing in the streets, she would give that person water and a little food."
His mother's generosity and compassion made a deep imprint on the young Domingo, who calls her "powerful."
Of their poverty, Domingo says, "We hit rock bottom." What was "rock bottom"? "Well," he concedes after a pause. "Our sociology professor showed a picture the other day…of kids in Guatemala picking through trash in a massive garbage dump. I remember doing that. That's how deep I went down."
Domingo wanted to change his life, so at the age of 18, he decided to return to Los Angeles. He wanted to get educated, and to make a better life for himself and his mom, who stayed in Guatemala to raise the younger children and grandchildren. He attended Belmont High School and graduated at 21.
Two weeks after his graduation, he woke up with an epiphany. He went to a military recruiter and said, "Hey, I want to join up." And that—in a nutshell—is how he became "E-6" Staff Sergeant Domingo Tomas, of the U.S. Army.
Comrades and Brothers
"I had my dad, but he was always drunk…and violent," says Domingo, and his mother was far away. But in the Army, he found a family. "I would see some of my superiors as father figures," he says. During the Iraq Surge of 2007, he found himself "under the wing" of his first squad leader, who, Domingo says "gave me peace of mind during war."
"My squad leader Michael Wahn, my friends, we are all brothers," adds Domingo.
When his Army time was up, Domingo came to SMC because, at the time, he wanted to go to UCLA (he now hopes to transfer to Pepperdine University). But he signed up for the Army Reserve, and was sent to Afghanistan. When he returned, he came back to SMC.
After a decade in the military, Domingo was faced with "a difficult transition." His therapist at the Veterans Administration (VA) was a great help. "I talk about my experiences and my anxieties," he says. "I don't know what I would have done without this help. It has helped me to grow, to find my potential."
Inside the Wire at SMC
Domingo also found a safe haven at SMC: the Veterans' Resource Center (VRC). The VRC is a "one-stop shop" where veteran students can find everything from academic and career counseling, to therapy, a computer lab, referrals to community resources, and very frequently: doughnuts! This past year, the VRC served more than 900 veterans.
On his return to SMC after the tour in Afghanistan, Domingo was pleased to find that the VRC now had its own "home" in the Liberal Arts Building. "That told me the SMC community cares for veterans," he says.
He also found a champion and confidante in VRC faculty leader and counselor Linda Sinclair.
"Linda's motivation is taking care of veterans, and it shows," says Domingo. "She understands exactly where we're coming from. She knows that if we look angry, we're not angry. She understands the way we speak, dress, why we do our hair like this. She's there with us 100%."
Sinclair is driven by memories of her WW-II vet father; a high school friend and Vietnam vet whose emotional distress she witnessed firsthand; and many other friends who are military veterans. She talks about veterans who go on to success—including to Ivy League schools—but "are falling apart inside."
"I don't want them to be living with what they're living with today 40 years from now," she says.
Home: Where the Heart is
Last year, Domingo returned to his native Zaculeu to do something he has wanted to do for a while: buy school supplies for the children in his hometown.
"Many times, parents have to choose between food and school supplies," says Domingo, who recalls seeing that same look in his mother's eyes at the beginning of the school year: the look of not being able to afford those things. "The whole purpose of this program I am calling 'Korazόn Kakao'—'Kakao' because I want to grow it—is to ease their burden a little."
Domingo says he was "in tears" when he saw that people were accepting of his gifts. He had purchased enough for 300 schoolchildren, but many more showed up.
"Next year, I want to do a better job," he says. He plans on returning this winter.
A List of Dreams
Domingo is currently on a waitlist for Pepperdine, his preferred transfer destination. In addition to growing Korazόn Kakao, he has a list of dreams, things he would like to achieve within the next decade:
-Attend law school to do pro-bono immigration or international legal work in the future ("My mom taught me that even if you have little, you share. This way I can help people on a bigger scale.")
-Found a school in his native Zaculeu that will provide a free education from pre-K to 6th grade ("A place where they don't have to pay for school supplies, food, or anything else...I'm talking zero cost. That's my goal. I know I can do it.")
-Learn to speak fluent Q'anjob'al (also Kanjobal), the Mayan language spoken by his people.
"When you die, it's not about what you can take with you, it's what you leave behind," says Domingo, quoting what one of his Army "brothers" used to like to say. "My education will give me a foundation to help many people in Guatemala. I want that to be my legacy. It might not be much, but I know I'm going to leave something good behind, something that will help people develop, succeed…or maybe have food on the table."
And that's what this storm's all about.