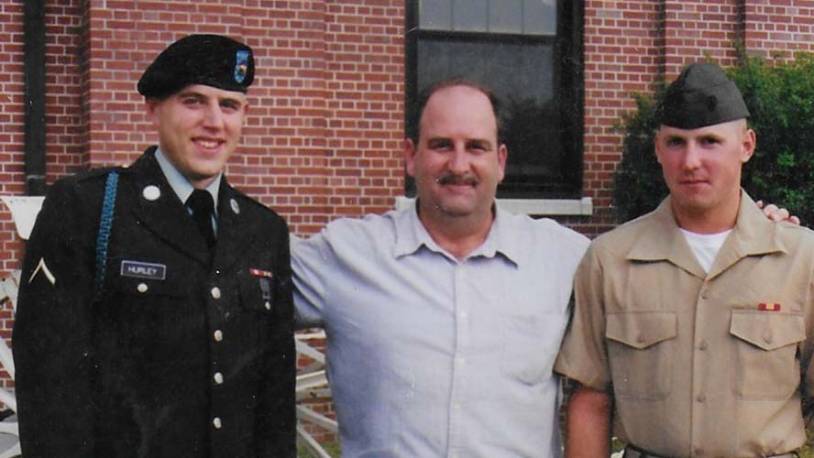 Dan Hurley, a 37-year-old former Marine Corps infantryman and combat instructor who served on the front lines in Iraq and Afghanistan, left Camp Pendleton on June 5, 2015 and stepped into a classroom at Santa Monica College less than three weeks later to begin his journey toward an MBA degree.
Now he's a student at Stanford University, on his way to a Bachelor's Degree with a major in Science, Technology and Society with a Focus on Innovation and Organization as he marches toward his MBA.
Like most veterans accustomed to the highly structured military environment, civilian and school life requires a major adjustment. Not everyone makes it.
But Dan, a Buffalo, New York native, is no stranger to challenges. Born with a healthy twin brother, he came out of the womb blind and with the outer layer of his skin not fully formed. Doctors were not sure he'd survive. Growing up and out of his physical problems, he would watch longingly as other kids played outside.
"I would sit at my kitchen window just wishing I could be like everyone else. As I got healthy, it pushed me to take advantage of those opportunities when they became available to me."
That experience, he says, helped form him into the person he has become and informs the approach he takes to accomplishing his life's goals.
Discovering the Veterans Success Center
During his first six months at SMC, Dan says he was "kind of drifting on my own."
But upon discovering the SMC Veteran's Resource Center (VRC), it became his second home. "I began meeting other student veterans, we'd swap ideas, talk about classes, professors and help prop each other up." He began working at the VRC part time.
It's also where he met counselor Elaine Morton. "I was immediately drawn to her no-nonsense style," he said.
And the feeling was mutual. Elaine describes Dan as "awesome. He's very driven, self-motivating, wants to give and do his best always. He challenges no one as much and as hard as he challenges himself."
Dan keeps his focus on short, medium and long-range goals. One of his Marine Corps buddies had come to SMC and transferred to UCLA, and he figured he could do that, too. But he discovered that "UCLA wasn't in the cards for me; they don't have an undergraduate business degree."
That's where the VRC came in. Knowing his long-range goal was an MBA, "They opened my eyes to the whole transfer process…the research that goes into finding the school that's the right fit for you and helping you find the best pathway to get there."
Drifting Off Course
In high school, Dan participated in every sport he could, from football, to basketball to track and had good grades. But he says, "Things went sideways" when his parents divorced. "I stopped caring about school and sports; I just wanted to go out and be one of the cool kids and get into some trouble." And he did.
Expelled along with his twin brother, they were placed in a strict, secluded alternative school that housed troubled students. He recalls, "The cops would come through with drug sniffing dogs once a week, we couldn't lock our lockers, and it was pretty oppressive."
Looking back, however, he says it was probably the best thing that could have happened to him. "As much as I hated all the rules at the time, I actually needed that." After high school, he drifted a while longer, taking jobs in bars, restaurants and construction, still drinking and partying, and enrolling in Erie Community College, where his GPA was 1.8. "School was the right idea at the wrong time for me," he says.
Then Came 9/11
2002 was a pivotal year for Dan. At age 22, he quit college and "was on a path to nowhere." The events of 9/11 were his wake-up call. "If the global war on terrorism was going to be my generation's battle," he told himself, "then I have to get into it."
Both of his grandfathers had served in World War II, and with them as role models, he and his brother enlisted: his brother in the Army and Dan in the Marine Corps.
"The Marine Corps has a reputation as the toughest and most disciplined branch, and I chose the hardest job in it, the infantry," he said. He became a machine gunner, and faced combat in Afghanistan in 2004-05 and throughout 2006 in Iraq, rising through the ranks as a Team Leader, Squad Leader, Section leader and eventually as Platoon Sergeant. "Each role was unique in the level of responsibility placed on me as a leader, as well as the managerial issues that would arise."
Later he was also selected as an instructor for the Advanced Infantry School.
Aligning Skills and Goals
Dan knew his military experiences as an instructor, manager and real-time problem solver in the field of battle would align well with a business education. He set a goal to earn straight A's and finished up with a 3.9 GPA. He was President of SMC's Student Veterans Association and successfully completed the SMC Scholars Program.
A chance encounter at the VRC led him to apply last minute for the Stanford 2 to 4 Veteran Accelerator, a highly-competitive 8-week summer program for vets between their first and second years of community college who want a higher degree. He was one of only 17 vets nationwide accepted into the program last summer.
While USC and UC Berkeley offered him admission and generous financial packages, thanks to his summer experience, Stanford won his heart. But he didn't keep the program information to himself.
Upon returning from Stanford, says Elaine Morton, "He put together informational workshops and a YouTube promotional video for the 2 to 4 program to share with fellow veterans at the VRC. That's Dan, he's always paying it forward."
Dan is proud to say that SMC had more applicants to this summer's program than any other community college. "The 2 to 4 program gave me affirmation that I made the right choice to get an education; I want to let other vets know they can make it, too."
Although he worked hard, Dan Hurley knows he did not do it alone. "It really was a team effort," he says. "My wife has been willing to take on the burden of work while I focus on my studies. And I credit SMC and the VRC with any success I have because I wouldn't have done this on my own. There were definitely a lot of people standing behind me and pushing me forward."
* * *
More information on SMC's Veterans' Resource Center.