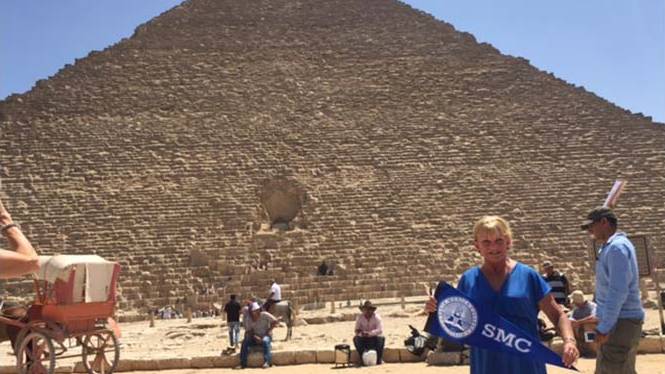 Media Studies instructor Lisa Nehus Saxon was interviewed for a segment broadcast on September 1 by NPR's "Only a Game." A pioneer among women in sports media, Lisa discussed the gender barriers she broke during the early 1980s, when she was one of three women covering Major League Baseball. Check out the Only a Game podcast.


Metro produced a short video about Art professor Carlson Hatton's upcoming station art project. The video is a great capsule of Carlson's artistic process, his inspiration, and also features the SMC students who worked with him.


Dr. Linda De Villers, Psychology professor, presented at the World Congress of Sexual Health in May in Prague, Czech Republic. Her paper, "Commitment, Monogamy, and Sexual and Relationship Satisfaction in Gay Male Couples", reported the findings of her 2016 online survey of 664 gay male participants who were recruited through renowned author, media pundit, and activist Dan Savage's social media network.


Art Professor Marc Trujillo's show at the Halsey Institute of Contemporary Art in Charleston, South Carolina garnered glowing reviews—and an essay on Marc's work in the show's brochure was written by artist, critic, and curator Robert Storr, who was dean at the Yale School of Art and Chief Curator of Painting and Sculpture at MOMA in New York (Robert also participated in an artist talk/conversation with Marc). In the essay, Robert wrote: "…work that can evokes a chain of associations…range from Modernists such as Rosenquist and Magritte and the Venerated Old Masters…and Trujillo expertly and shrewdly mines that wealth."


As with the teacher, so with the student: Marc Trujillo is pleased to report on the success of former SMC student Delfin Finley's first (and sold-out) solo show at Lora Schlesinger Gallery in Bergamot Station. 23-year-old Delfin's show "Some Things Never Change" featured his exceptional portraits of "young, black L.A." Delfin's work was received with rave reviews in renowned art publications and blogs.


Stephanie Meredith, Earth Sciences instructor, was invited by the Leakey Foundation for a San Francisco Pride-related event called "Evolution and Gender Revolution." This event was significant to Stephanie because it communicated the value and relevance of her primary evolutionary anthropological research to the daily lives of the non-academic public.


SMC Police Officer Sonya Patterson did her department proud—with some help from Dad! This summer, Officer Patterson competed in the World Police & Fire Games held in Los Angeles in bowling—and won a Silver medal in doubles, along with her father (who is a retired police officer); and they also won a bronze medal in teams. Officer Patterson said she "…had a great time competing against other police officers and firefighters around the world."


Spanish professor Alejandro Lee has a few brags! In collaboration with his colleagues in the Department of Modern Languages and Cultures, Alejandro hosted the spring meeting of the Southern California chapter of the American Association of Teachers of Spanish and Portuguese (AATSP) on April 22 at SMC. Professors of Spanish from k-16 praised the SMC campus…and enjoyed a keynote speech by Dr. María Carreira, Co-Director of the National Heritage Language Resource Center at UCLA.

Professor Lee was also invited to present on heritage language education at the "Heritage Spanish/Native Spanish Consistency Project" at El Camino College in May; at the "IV Encontro de Formação e Aperfeiçoamento de Professores de Português na Costa Oeste," hosted by the Consulate of Brazil in San Francisco on August 19; and at the Heritage Language Teacher Workshop at UCLA on June 29, hosted by the National Heritage Language Resource Center.

Plus, he coauthored a book chapter with Alegría Ribadeneira, "Adoption, Implementation, and Institutionalization of Spanish Heritage Language Programs at Two U.S. Regional Comprehensive Universities," which was published in The Routledge Handbook of Heritage Language Education: From Innovation to Program Building, edited by Olga E. Kagan, María M. Carreira, and Claire Hitchins Chick (2017).


The English Department is pleased to report that the department held its second annual contest for the English 1 Research Essay Prize. The winners (who won $300, $200, and $100 respectively) are: Jon Marc Yaden (Instructor: Dana Del George): for his essay "Reeducating America about Food Supply Chains: Solving the Problem of Food Waste in the United States"; Jacqueline Kirkman (Instructor: Siel Ju): for her essay "Gender Discrimination in the Animation Workplace"; and Camille Lacoste (Instructor: Diane Arieff): for her essay, "Meat at the Price of Rural Communities Without Government Support: How Have CAFOs Destroyed Communities and the Ecosystems Surrounding Them?" This year, the Prize Committee added an Honorable Mention category and awarded that recognition to Theresa Hardesty (Instructor: Mik Hamada) for her essay, "Artificial Intelligence."


English instructor Jennifer Havenner is proud to announce that her upcoming Young Adult Horror novel, The Lairdbalor, is coming out on October 10 from Turner Publishing Group. Written under her pen name Kathleen Kaufman, it is available for presale everywhere, and a launch event is taking place at Book Soup in West Hollywood on October 13 at 7pm. Check out her website for more details and Jennifer is also on Twitter as @kathleenkaufman.


Salvador Carrasco—SMC faculty lead for Film Production—was interviewed by Indie Cinema magazine. Among other things, Salvador talks extensively about the award-winning SMC Film Program.


The Fashion Department is on a roll after the LA Mode 2017 fashion show, which got front page coverage in California Apparel News. SMC graduates were hired off the runway, thanks to advisory board member Marta Miller. Sustainability expert Taryn Hipwell is helming "Tent Cut-up-Couture," a students' design project with discarded Coachella event tents refashioned into jackets. Also in the works is sustainable pet couture—so SMC students are getting lots of experience in designing with a conscience!


The Business Department's Career Closet will be serving up sustainable styles for EOPS and Guardian Scholar students, with interview-ready additions to their wardrobe – at no cost. Career Services is getting community resale shops involved for more low-cost options to be made available at their October 12 event where Business Merchandising and Fashion Club students will lend styling advice.


Pat Akers—who teaches T'ai Chi at Emeritus—is proud to share his two-disc instructional video "Tai Chi for Body and Mind Fitness" that provides easy- to-follow lessons for beginners and advanced students of all ages. Pat says that he sees the positive impact Tai Chi has on the lives of older adults at Emeritus.


Jeremiah Selvey, Director of Choirs and Choral/Vocal Instructor, was one of three new generation choral entrepreneurs interviewed and featured in Chorus America's August 2017 feature article "40 Years of Entrepreneurial Spirit" by Don Lee. Chorus America's award-winning quarterly magazine, The Voice—which is distributed to more than 4,000 choral leaders—highlights chorus news/commentary and artistic initiatives in the choral world.


Life Sciences instructor Steven Fink has reached over 9 million views on YouTube. Since 2008, Steven has uploaded 249 video lectures on Anatomy, Physiology, Biology and Pharmacology—on topics such as the feral pig, Kingdom Monera and Kingdom Protista, to name a few. Currently, Steven has 94,507 subscribers in 227 countries. The most popular video lecture is Steven's explanation of the neural organization of the spinal cord, which currently has 317,691 views.


Talk about appreciation! Business Professor Marce Kelly was honored to receive an Excellence in Teaching award from the students of Alpha Gamma Sigma, SMC's honor society, in Spring 2017.


Life Sciences instructor Benjamin Kay serves on the advisory team to Climate Action Santa Monica (CASM) and was delighted by many accomplishments this summer: a number of CASM leaders organized a very important summer opportunity called Climate Corp that engaged both SMC and Samohi students in educational outreach about climate change and sustainability; Santa Monica Mayor Ted Winterer and City Manager Rick Cole presented student interns with commendations.


Excellence runs in the (SMC) family! Retired Business Professor Pat Halliday's daughter Catherine Halliday-Roberts became an Administrative Law Judge at an investiture ceremony on June 16, 2017, in Falls Church, Virginia—Catherine has also been an adjunct faculty member in the SMC Business Department, and teaches Business Law courses online!


Theatre Arts faculty Crystal Robbins presented earlier this year at the Lessac Conference at Penn State College, on applying the Lessac voice- and body-work for health and wellness. She is also currently a Lessac Master Teacher-in-Training, a by-invitation-only honor as there are only five in the world! This summer she taught voice colleagues from around the world with three other master teachers at The Lessac Summer Intensive at DePauw University in Indiana. Check out her website for more: crystalrobbins.com.


Gerard Burkhart, Photojournalism Professor, was selected as the Mojave National Preserve Artist in Residence for 2018. Gerard will live there during the winter break and visit on select weekends to produce a body of work to be shown at the Kelso visitors center in the Fall of 2018, The project is centered on the intersection of cultural remains in context with the geography of the desert in remote locations the everyday visitor would miss.
* * *