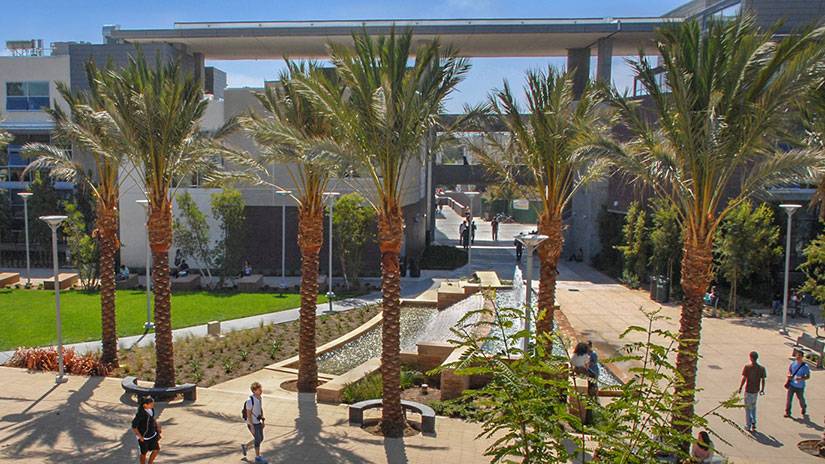 As a freshman at Cal State Long Beach, Nicole Woodard acquired a habit of cutting classes.
She'd been a solid student at King Drew Medical Magnet High School, taking AP classes and dreaming of becoming an obstetrician. But truancy in college is a deal-breaker, and Nicole flunked out her first semester. She did little better in the spring. Being on academic probation meant losing her financial aid and her work-study job.
Determined to start over, Nicole enrolled at Santa Monica College the following fall. But bad habits die hard, and she continued to cut classes. "I'd be sitting 500 feet from where my section was meeting, just laughing and talking with my friends," she recalls. "My social life was my top priority."
Fast forward 15 years, and in what sounds like a synopsis of the old sit-com "Welcome Back, Kotter," Nicole is back at SMC—now on the faculty, a popular, high-visibility role model. Far from cutting classes, these days she arrives four hours early. Her go-to destination: SMC's Black Collegians office, where Nicole meets with her students and preps for the three courses she teaches in psychology and counseling.
Nearby, perched on a bookshelf in Sherri Bradford's office, is a bound copy of Nicole's doctoral dissertation.
"I think it's so important for students to be able to see that," says the longtime Black Collegians program leader. "I tell them: 'Nicole was you, and not that long ago.'"
A large-scale quantitative study documenting reluctance among African-American clients in seeking mental health services from white clinicians, Nicole's scholarly tome is a constant reminder of what's possible when low-achievers are given counseling support, high-expectations and an occasional thump of tough-love.
"Black Collegians Saved My Life"
In many ways, Nicole is the poster child for Black Collegians.
The program, which will celebrate its 30th anniversary next year, serves some 420 students—roughly 15 percent of Santa Monica College's African-American student population—with intensive counseling and academic advisement, a robust schedule of study-skills workshops, core courses with a focus on African American culture where possible, seminars with guest speakers, college/university tours, cultural events and social gatherings.
"Black Collegians saved my life!" says the student-turned-professor. "Sherri saved my life! That woman put me on track."
There were others who helped along the way. SMC Counselor Cassandra Patillo, for example, who would bring Nicole homemade shrimp scampi every time she earned an A. And her UC Irvine mentor Thomas Parham, now president of Cal State Dominguez Hills, who insisted she apply to Columbia University for grad school despite her dread of Ivy League rejection. (She was admitted.)
But Nicole feels especially close to Sherri, whom she calls her second mom.
"I like to say: 'Sherri raised me a 19.' She taught me what it was to be a Black woman, a professional. When I cut my hair short in 2003, everyone assumed I did it to be like her."
A Wake-Up Call
The friendship began in 2000, soon after Nicole arrived at SMC. She immediately got involved with Black Collegians, and Sherri hired her as a student worker.
Nicole adored her boss, basking in her attention. Ironically, losing Sherri's respect was the wake-up call that turned her life around.
It started with a lie. After Sherri heard from an instructor that Nicole was skipping class, she confronted her student-worker. Nicole denied it, then sheepishly confessed and promised to do better. And she really tried.
She was stunned when, a year later, seemingly out of the blue, Sherri fired her.
But co-workers in the Black Collegians office had complained about Nicole's disrespectful demeanor and poor work-ethic.
Devastated, Nicole shunned the Black Collegians office and its students. She got another campus job as a chemistry TA, but she pined for her old boss and mentor.
Then one day, standing in the quad, she felt a tap on her shoulder.
It was Sherri.
"Come back to Black Collegians," she said.
Reassured that "we were OK, and she still loved me," Nicole says she felt as if a weight had been lifted off her shoulder. To prove herself, she demanded her old job back—but on a volunteer basis. "I was going to be the best office assistant she ever had."
Nicole kept her paid work-study in the chemistry department. For the next two years, she put in long hours in the Black Collegians office without compensation.
"I was there at 7:30 am, which is when Sherri would get there," she recalls. She took on new responsibilities, led information sessions and helped establish the Black Collegians Club Annual Banquet.
"We had a running joke: All Sherri had to do was fire me to get me to do my work," she says, with a chuckle.
Around the same time, Nicole's grades sky-rocketed. She left SMC on a high-note with straight A's in her last term. In 2004, Nicole transferred to UC Irvine, majoring in psychology and social behavior. She went on to earn two master's degrees in psychological counseling from Columbia University, and a PhD in counseling from George Mason University in 2014.
Last year, Nicole moved back to Los Angeles and started teaching counseling and psychology courses at SMC. At 37, she still hangs around the Black Collegians office, poking her head into Sherri's office every day, eager for a chance to talk with her mentor, confidante and idol.
Dynamic and Engaging
Nicole is starting to play a parallel role in the lives of a new generation of Black Collegians.
"Her students love her," says Sherri. "I see it because she holds her office hours here. She is so dynamic and engaging. She's this rare person who knows how to connect with young people but is an absolute scholar in her field."
Sitting at the front desk where Nicole used to sit 15 years ago, Black Collegians student worker Donnelle Wade would sometimes overhear Nicole's animated conversations. Intrigued, she enrolled in her Psych 19 class and discovered they had a lot in common. In addition to holding Nicole's old job, Donnelle was vice president of the Black Collegians student club last year. Back in 2003, Nicole had been the club's publicity director. Soon the two women were brainstorming on ways to boost student involvement in the club. Donnelle also tapped Nicole to help plan the 2018 annual banquet.
In June, Donnelle graduated from SMC with a major in African-American studies. She'll transfer to UC Berkeley in the spring. She dreams of a career in the non-profit world, fighting for environmental racial justice or advocating for prison reform. Graduate school looms large in Donnelle's future.
But for now, she worries about leaving the security of her family home in Lynwood.
Talking to Nicole provides reassurance. "Just hearing her and knowing she was completely fine [after moving away] makes going to Berkeley a lot easier," says Donnelle.
Kindred Spirits
Nicole's newest protegée is 17-year-old Kennedy Dillard. A 2018 graduate of the Early College Academy at L.A. Trade Tech, Kennedy enrolled last summer in a special pilot version of Nicole's Counseling 20 class geared for new high school grads entering SMC in the fall.
A first-generation college student from the Crenshaw district, Kennedy is majoring in political science and aspires to be a lawyer someday. Her fall semester has gotten off to a rocky start, however, and she has already dropped her math course.
Nicole sees in Kennedy a kindred spirit, both for good and ill. "She's one you have to really guide. If she's left unattended, she could go off track. And I refuse to let that happen."
The two have already developed a special bond.
"When Kennedy sees me on campus, she lights up," says Nicole. "She runs to me, she kisses me on the cheek. I see that she really loves Sherri, too. It's almost like a three-generation thing. I tell Sherri: 'You are Kennedy's second grandma, and I am Kennedy's second mom.'"
Who knows? Maybe someday Kennedy will return to SMC as faculty and mentor to a new generation of Black Collegians.
Nicole and Sherri have their fingers crossed.
* * *