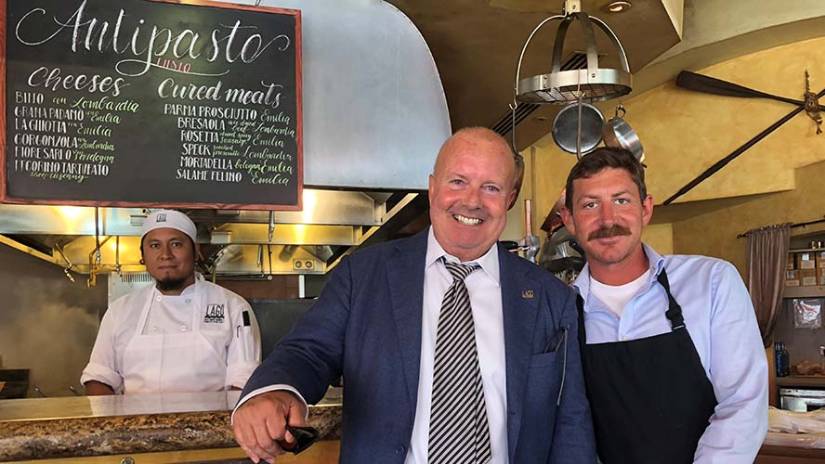 Sitting on the Third Street Promenade in Santa Monica is a cozy but elegant Italian restaurant; large windows open out onto a patio where diners can dine al fresco, and beyond that, the bustling thoroughfare is visible. Inside, you can feast on delicious and authentic Northern Italian cuisine, while feeling right in the epicenter of a landmark Southern California tourist destination. It is like being in two worlds at once, which happens to be precisely according to the vision of the owner of the restaurant (Locanda del Lago on Third Street and Arizona): Santa Monica College alum and restaurateur West Hooker-Poletti.
One Huffington Post food blogger playfully called out George Clooney's attention to the "best Northern Italian meal" that can be had anywhere (Clooney has a home in Lake Como, also West's second home and inspiration for Locanda del Lago): in a Santa Monica restaurant whose name roughly translates to: "The Inn of the Lake."
West was born in Milan, Italy and raised in Bellagio, a scenic village in Northern Italy known as "the pearl of Lake Como." West's mother was German; his biological father an American who had moved to Italy to open a 7Up bottling plant. His parents split after a few years, and West's life would change drastically when he was 10 and his stepfather—Sergio Poletti—entered his life.
"I was lucky enough to go from being raised by a single parent to living in luxury resorts at the age of 10," West recalls, adding that as a kid, it was "actually embarrassing to have to call room service to get a 7-Up for my friends."
At 18, West would go west—to California. He was an American born abroad and needed to spend some time in the U.S. to maintain his status. He would choose to enroll in Santa Monica College right after high school, laying the foundation for a very successful career as an entrepreneur and restaurateur.
A Strong Foundation
West chose Santa Monica College more or less for the same reason thousands of others have: its solid academic reputation and affordability. His stepsister who lived in the area told him that SMC was a great school; West found her opinion echoed by many others.
"I was not rolling in cash," remembers West, "so I attended SMC for as long as I could" (almost three years) "while working at the same time in downtown Los Angeles." West also held down a part-time job as an Italian tutor on campus. It was actually his job at the Los Angeles Hilton (now the Omni Hotel) that brought West to Santa Monica College. He had begun as a key clerk, and was quickly promoted to assistant manager.
"One of my duties was to accompany [often Japanese] VIPs to their rooms," says West, "And I realized that I was ignorant, because they would ask me questions about Los Angeles economy and politics, and I had no answers. So I went to visit the SMC campus. I just knew I had to learn more."
There are so many ways that Santa Monica College influenced him that West produces a large piece of paper—with writing on both sides—on which he had made notes about how SMC prepared him for his life and career. There were the Creative Writing and Speech classes which West remembers the most because he needed them the most. Then there was the Business Law class, which made him mad because the standard was "so high"—except that when he got to Cornell, West was thrilled that he had come ready. There were many other courses he took at SMC—micro-economics, psychology, accounting, and more—that West found "tough" but for which he was later grateful. West would transfer from SMC to the prestigious Cornell School of Hotel Administration (he earned a B.A. with top honors).
He still keeps in touch with the friends he made at SMC—one of them is in South America, another in Cyprus. "Ironically, they both have entrepreneurial careers," he says, "Maybe that's why I connected with them." He grows thoughtful, and adds: "I would say that Santa Monica College is a good preparatory school if you want to become an entrepreneur because you have the possibility to prepare for all aspects of professional life."
The Inn of the Lake—and by the Bay
In 1989, West signed the lease on his first restaurant, Locanda del Lago; it would open its doors in 1991. He would expand his business with the "fast-casual" Caffe Bella, which sits on an island on 3rd Street Promenade, serving panini sandwiches, coffee drinks, and house-made gelato.
As for Locanda del Lago, West says that specializing in the cuisine of Northern Italy was "more than a no-brainer." His stepdad's influence meant that West grew up with a deep appreciation for the hospitality element of the restaurant business. Sergio also cooked (extremely well) at home after he retired (West recalls his minestrone particularly); West ate many meals cooked by some of the top chefs in Italy.
"Italy has 20 different regions," says West, "and there are so many different [variations] in cuisine. I realized I can only do well in what I know." However, when Locanda del Lago opened its doors in 1991, it was, West says, 'a bit of a rude awakening.' "The first menu that we posted outside…people didn't even know that it was Italian, because I had specifically opened with dishes that I did not see in Italian restaurants here."
Over time, however, West would develop a way of navigating between different tastes. "Hospitality is the number one thing for me—so I had to figure out how to make people happy." (A look at Locanda del Lago's menu proves how the restaurant offers some "crowd pleasers"—a "Euro burger" and "roasted half chicken", for instance—while largely featuring Northern Italian classics. The restaurant also hosts a monthly "Bite of the Beast" dinner—a four-course communal feast featuring traditional and rustic roasts. Sept. 27, 2018 featured "suckling pig" or porchetta).
The risks paid off. Today, 27 years later, Locanda del Lago continues to be a fixture on the popular downtown Santa Monica dining circuit, and has won several local awards over the years that bear proof of this: "Most Loved Business Utilizing Locally Sourced Ingredients" in 2014 from the Santa Monica Daily Press; a Sustainable Quality Awards Grand Prize in 2015, among many others.
West has other plans in mind—developing Caffe Bella's brand as a destination for quality Italian street food, for one. In recent years, West also began another enterprise, in his beloved Bellagio. Villa Poletti is a beautiful home and vacation rental with breathtaking views of Lake Como.
West and his wife Karin have two children, Helen, 7, and Benjamin, who is 3. They spend some time each year in Lake Como. He wants his kids to have friends among the children there, like he did once. "It's a small town—and once you know people as a kid, you always have [that bond]," says West. "I found it a very reassuring thing to have. You leave for 20 years and come back—and nothing has changed."
In fact, West appended "Poletti" to his last name—so that his children would, in Italy, be recognized as part of the Poletti family. "Because we're living in both worlds," he states simply. The Hooker-Polettis love both worlds equally. "We like Santa Monica, it's beautiful—and the lodge on Lake Como is beautiful, so we're always torn," says West, "so we spend our time in both places!"
West has "done a lot of assimilating" in his home by the bay, too. Among other things, he has been on the board of Downtown Santa Monica, the erstwhile Santa Monica Convention & Visitor's Bureau (now Santa Monica Travel & Tourism); most recently he is immediate past Chair of the Santa Monica Chamber of Commerce (he still serves on the executive board).
And "as a good Libra," he adds wryly, "I also stay connected with the Italian world." He was chair of the Italy-American Chamber of Commerce West for some time; now he serves on the board of Comites Los Angeles, an organization that represents the interests of the Italian community of the Los Angeles Consular jurisdiction.
And Here's How
What words of advice would West give to Santa Monica College students and others seeking to follow his path of entrepreneurship?
"Obviously, education," says West. "Taking advantage, as much as possible, of academic resources…because you read books you would never have read, you get involved in issues you would never get involved in. It opens up your mind, and, if nothing else, it will allow you to live life at a deeper level."
He is clear on what it takes to succeed. "To be successful in this type of business, you need to have a broad vision…not tunnel vision," says West. "Follow the best teachers [and models] you can find, because you just learn more." (He looks up to chef, restaurateur, and cookbook writer Thomas Keller; another person he counts among his "biggest inspirations"—with whom West also shares a nautical passion for sailing—is the late inventor, philanthropist, and champion for world peace Stanley A. Dashew. He was, incidentally, one of Locanda del Lago's first customers).
For those seeking to gain experience by "working their way up" in the food industry, West says that the best way to acquire knowhow that will help you run your own business someday is to diversify your portfolio and work experience.
"Work as much as possible for other restaurants," says West. "You may be a good waiter, but don't do that for five years. Better to be a host or manager for a couple of years, work in the kitchen for a few years, be a baker, a kitchen manager, or a hotel steward . . . because you [will] learn how the whole machine works."
But getting a good higher education—and a strong foundation like he did at Santa Monica College—is critical for one other reason, says West: "If you need to open a business with other people's money, you have to learn how to talk to bankers, builders, landlords, attorneys and investors." He notes that many friends and acquaintances opened promising businesses that "crashed and burned because they had a bad lease."
When he is asked what accomplishments he's most proud of, West says that the greatest satisfaction he's derived is not from personal accolades or gains—but from people who began working for him at an entry-level position and worked their way up to management (sometimes elsewhere). Some even moved on to open their own restaurants and became "very successful."
Here are just a few: Stefano Cestaro left Lago to open Ado, Adoteca, Casa Ado, and a restaurant in Mexico. Assistant maitre'd Andres Airoldi worked his way up to general manager and moved on to run world famous Spago. Waiter Matt Greenberg ran the bar at Lago and eventually moved to two Michelin Star Award-winning restaurant Melisse in Santa Monica as general manager. The list goes on and on . . .
"I like to think that I played a little part in influencing them in that direction," he says. For those who are at the beginning of their entrepreneurial careers, who are still "trying to learn about themselves" here are some final words from West: "Definitely don't hold back. Be yourself as much as you can. Always work hard without burning bridges—and someday, soon perhaps, you will be able to play hard as well."
* * *
To see more about West's restaurant, check out Locanda del Lago's website.