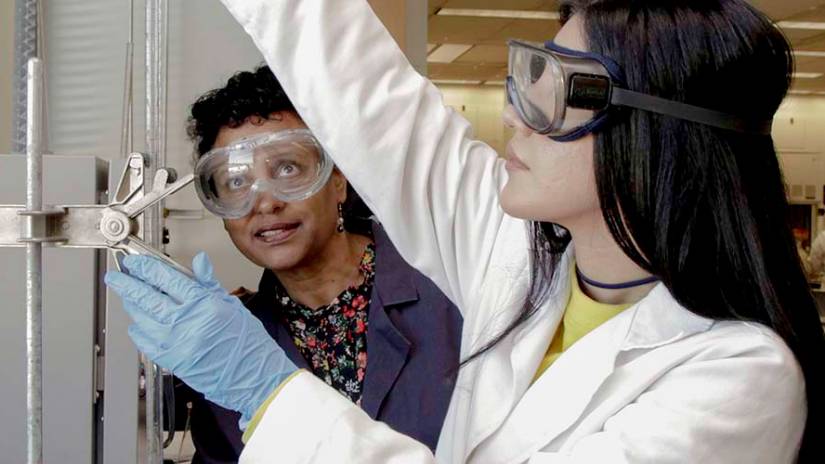 Southern California's infrequent rains remind Santa Monica College Professor Roman Ferede of family times at home, in her native Ethiopia. "I feel so at peace because I remember, during the summer rains, all the children would be at home laughing and playing."
Peace was at a premium back then. Strife roiled Ethiopia after Emperor Haile Selassie's overthrow in 1974 and until 1991. The transition to the new regime was not an easy one at first for her dad, but her mom was there by his side. "She protected him and always had his back," Roman recalls. Roman describes her dad as the kindest, smartest, and the most visionary person that she knows.
One of eight children, Roman was mostly insulated from the strife while growing up, and her family was happy beyond the rains.
When Roman was in seventh grade, her father's business required the family's move from Gondar, Ethiopia to the nation's current capital, Addis Ababa. "He was traveling too much," she recalls, and wanted to spend more time with his growing family. After finishing high school and two years of college, she began another journey, when her parents sent her to the United State.
That began a cross-country educational odyssey that took her from Emporia State University in Kansas, where she earned her bachelor's degree, to the University of Arkansas for her PhD in organic chemistry. After staying in the South to conduct postdoctoral research at Emory University, she trekked to Southern California.
"At first, it was hard because I missed my family," she recalls of the adjustment to her new country. But Los Angeles' vibrant Ethiopian community provided comfort, as did the presence of supportive brothers, sisters and relatives as they studied here. A fierce resolve also kept loneliness and doubts at bay. "I was more fearless than now," she admits.
She then found a home at Santa Monica College, the late Professor Frank Jerome (later dean), whom she considered a mentor, urged her to join the Physical Science department as an instructor in 1987.
She also taught at Cal State LA, Mt. St. Mary's and UCLA though, here at SMC, she felt the right chemical bond. More than 30 years later, she has spurred a full generation of students to scientific success. Her name can be found throughout the chemistry curriculum, from fundamentals to biochemistry. "I'm one of those crazy people who like teaching everything," she says.
Roman particularly enjoys teaching Science 10, a course she helped create. Behind its title, "Principles and Practices of Scientific Research" lies a wealth of information about what it takes to succeed in the STEM field.
"We teach the principles of research, how to search the literature, to do hands-on experiments, to write scientific papers, and to present orally and in a poster format," she explains. In devising the course, she and her colleagues agree that, if they had taken it before attending graduate school, "it would have shaved six months off our blindly going through stuff so we could have hit the ground running."
Roman's careful instruction has helped innumerable SMC students do just that. One, Alvan Ikoku, came to SMC from Nigeria and became a Rhodes Scholar. Another, John, entered a nationwide competition in which he won an award from the U.S. Department of Energy for devising a cheaper, greener battery for electric cars.
"We went to Chicago, everything was paid for, and we were even picked up by a limousine," Roman recalls. "The poster John presented was actually for research done at UC Berkeley, but he had been asked to have someone accompany him who had made a difference." He, obviously, chose Roman.
More recently, engineering student Simon Valenzuela participated on a research team mentored by Roman that designed an easy-to-build, hand-operated centrifuge for separations of mixtures in nutritional analysis. The students also experimented with common household substances to find the most effective and environmentally friendly extraction solvent. That turned out to be coconut oil.
"You could see Simon opening up like a flower during this process," Roman says. The team also included chemistry/pre-med student Miguel Macias and pre-med student Edwin Rashidi. Miguel submitted the project to the Louis Stokes Midwest Center of Excellence, which works to boost the success of underrepresented students in science, technology, engineering and mathematics. Their application represented two of the 130 posters accepted for the center's annual conference.
In addition to also presenting research at major conferences, other students benefiting from Roman's tutelage have transferred to top PhD and medical programs. One student, who went to UCLA to become a nurse, had a daughter who became friends with Roman's daughter, Tiggy Ferede-Menkir. She now attends Columbia, while Tiggy has graduated from Princeton and is studying epidemiology at Harvard.
Over the years, a number of students — including John and Simon — have joined in Roman's research to improve nutrition in developing countries. It began when she was on sabbatical in Nigeria, where her husband breeds plants for the International Institute of Tropical Agriculture. Although he could cultivate vegetables to increase the carotenoid (pro-Vitamin A) levels that give them their color and provide vital antioxidants, he remained frustrated by an inability to properly test many samples inexpensively for further analysis. From projects involving yams and corn, Roman and her students have come to the aid of this crucial endeavor by sharing knowledge gained with the researchers in Nigeria.
Closer to home, Science 10 students are currently performing chemical and microbiological analyses of Los Angeles river water.
With her teaching skills, research expertise and international focus, Professor Ferede could have pursued a career at any number of four-year universities, but SMC inspired her with a sense of deeply felt mission. She is determined to promote the college's push for more diversity and inclusivity.
"SMC gives students with different backgrounds chances to succeed," Roman says. "I am so happy to work with so many different people and see, with just some help and support, how students can flourish and succeed."
* * *