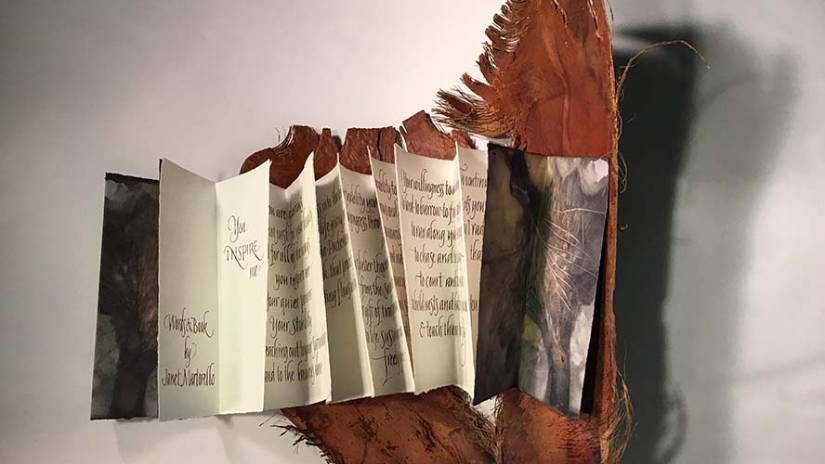 Emeritus instructor Ellen Reich is Malibu's current Poet Laureate! Ellen has been teaching creative writing at Emeritus for 20 years and has also recently been teaching the Autobiography class too. Both SMC Emeritus classes are taught at the Senior Center in Malibu. Ellen says she "enjoys bringing poetry to her community."
---
Dance instructor Laura Canellias was inducted into the Salsa Hall of Fame in May 2019 during the 21st Annual Salsa Congress in Los Angeles. She was also recently honored by the City of Los Angeles and the Rudy Regalado Foundation in September 2019 for her past and continuing contributions to the salsa community. Congrats, Laura!
---
Theatre Arts instructor Leigh Allen is proud to submit the following brags: SMC Technical Theatre students helped mount "Sisters in Law" at the Wallis Annenberg Performing Arts Center. While she was working on this production about Ruth Bader Ginsburg and Sandra Day O'Connor, Leigh ran into several SMC alum at the Wallis who had found employment in their area of interest: Tyler Dubovy as an electrician who helped to hang Professor Allen's light plot; Yanki Evliyaoglu on the carpentry crew who helped build the set; Sara Smith who was the Assistant Lighting Designer; and Deena Tovar, who was the Equity Assistant Stage Manager. Current SMC students studying stage management were also invited for a back stage tour, to meet Tovar and ask her questions about her career path, and see some work in progress. Tovar herself had attended a similar rehearsal at the Wallis while she was an SMC student, where she, in turn, had the opportunity to meet SMC alumna Elle Aghabala who was the Equity Stage Manager at the Wallis, and is currently the Associate General Manager at the Alley Theatre in Houston. Talk about a dramatic SMC success story!
---
A new member of the Art department faculty, Lisa Venditelli Karmel, won second prize in an exhibition at Womanmade Gallery in Chicago in September for her artwork titled "Pages from the Book of Souls." Created with painted images, soles of shoes and sausage casings, Lisa's artwork addresses the Catholic abuse scandal.
---
SMC English Professor Diane Arieff is proud to share the results of the English Department's fourth annual English 1 Essay Prize (the results were announced in a ceremony held on the main campus August 21, with the winners, their families, and English faculty all in attendance to celebrate). Drawing from a competitive pool of papers nominated by English instructors, the contest panel chose the strongest research-based essays. Along with a certificate, the First-Place winner received a check for $300; Second-Place Prize $200; Third-Place Prize $100, and $50 for the winner of Honorable Mention. Yannie Lee, whose essay about mental health and academic pressures in South Korea, "The Children Who Weep Silently," took first place, said she was "honored" by the recognition, and added, "I must say a huge thanks to the English Department of SMC for creating a gateway for student writers to be able to share their works." Lee explained, "Nowadays, I try my best to aim for progress rather than perfection." Leo Miller won Second Place, for "Confederate Monuments and Censorship." He said: "Winning this contest has inspired me to tackle more complex writing projects and to experiment with different genres." Violet Hawley won Third Place for "Solitary Confinement Should Be Banned," and Honorable Mention went to Lucas Barbosa Do Couto for his essay, "Understanding Tinder and Its Impact on Modern Relationships."
---
Spanish professor Dr. Alejandro Lee has a couple brags: he was awarded the 2019 Teacher Grant by the Modern and Classical Language Association of Southern California (MCLASC). Plus, he was invited to chair the Spanish CLEP Spanish Exam Committee (College Board) beginning in July 2019. And along with Professors Cristina Moon (Spanish, Chabot College), Nancy Meléndez-Ballesteros (Spanish and Linguistics, SMC, College of the Canyons, and Mount St. Mary's University, Los Angeles), Alejandro was the joint recipient of an Academic Senate for California Community Colleges Open Educational Resources Initiative (ASCCC OERI) grant to create a second-year Spanish OER Grammar Manual. Finally—and on behalf of three Spanish 11 students—Professor Lee is proud to report that Rubén García, César Mora, and George Varela are recipients of the "Fulfilling Our Dreams" scholarship, granted by the Salvadoran American Leadership and Educational Fund (SALEF). Rubén García is also the recipient of the 2019 Rebecca Anderson College Student Grant by the Modern and Classical Language Association of Southern California (MCLASC). Congratulations to these extraordinary young men!
---
English professor Mario Padilla is pleased to report that his story "Frog Hunt" was a contest winner and will be published in Tulip Tree Press's coming annual edition of Stories That Need to Be Told 2019.
---
Student Life Administrative Assistant Michele Harrison took the opportunity to live and teach English in Yinchuan, China from Fall 2018 - Spring 2019 at the # 6 Middle School. In the pictures seen on the slideshow, Michele poses with 9th grade dancers for Spring Festival, and is on the school's campus with the statue of Confucius. "China is romantic and beautiful mixing the old and new," Michele writes. "As I jumped out the car for a picture of the elderly man and donkey in the city of Yulin, [I found that] he could not speak English nor I Chinese. We broke the ice with a universal smile!" Michele sends a special thank you to the SMC Board of Trustees and the Student Life Department as well as CSEA for allowing her the opportunity for a trip of a lifetime.
---
'Baba's Bunch' led by team captain Judy Louff, administrative assistant in Theatre Arts, participated in the Walk to End Alzheimer's at Tongva Park on September 22. Thanks to family and friends, the team met their $2,000 goal and Judy exceeded her personal goal of raising $1,000. The cause was particularly close to home—Judy's mother, a past SMC staff member and retiree from SMMUSD, suffers from Alzheimer 's disease.
---
Business professor Marlea Welton and her student club Global Village welcomed 50 people to SMC to celebrate World Water Day in conjunction with the United Nations. In November, Marlea and two other professors will represent SMC at the George Mason University Peace Building seminar in Washington, D.C.
---
Emeritus Associate Dean Scott Silverman & Janet Martorello, calligraphy instructor is proud to inform SMC in Focus readers of a very special Emeritus linkup at a show called The Artful Book, presented by the California Chapter of the Guild of Bookworkers at the Long Beach Museum of Art (the show opened Friday, October 4 and runs through January 5, 2020). The show, wrote Scott, "includes a book written in calligraphy and designed by our own Professor, Janet Martorello. In her artist's statement Janet writes, In Southern California we have times of strong winds and those always produce a sprinkling of palm fronds on the streets. I have long admired the beauty of the wood and wanted in some way to feature it and use them, perhaps for book covers and sculpture. This is my first exploration toward that goal.
---
SMC Fashion students were out in full force at the LA Fashion Festival – and how! Fashion professor Lorrie Ivas and Career Services Advisor Ann Marie Leahy are proud to report the following: "The theme of this year's LA Fashion Festival was sustainability, diversity and inclusion, all principles fundamental to the SMC Fashion Department. This event was the perfect platform for SMC to show off our incredible fashion students' recycling creativity and showcase the sustainable efforts made by the Fashion Department and our incredible industry partnerships: Chop Shop style!" The designs displayed at the festival were a product of this year's Chop Shop competition led by Professor Lorrie Ivas in collaboration with Lucky Brand's Sustainability Manager, Allison Charalambous. The competition was open to all enrolled SMC Fashion students, who were asked to create designs out of scraps and to use even the most challenging materials, including care labels and metal hardware. Professor Anne Marie Allen even incorporated upcycling in her advanced design and construction class assignment. Fashion faculty Jan Ardell, Lorrie Ivas, Susan Kolko, Wynn Armstrong, La Tanya Louis, Elna Cooke and Career Services Advisor Ann Marie Leahy were all at the festival engaging with prospective students, industry partners, media, and fashion enthusiasts. "Everyone was impressed with the incredible work of Santa Monica College students," they write. Check out this CA Apparel News article about the show!
---
Corsair photo adviser and photojournalism instructor Gerard Burkhart's 2018 Shimmering Sky project and the 2001 North Hollywood Neighborhood Project are currently displayed in the Laemmle Theater North Hollywood location as part of the theater chains "Art in the Art House" feature until November.
---
Associate journalism and media professor Lyndon Stambler completed a historical feature story for UCLA Magazine about five refugees who fled the Nazis and became UCLA professors, including the renowned composer Arnold Schoenberg. Stambler felt the story about the 1930s and 1940s still relevant, given the estimated 71 million refugees worldwide and the thousands of asylum seekers at our southern border.
---
A team from SMC recently won the prestigious $15,000 Delphi Award which recognizes innovative approaches to supporting adjuncts! For SMC instructors Joelle Adams (English), Diane Arieff (English), and Catherine Matheson (Psychology), it has been a long, gratifying journey from their early conversations in 2016 about how best to support adjunct faculty to the recent news of the award. They have been collaborating on multiple projects to address the needs of part-time instructors at SMC. In a congratulatory letter, the Delphi Project called the team's work "impressive" and an "excellent example" for other institutions. Award winners are selected by USC's Pullias Center for Higher Education in partnership with the Association of American Colleges & Universities.
---
Theatre Arts instructor Crystal Robbins directed the month-long Lessac Summer Intensive at DePauw University in Greencastle, Indiana this summer. This was Crystal's first year as Director and Master Teacher, after co-teaching for three summers. She taught 10 participants who had traveled from all over the world to train in Lessac's Voice, Speech and Body Work for the performer. Crystal was equally proud that among the participants who chose to test to achieve practitioner status was her former SMC Theatre Arts Student, Mannette Antill. Crystal is now mentoring Mannette towards her certification in the work!
---
Associate Sociology professor Elham Gheytanchi is pleased to report that her paper on women's movements in the Middle East co-authored with Valentine Moghadam will be published in a book titled: Gender in the Middle East and North Africa: Contemporary Issues and Challenges.
---
Geology professor Christyanne Melendez says that as a field geologist, the experiences that are most enriching are those that allow one to experience geology on foot. Over the summer, Christyanne backpacked both the High Sierra Trail and the Rae Lakes Loop via Kearsarge Pass (over 130 miles in the Sierras) and summitted Mt. Shasta (14,180 ft.) and Mt. Rainier (14,411 ft.), both glaciated volcanoes, and Mt. Whitney (14,505 ft.). The Rae Lakes Loop, a 56 mile loop through the Sierras, was completed with Steph Anderson, faculty in the Psychology Department.
---
Aesthetics and the Cinematic Narrative: An Introduction, by Film Studies instructor Michael Peter Bolus, was recently published by Anthem Press. The book places cinema, as an art form, in a much wider aesthetic and historical context. You can also read the book's introduction right here.
---
This summer, Life Sciences instructor Chris Wall was awarded a Ph.D. in Marine Biology from the University of Hawai'i at Mānoa. Chris' was an Environmental Protection Agency Research Fellow during his Ph.D., and his research focused on the biogeochemistry and energetics of reef-building corals and their responses to environmental change. Congrats, Chris!
---
Physical Sciences instructor Arman Toumari—who is also a professional chemical engineer—is a doctoral candidate at UCLA and has recently published an article related to water treatment in a peer reviewed journal. He is also the recipient of several fellowships from UCLA and a scholarship from the Professional Engineers in California Government.
---
Dean of Workforce & Economic Development Patricia Ramos is pleased to report that leading higher education publication EdSource covered the Amazon Web Services cloud computing certificate, which was piloted at SMC and has been unrolled at 19 other Los Angeles colleges, who are part of a regional consortium along with SMC. Read the Amazon Web Services cloud computing certificate article.
* * *