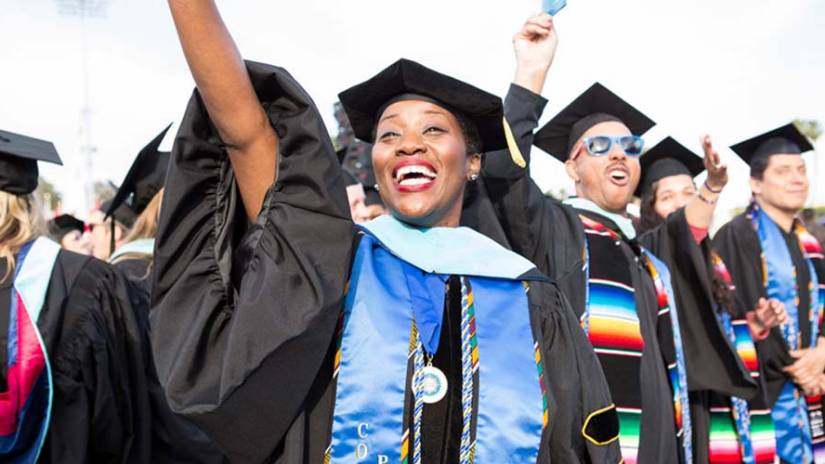 Roughly 15,000. That's how many Corsairs have passed through Black Collegians since its doors opened in 1989.
That is some heavy-weight uplifting.
"It's hard to believe we've been around for 30 years," says program leader Sherri Bradford, "and it's amazing to see the number of students we've counseled." More are on the way. Last year alone saw 30-percent growth, as the Black Collegians fall enrollment rose from 477 (in 2018) to 610 (in 2019). African Americans make up about 9 percent of the total SMC student body, or just under 3,000 Corsairs.
As the program marks its 30th anniversary, Sherri reflects on the early years and the meaning of this milestone.
"We Are a Family."
Back in 1989, then-President Richard Moore had challenged Deyna Hearn at General Counseling to find a way to boost the lackluster transfer rates among SMC's African American students. Deyna responded by creating Black Collegians.
Transfer rates climbed, and as time passed, the program's mission and services evolved.
"Today it's so much more than just academic counseling," says Sherri, who has helmed the program since 1999, after its creator moved into higher administration. "We are a family. We are nurturing and addressing, in a holistic way, what each student needs to succeed," Sherri adds. "We talk about everything, not just academics."
Many African American students, she notes, arrive at SMC hobbled by the poor foundation they received at struggling high schools focused more on enforcing discipline than fostering educational excellence. Black Collegians buffers the culture shock these Corsairs may feel when they first encounter college-level academic standards.
"We have amazing students here who have overcome a lot," Sherri says, "but for many who are first-gen college students, who else is there to tell them how to navigate all this if we don't?"
Perks and Commitments
The kickoff event for Black Collegians' 30th birthday overlapped with a marquee event in SMC's 90th anniversary celebration: the October 22 grand opening of the Student Services Center. Moving the program's headquarters to the new complex represents a doubling of its physical footprint. Major improvements include a large waiting area, a student lounge, a dedicated tutoring lab and five public computing stations. For one-on-one meetings, the second-floor space increased counseling capacity from six private rooms to 10.
Enrolling in Black Collegian comes with perks—but members must make a commitment to the program. They need to attend two counseling sessions and at least three program activities each semester. Benefits include access to scholarships, priority enrollment, textbook vouchers, special Black Collegians-themed sections of 15 high-demand courses and a robust schedule of skill-building workshops. Off-campus outings range from cultural excursions to transfer college tours and the Black Collegians banquet.
Working seamlessly with this elaborate support program is the student-run Black Collegians Club (BCC), which creates a lively Corsairs community around club meetings, special events, and social gatherings.
'The Closest Thing to a HBCU'
A yearning for community was what first drew current BCC president Quenarii Lampkin to the program.
Born and raised in South Los Angeles, she landed at SMC after her dream of attending a Historically Black University came crashing down. Quenarii started freshman year at Hampton University in Virginia relying on an inheritance left by her grandmother. The money ran out after just one semester, and she had to drop out when the scholarship she'd counted on didn't materialize.
"I didn't want to come back to California. I didn't want to go to community college. I wasn't looking forward to SMC," she recalls. "Black Collegians was the closest thing to going to an HBCU, so I immediately joined. That being said, it was one of the best decisions of my life."
Quenarii served four terms on the BCC board, rising through the ranks from publicity director, to treasurer, to vice president and now president.
"I don't know where I would be academically or in life without this program," Quenarii reflects. "They don't just help you transfer; they teach life-lessons. They go far beyond the job description to make sure our students are OK."
Today, Quenarii looks to Sherri and Nicole Woodard as role models.
"I hope to one day be an academic counselor to Black Collegians, just to give back," says the psychology major, who graduates next spring and is now going through transfer application process.
Nicole is herself a program alum. She teaches in SMC's psychology and counseling departments and is a faculty advisor to the BCC. To mark the 30th anniversary, she has organized a November 14 panel discussion with successful Black Collegians alumni.
"It's just amazing to see the success stories," Quenarii says.
Well-Loved and Well-Resourced
Those success stories are fresh in Tyffany Dowd's mind. One of Black Collegians' seven professional counselors, Tyffany is currently assembling a legacy video to be screened at the June 6 Black Collegians banquet, the grand finale in a year of celebration. The video pays homage to founder Deyna Hearn and a pantheon of beloved program staff and distinguished alumni.
The dinner also honors the Tau Tau Omega/Santa Monica chapter of Alpha Kappa Alpha Sorority, which has given almost $100,000 in cash scholarships to Black Collegians since the mid 1990s; and SMC nursing professor Dora Smith, who cuts a personal check for scholarships each year, in increments that have risen from $5,000, to $7,000 to a new high of $10,000 in 2019. While donors and volunteers in the SMC community are important, Sherri notes that Black Collegians is unusually well-staffed and well-resourced.
"Our college has made a commitment that we get the support we need. There are not many similar programs that have been around as long as we have. And nobody—nobody!—statewide has this level of faculty and staff support," she insists, referring to her seven counselors and fulltime math tutor.
Thanks to a recent grant from the nonprofit Umoja Community— the non-profit organization that supports a network of black student programs across 57 California community colleges—Sherri now has resources to market her team's services. Look for branded Black Collegians backpacks and T-shirts spreading around campus.
The Healing Touch of Math Therapy
Salima Muwakil turned to Black Collegians for math help and found a life-raft in a storm. Like many nontraditional students, she was anxious around equations after a decade away from school. The 35-year-old Army veteran had come to SMC to study nursing. When her math instructor told Salima about the weekly math therapy sessions through Black Collegians, she signed up. The pioneering program, developed by Tyffany Dowd, combines mindfulness exercises with homework tutoring.
Black Collegians quickly became her refuge. "When I came to college, I didn't think I belonged here. I had to constantly battle negative thoughts," says the Trinidad native, who saw two tours of duty in Iraq and Afghanistan. "If I didn't have the Black Collegians community—the math therapy, the mentorship of Ms. Bradford—I don't think I would have made it through the first semester. I was feeling beaten down. My soul was tired. I was in a dark place."
Today, Salima is BCC vice president and a President's Ambassador. She has a 4.0 GPA. Her goal is to be a nurse anesthetist, which will require transferring to a four-year college and further graduate study.
Math is also what first drew Charlene Alexandria Boyd to Black Collegians.
"Growing up, I always heard my mom say she couldn't do math, and I thought she had passed that gene to me," says the Brooklyn native, who goes by Alex. Black Collegians math tutor "Edwin Cruz was able to change that narrative for me."
The child of Jamaican immigrants, Alex had struggled in school with undiagnosed neurological and learning differences. Tongue-tied and anxious, she'd tried community college in Brooklyn, but found "it wasn't a good fit" and left to become a freelance make-up artist. In 2016, she moved to Los Angeles to follow her dream of working in entertainment media. Wanting to sharpen her business skills, Alex gave community college another try. At SMC—with support from the Center for Students with Disabilities and Black Collegians—she discovered she possessed the makings of a "fairly good student."
This fall, Alex transferred to UC Berkeley, where she is a media studies major. Black Collegians became her launchpad for public service in student government. After a year as BCC treasurer, she went on to leadership roles in the Associated Students as budget manager and, last year, as student trustee.
"Did they hold my hand? Yes, they did," she says, of Black Collegians. "In everything I said I wanted to do, I had my hand held."
* * *