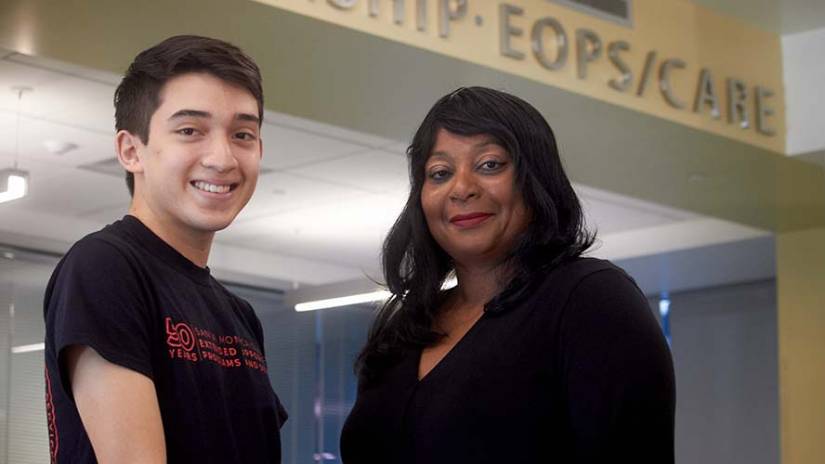 Established by the California legislature on September 4, 1969, in the midst of the struggle for civil rights and equality, "EOPS is, at its core, about providing access and support to California's low-income, first generation, and underrepresented college students," said Nicholas (Nick) Mata, SMC Associate Dean of Special Programs. "The program has helped students reach their education goals and, ultimately, change the trajectory of their lives."
EOPS helps about 1,000 SMC students each year as they work toward transferring to a four-year college or university, earning an Associate degree, or completing a certificate program. One of those students is Dedan Encina, a student worker in the EOPS program.
"EOPS has given me the tools and courage to succeed," he said. "Book vouchers, for example, help to alleviate the difficulty that comes with having to finance and purchase textbooks. EOPS has also given me the opportunity to be a student worker where I am able to pay it forward by assisting current and incoming SMC students set their own paths to success."
Dedan is currently exploring different areas of interest at SMC, and plans to choose one to focus his attention on soon. His goal is to transfer to a four-year university in fall 2021.
Sharon Ann Taylor found out about EOPS through SMC's Black Collegians Program and Veterans Success Center. "EOPS has given me a new outlook on life and is the air I breathe," she said. "The counselors and staff are not only a part of my SMC family, but they are also my advocates. They have given me the capacity and confidence to accomplish my goals to succeed."
Sharon Ann graduated from SMC in 2019 and transferred to CSUN as a Cinematography major, with a minor in Communication Studies. Her dream is to own a television studio and network, and provide a place where she can teach cinematography to children and young teens.
For Aaron De La Torre, EOPS was both a beginning and a future.
"As a first-generation Latino male, the decision to pursue higher education was not an easy one," he said. "My first year at SMC was a rocky one, and I found myself wanting to quit many times. It wasn't until I found the EOPS Program that things started to look up. I felt like I finally found my sense of belonging and community at SMC."
Aaron graduated from SMC with an Associate degree and transferred to Loyola Marymount University, where he received a Bachelor degree in Graphic Design, but "strived to come back home and give back in the way that my life was enriched." Today, Aaron is an EOPS Specialist at SMC, helping current and future generations of EOPS students get the support they need. "I never forget what EOPS did for me, and I am fortunate to be able to pay it forward every day, helping build community, providing support, and encouraging students to strive for the best."
To find out more about the life changing work that happens at EOPS, drop by Room S238 of the Student Services Center, or visit the EOPS webpage at smc.edu/eops.
* * *