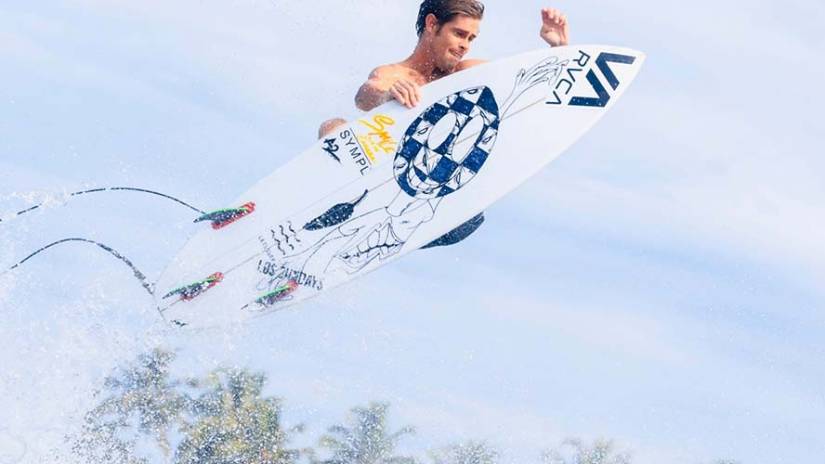 In surfing, "reentry" means hitting the tip of a wave vertically before immediately pivoting right back into it. For globally ranked professionals Dylan Goodale and Dillon Perillo, it was just one of many maneuvers they mastered. But after retiring from the sport, the similarly named surfers wanted to try another type of reentry — going back to school.
They chose Santa Monica College, where the rigorous yet supportive Scholars Program is enabling them to ride new waves toward achieving their future goals. Headed by Teresa Garcia, the program provides intense, specialized preparation for priority transfer consideration to UCLA and other top institutions with which SMC maintains partnerships. "We work very closely with these universities to make sure we are providing interesting, thought-provoking classes that enhance students' academic experiences," says Denise Martinez, M.A., a Scholars counselor.
The program also serves SMC's diverse body of students from wide-ranging backgrounds and age groups. This was especially important for Dylan and Dillon who, although only in their late 20s, were concerned they had missed the college boat.
"The hardest thing for me about college isn't the material, it's the social aspect of being older," Dillon says.
Nontraditional Path
"In the beginning, I was kind of overwhelmed by being back on a scheduled routine," admits Dylan, who was used to having to travel anywhere in the world on short notice when competition called. "It was the first time I had been in a classroom since the age of 13," he says. That was when the native Hawaiian began surfing competitively. He finished high school through an accredited online program and went pro at age 17.
Meanwhile, Southern Californian Dillon began competing in high school. The two met at a National Surfing Association event in San Clemente when they were teenagers and became friends in their early 20s, as their paths continued to cross at surf contests around the globe.
It was an idyllic opportunity to travel to exotic places with friends and fellow athletes, while earning a good living doing something they love. "You get paid young in that sport," Dillon notes.
However, such careers have a short lifespan. By the time many other professionals are just getting started or hitting their stride, most pro surfers have resigned themselves to hitting the waves purely for fun.
The career also carries another cost. "For kids who want to be in the top 10, it's not really possible to attend school," Dillon explains. "You'll be in Australia one week and in Spain the next."
Both Dillon and Dylan took some online college courses but found it challenging to perform consistently due to sporadic internet connections and the physically demanding nature of the sport.
"But my plan was always to go back to school," Dylan says. With his girlfriend studying nursing at nearby Mount Saint Mary's University, he wanted to complete his education in Southern California as well. "I did some research and ended up at SMC," he says.
Surfing Scholars
His acceptance into the Scholars Program ensured that Dylan was on the right trajectory. "Ever since then, my life's been much easier," he says. "Having someone to work with one on one, helping me through the ins and outs, definitely helped me figure out my whole plan of what to do."
For Dylan, whose experience includes writing for surf-related media, that plan includes studying English literature with the intention of transferring to earn his bachelor's and then a law degree from UCLA, USC, Columbia, or another top school.
He says his Scholars counselor, Theary Simon, really understands him and his goals. "That's invaluable when you're applying to transfer to a variety of schools with different requirements," Dylan adds.
Dillon says he had thought about college a lot but didn't really know where to begin. "I always brought reading material on surf trips," he says. As he was packing for one trip, he fortuitously grabbed his high school pre-calculus textbook. "When you're not surfing, these trips can get boring, because you're usually in remote places," he explains. "I started going through the chapters and doing equations. It didn't bore me."
A few years, later, when Dylan texted him he was enrolling at SMC, Dillon decided to check it out, too. His informal math studies served him well when he applied, as he placed beyond algebra into pre-calculus. At Dylan's urging, he also joined the Scholars Program.
"The counseling system has helped me a lot," Dillon says. "My counselor, Denise, knows me personally, and that really helps because college can be confusing. I went off the college path and am trying to find it again. "
Though he was initially cautious and signed up for just one class, he decided to go full time after earning an "A" after being away from school for so long. Like Dylan, he calls himself "fully committed" to his academic career. After building credits and acumen at SMC, he plans to transfer to UCLA to study business.
"Another great thing about the Scholars Program is that you get these teachers who are so intelligent and easy to work with," Dillon says. "They give you a little extra work, but it makes it more interesting."
Dilla but No Dallying
The surfing term "dilla" refers to someone who is confident and seemingly without concern. It could be the root of Dylan and Dillon's names. Yet behind their relaxed nature stands the drive that enabled them to succeed in a risky, demanding sport.
For example, while most students in the Scholars Program take two of its specialized courses each semester — in addition to SMC's other offerings — Dillon took three at a time. "And he did really well," Denise says.
"There's so much to take advantage of as a student at SMC," she adds. "That's what Dillon and Dylan are doing. They joined the Scholars Program and just keep powering forward."
"The last 12 years, I've had this physically demanding job," says Dillon. "Being back in school at SMC is rewiring me. It's teaching me how to focus more with my head and not my body, which I think is really important for the rest of my life, whatever I choose to do."
Dylan adds: "My time away from school helped shape who I am and I guess it's just a testament that there's more than one way to do things. You don't have to go the traditional high school-to-college route to succeed."
* * *