SMC Latinx/e Heritage Month 2023
Join us in celebrating Latinx/e Heritage Month at Santa Monica College (SMC) with a series of engaging events that honor the rich and diverse Latinx/e culture. The lineup includes insightful panels, documentary screenings, cultural celebrations, and thought-provoking discussions. Explore the academic journeys of our Latinx/e community, discover the history of 'La Veinte' in Santa Monica, savor the flavors of Oaxacan culture, and connect with SMC's Latinx students, staff, and faculty. Don't miss the opportunity to delve into the roots of reggaeton music and its role in Black resistance. Come, be a part of our Latinx/e Heritage Month festivities and celebrate the vibrant tapestry of Latinx/e heritage with us at SMC.
Add to the SMC Latinx Heritage Month Spotify Playlist !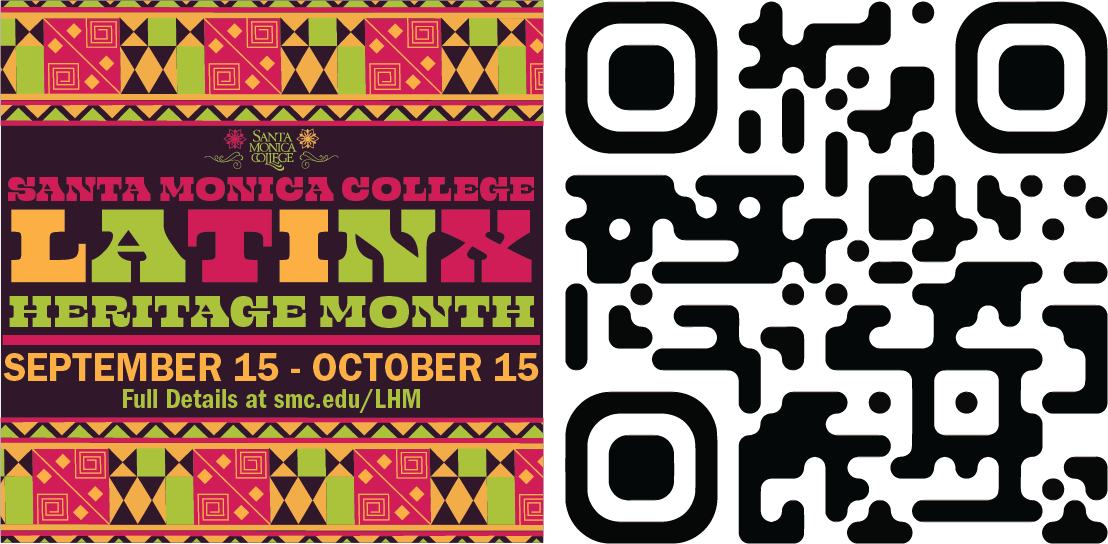 Latinx/e Heritage Panel: Our Academic Journey
Tuesday, September 19 from 11 a.m. - 1 p.m.
Location: Student Services Center Orientation Hall (SSC 1st floor)
Description: Join us for our Latinx/e Heritage Panel, which includes SMC classified professionals, counselors, and instructors hermano/as about the hurdles, struggles, and they encountered during their academic journey to obtain their educational goals.
"We were All Here" Pico Neighborhood Documentary Screening with Filmmakers Q&A
Wednesday, September 20 from 3:30 – 5:30 p.m.
Location: Student Services Center Orientation Hall (SSC 1st floor)
Description: Please join us for a special screening of "We Were All Here": The story of 'La Veinte' and the Pico neighborhood in Santa Monica. The film centers around the Casillas family, who emigrated from Mexico in 1918 and built the neighborhood around SMC. Filmmakers Dan Kwong and Paulina Sahagun will hold a Q&A after the film.
SMC Celebrates Latinx/e Heritage Month
Thursday, September 21 from 11:15 a.m. – 12:35 p.m.
Location: SMC Main Campus Quad
Description: All are invited to this special celebration as we kick off Latinx Heritage Month at SMC! Stop by the Quad for some delicious food from Casablanca restaurant, music, and a special interactive performance from SMC's dance company in residence, "Flor de Mayo" ballet folklorico!
SMC Guelaguetza: Celebration of Oaxacan Culture in Mexico
Thursday, September 28 from 11:15 a.m. – 12:35 p.m.
Location: SMC Main Campus Quad
Description: Guelaguetza is a time for people to come together and enjoy one another's presence, their culture and food. The Guelaguetza participants and all who attend demonstrate great pride in their cultural heritage and show a sincere joy in sharing it with others. It is a traditional celebration dating back to Indigenous times in Oaxaca, Mexico.
SMC Latinx/e Students/Staff/Faculty Meet & Greet
Tuesday, October 3 from 11:15 a.m. – 12:35 p.m.
Location: Student Services Center Lounge and Roof Deck (SSC 3rd floor)
Description: SMC Latinx Students/Staff/Faculty will have an opportunity to get to know each other while enjoying some good food. Come ready to play some games and win a prize!
Student Equity Center Grand Opening
Thursday, October 5 from 11:15 a.m. – 1 p.m.
Location: Cayton Center - Garden Level
Description: Come celebrate our inaugural grand opening of the Student Equity Center at SMC. The center is a collaborative and inclusive space consisting of four centers: Gender Equity, Racial Justice, Pride and Dream Resource Center. Join us and be one of the first to explore the new student centered space and learn more about upcoming programs and resources.
Katelina "Gata" Eccleston: Reggaeton's Roots in Black Resistance and Bridging the Gap Between Latin Music and Academia
Tuesday, October 10 from 11:15 a.m. – 12:35 p.m.
Join in person: Student Services Center Orientation Hall
Join online: Katelina "Gata" Eccleston Zoom Session
Description: Katelina "Gata" Eccleston (@reggaetonconlagata) is an internationally renowned music historian, critic, multimedia artist, and executive producer recognized for her efforts in bridging the gap between academia, the Latin music industry, and the public through her critically acclaimed platform Reggaeton Con La Gata. It is the first bilingual platform dedicated to the intersectional analysis, musicology, and history of reggaeton music. Her opinions have helped shape the landscape of reggaeton high profile projects such as NEON by Netflix Debut 2023 Spotify Studios + Futuro Studios LOUD: The History of Reggaeton, 2021 and high-profile publications such as The Washington Post, Rolling Stone, LA Times, NPR and many more. Join Gata for a talk about reggaeton's roots in black resistance, the sociopolitical narratives that birthed the genre and effective ways to center Black Latinxs, especially Black women and femmes, in reggaeton music to combat the anti-blackness and sexism that exists in the Latin music industry today.
Many thanks to the sponsors who contributed and supported Latinx/e Heritage Month at SMC: Adelante, Associated Students, Community and Academic Relations, Counseling, Division of Equity, Pathways, & Inclusion, Latino Center, Latinx Collective, Student Equity Center.