About the Program
Explore a rich and rewarding career that starts with Santa Monica College's Early Childhood Intervention Training Program. Our experienced faculty will guide and support you as you learn to work with young children with disabilities and other special needs, or those who may be at risk for developmental delays and disabilities from 0-8 years of age.
Our specialized early childhood intervention program equips you with the knowledge, tools, and experience you need to support children from a culturally sensitive and family-focused perspective. We emphasize a strengths-based learning approach for individuals across all abilities and backgrounds.
Upon program completion, many students begin working with children ages 0-8 years as a special education assistant, classroom aide, or 1:1 aide in public and private educational settings. With additional coursework at the university level, students go on to work in a variety of fields, including special education teaching, specialized therapies within early intervention (occupational therapy, physical therapy, speech therapy, etc.), or even start their own business as an early intervention consultant or advocate.
Transfer Preparation
Many colleges and universities offer baccalaureate degrees in this field. Students planning to transfer to a four-year college or university need to know which courses completed at Santa Monica College will be accepted at the specific college/university. Please consult a Counselor. SMC has transfer articulation agreements with the many UC and CSU campuses, as well as many private and out-of-state institutions.
Degrees and Certificates
As
sociate in Science Degree - Early Intervention Special Education Assistant
33 units + General Education Requirements
Certificate of Achievement - Early Intervention Special Education Assistant
33 units
The Early Intervention Assistant program will prepare students for career placements in public and/or private early intervention and educational settings that serve typically and atypically developing young children. Specific jobs and responsibilities may include serving as an early childhood educator with a specialization in working with children with exceptionalities, special education assistant for children birth to eight years of age, a one-to-one aide for a child (e.g., "inclusion facilitator"), classroom aide with expertise in special needs, or as an assistant on the early intervention team serving infant
Potential Career Options
---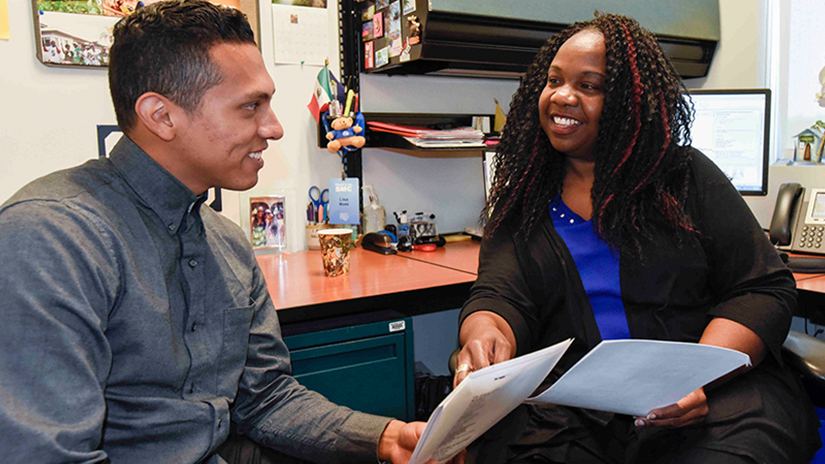 Need help planning for your major?
Our counselors are here to help you plan your academic classes, goals, and needs.
---
SMC Resources