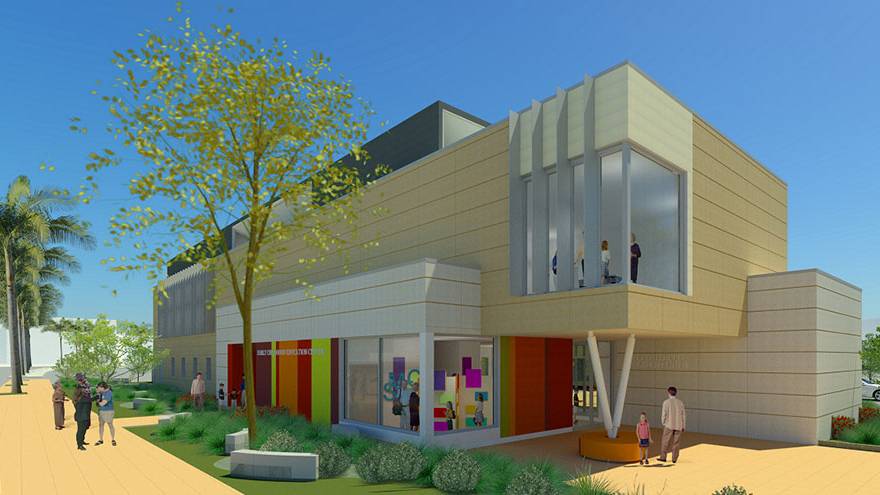 Building Foundations for Lifelong Success
Operated by Growing Place
Santa Monica Early Childhood Lab School
Santa Monica College and the City of Santa Monica, in a unique partnership, have built an innovative early childhood laboratory school to serve the community while enabling teachers in-training to develop crucial expertise under the guidance of leading education professionals.
The Santa Monica Early Childhood Lab School, operated by the Growing Place, is a nonprofit child development center dedicated to providing the children of working families with an exceptional early education in the critical early years of life. With this collaboration, the Santa Monica Lab School will benefit future generations with inspiring leading-edge approaches, a diverse setting and family focus.
Meeting a Community Need
Located at the corner of 4th Street and Civic Center Drive in Santa Monica, the Santa Monica Lab School will open in Fall 2021, pending pandemic conditions.
It will serve up to 110 children annually in support of nurturing the development of the whole child and[H1] [DA2] will help fulfill the city's vision of ensuring quality early education for area residents and employees, with at least 30 percent of participating families being Santa Monica residents, 15 percent Santa Monica families of low-income status, plus slots for the Civic Center and Downtown workforce. The Santa Monica Lab School also actively supports Santa Monica's Cradle to Career initiative, an inter-agency partnership including the City, SMC, the Santa Monica-Malibu Unified School District and more, which strategically invests in the best outcomes for children and families, projects that help the community Learn + Thrive.
As the RAND Corporation planned construction of a new campus in 2000, which is a short distance away from the Santa Monica Lab School, a development fund was created that the City and Growing Place will use to launch tuition subsidies for low-income Santa Monica families.
Early Education — Benefits for a Lifetime
Research shows the high value of quality early education programs for all children. The innovative Santa Monica Early Childhood Lab School will help meet this vital need while also addressing the area's gaps in full-day early education services, especially for infants and toddlers.
The Santa Monica Lab School's full-time, full-year early learning program—enriched by its collaboration with the world-class SMC Education/Early Childhood Department—will enable parents to gain more work experience and thus achieve higher earnings. Two generations benefit at once: Children get a stronger foundation for educational and life success, and parents can advance their careers to take even better care of their families.
And when families prosper, so does Santa Monica.
Resources
Press