Important Dates
May 4, 2021- State Senate District General Election
June 7, 2022- Statewide Direct Primary Election
Vote Early!

Mail in your ballot ahead of time

Drop off your ballot at a vote center

Vote in person at a vote center
Election Resources Guide & SMC Events
This page will allow you to register to vote by submitting an affidavit through the Secretary of State's online voter registration system.​ ​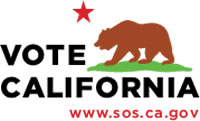 Rock the Vote – How to Vote by State
If you are registered as an independent or No Party Preference (NPP), you may request a cross-over party ballot to vote in the Presidential Primary for any of the following parties: Democratic Party, Libertarian Party, American Independent Party. (Republican Party is a closed Primary so independents or NPP's cannot vote in it at all.)
Conditional Voter Registration
Eligible Los Angeles County residents who miss an election's registration deadline can still vote at any Vote Center in L.A. County. Under California Election Law, Conditional Voter Registration (CVR) allows a prospective voter to conditionally register and cast a ballot.
Find out more: Conditional Voter Registration.​
Registration Status
Don't remember if you're registered to vote? Need to check what name you're registered under or what political party you're registered with?
Check your registration status online at voterstatus.sos.ca.gov.​​
Track Your Ballot

All voters can get critical updates on their ballots through California's official "Where's My Ballot?" tracking tool. Signing up takes lass than 3 minutes!
What You Can Track


You can select to receive notifications on the status of your vote-by-mail ballot by test (SMS), email, or voice call, including alerts if there are any issues with your ballot and instructions for how to correct them to make sure your vote is counted.
Vote Center Locations
Find all LA County Vote Center Locations.
Student Opportunities
Requirements:
At least 18 years of age or older

If 17 years or younger, may participate in the High School Student Election Worker Program

A resident of California

US Citizen registered to vote or possessing legal permanent resident status (Green Card holder)
Serve as nonpartisan Election Protection volunteers
Anyone can sign up to help with one of the following efforts on Election Day and/or during the early vote period. It takes 2 minutes to sign up: fill out the form with your basic information, select your county, and then select from three volunteer options: (1) Poll Monitor, (2) Social Media Monitor, and (3) Textbanker.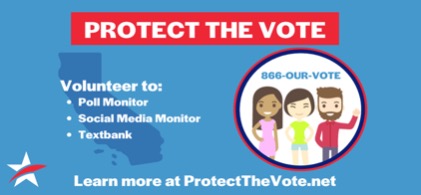 Student Organizing and Activist Retreat (SOAR)
Sign up for the annual Student Organizing and Activist Retreat (SOAR). It's a free three-hour training to learn how to plan an issue campaign, best organizing practices, action steps, media tips, and more. SOAR provides students the tools and resources to become better activists and advocates. Sign up Here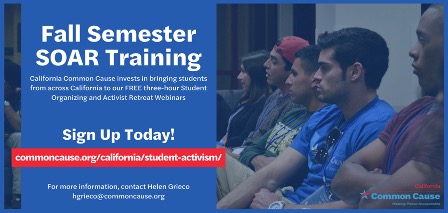 Non-Voter Resources
Are you an International Student or not eligible to vote? Here are other ways to participate:
Be Curious.

There's a lot to learn about US politics and government. It can be overwhelming, but luckily, there are a lot of great resources to understanding the basics of it all

.

Look

at

reputable news sources and non-profit voter education sites (

check out

this BBC News article

)

.

You can also join the conversation

– learn about other's point of view

.


Fact Check.

There's a lot of information out there — some of it is great, some of it is questionable

,

and some of it is just plain incorrect. Make sure you're getting news from a trusted, reliable source

. W

atch out for bias or "spin." Ask friends and

professors who are

familiar with the American media landscape to learn more about reliable sources.

C

onsider using the fact-checking operations offered by trusted journalism sources including

The Associated Press

,

Reuters

and

T

he Poynter Institute

.


Get Out the Vote!

While you may not be able to

vote

, you can make sure

those who can do

.

Although many of us are staying at home, we all lead busy live – it's easy to forget to

plan

to vote.

Even though many of us are stuck at home, we all still have busy lives.

This election affects everyone – encourage your friends, classmates,

and neighbors to vote!
Resources
Students can drop off Vote by Mail ballots, cast ballots in person, request cross-over party ballots (Democratic Party, Libertarian Party, American Independent Party).