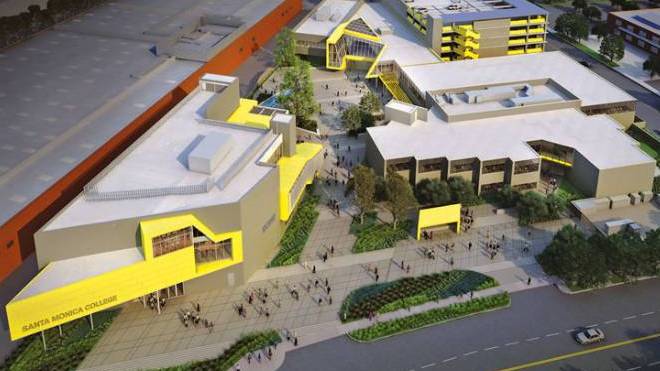 Santa Monica College student Casey MacAllister, 25, dropped out of college to support her family in 2008 when the stock market crashed. Then, she returned to SMC to take graphic and web design courses, because she stumbled on her dream career: Interaction Design (IxD). MacAllister started looking at four-year programs and could find only two in California that offered bachelor's degrees in interaction design, also called "user experience design".
The degrees at these two colleges cost around $160,000 – more than she could afford.
Last year, SMC submitted a proposal to offer a Bachelor's degree in Interaction Design to the Chancellor's office and on Monday, May 18, received final approval from the California Community Colleges Board of Governors to be part of a landmark pilot program allowing 15 community colleges to offer bachelor's degrees in a field of study not offered by the California State University or University of California. SMC's bachelor's degree in interaction design will cost a little over $10,000 – a sharp contrast to $160,000.
Over 100 letters of support poured in to affirm the need for SMC's degree from Los Angeles tech and entertainment companies including giants like Microsoft, Warner Brothers, Disney, Fox TV, Sony Pictures Entertainment and Amazon Web Services.
"For us, this has been about our students first, and also about fulfilling our mission to create a competitive workforce to keep California on the economic cutting edge," said SMC President Dr. Chui L. Tsang. "We are thrilled at the prospect of training our students for a career that pays well and will launch many of them into the middle class, while meeting a dire need in our tech industry."
The median salary for Interaction or User Experience Design professionals in Southern California is $115,000, according to a 2014 salary survey.
"The Interaction Design field has evolved so quickly, even the tech industry can barely keep up with its growth – the shortage of skilled interaction designers is just overwhelming," said Steve Vincent, Vice President, Music & Soundtracks for Disney Channel Worldwide. "We need these graduates to continue our symbiotic relationship with the economy of Los Angeles and California."
Daniel Ice, founder of LA-based startup Commerce.io, found it even more difficult to find qualified interaction designers than engineers. The rise of mobile applications or "apps" changing how people interact with digital things is credited with interaction design finding its own niche.
Jill DaSilva, a single mom and former business owner, relocated from Orange County to attend SMC, the only school that she found offered what hiring managers were looking for in graphic and web design. She made $40,000 a year at her first job with a tech startup in Santa Monica, after completing SMC's certificates in graphic and web design. In two years, she was making $120,000. But, said DaSilva, a bachelor's degree would have helped her command a higher salary.
"I am living proof of why SMC is the perfect place for this degree – they gave me the foundation I needed to be successful," said DaSilva, currently Head of User Experience Design at General Assembly, a training center for tech professionals in Santa Monica.
And as for Casey MacAllister, SMC's bachelor's degree is nothing short of a dream come true.
"To think that I would be set up for a great career with so many options and not have to worry about debt weighing me down – I can't tell you what that means," she said.
The Interaction Design program will be housed in the design and media campus – formerly known as the Academy of Entertainment and Technology – which is currently undergoing an $89 million redesign and slated for a spring 2016 opening. The 120-unit baccalaureate degree will offer ways for students to also earn an associate's degree or a certificate in interaction design. Check out www.smcdesigntech.org for updates.