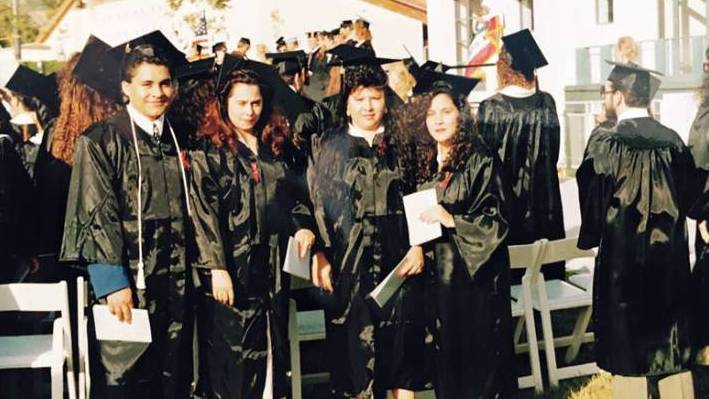 Let's just say the road has not been easy for Dr. Esau Tovar, SMC's Interim Dean of Enrollment Services and former counselor.
At the age of nine, Esau moved back from San Fernando, Los Angeles to a small town called Atotonilco el Bajo in the Mexican state of Jalisco where his mother would raise him and his four siblings, while his father remained in LA. There, Esau would continue elementary school– but in the afternoon, after he had worked all morning in his grandfather's fields of corn, sorghum and garbanzo beans.
"Sometimes I feel that I grew up too quickly…not having a chance to really enjoy my childhood," Esau reflects. "But I think it taught me a lot character wise." He found himself struggling in school to catch up with the other kids – especially in math – but in a year, with the help of a teacher who gave him extra help, he finished first in his class.
Sometimes, Esau's dad came to visit and they worked together in the fields he owned, cultivating beans and corn.
"I never really liked it," says Esau. "It wasn't part of what I wanted – I wanted to go to school. Back then, I wanted to become a doctor."
After middle school – ninth grade in Mexico – Esau, then 15, decided to leave his family and move to the beach resort city of Puerto Vallarta, where he would work. Two years later, his father sent him a plane ticket to come back to LA. Esau had two days to make up his mind.
"It was exciting and scary," Esau recalls. He spent that whole summer back in LA working on improving his English – watching news broadcasts and shows like "Mama's Family" – when he was not working in the shipping department of a wholesale fashion retailer. That was 1989 and at the end of that summer, one of his aunts told him he should think about going back to school.
On finding out that he could attend community college even though he had not finished high school, Esau went to LA Mission College. There, he flourished under the guidance of many who recognized his potential and mentored him: counselors, an ESL instructor – who interceded and told Esau's father about his educational aspirations which led to his father being more supportive – and a dean who got him into community service. Esau also ran for student government president, and won.
Later, he transferred to California State University, Northridge where he got a Bachelor's Degree in Psychology and a Master's Degree in Counseling. He began working at SMC part time as a counselor, and went on to become a full-time counselor and an active leader in the Academic Senate. He spearheaded projects like the "Student Enhancement and Educational Research" (SEER) that became the basis of the "Back to Success" counseling program, and Prep2Test, an online program that conveys the importance of assessment tests to students.
"I just got tired of seeing students place into developmental-level courses," says Esau. Since the launch of Prep2Test, data has shown a roughly 10 percent increase in college-level placement for all students and a seven percent increase for African-American and Latino students. Esau would also be a part of the team that helped create MyEdPlan, an innovative educational planning program for students and counselors.
Esau went on to earn his Ph.D. in Higher Education from Claremont Graduate University, something he did "for himself." His dissertation was dedicated to "institutional agents" – all the instructors and counselors who made a difference in his life. Thank you for making me feel like I mattered, Esau wrote.
"There are so many of us whose parents never went to college," reflects Esau. "And sometimes we're too shy to ask for help…I would have been lost without all the educational agents who helped me." For his Ph.D. dissertation, Esau developed a model looking at the impact of a sense of belonging with community college students and their intent to continue.
In the acknowledgments, Esau began by thanking community colleges – because that's where he got his second chance at making his dreams for an education a reality.
Esau fulfilled his desire to serve as a role model for his siblings – he convinced his father that there was benefit to his sisters continuing their education beyond middle and high school. Two of his sisters, Mayra and Alba, are college graduates – Mayra also has a Ph.D. and is a physicist at the University of British Columbia in Vancouver.
"We come from a large family with lots of relatives," says Esau. "And we're the only ones to get to this level of education…in that sense, I am proud!"
We think you have every right to be proud, Esau.
"I am so grateful that students like me get a 'second chance' at making our educational dreams a reality. It is for this reason that I have proudly chosen to work within the community college system" – Dr. Esau Tovar, excerpt from his 2013 Ph.D dissertation.