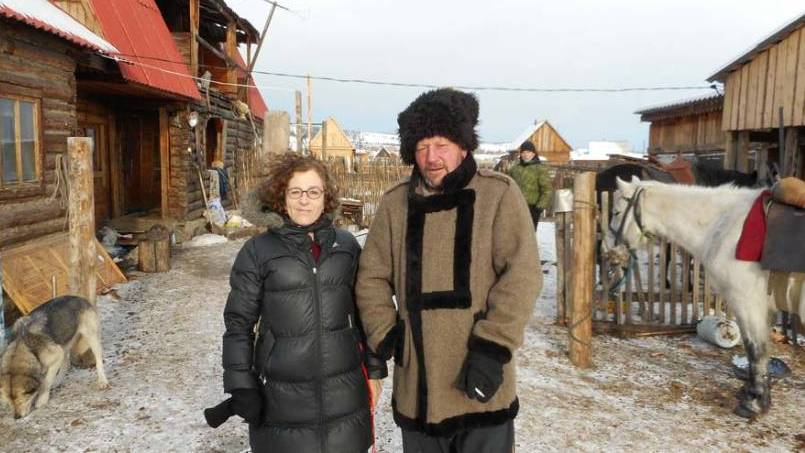 In November 2014, I got word that I had been granted a Barbara Deming Memorial/Money for Women grant, a feminist artists grant. I was to use it over SMC winter session to go to Germany for the first time to do some research and observation for a book I'm writing. From there, I decided to go back to St. Petersburg, Russia where I had lived extensively over ten years, starting in 1996 when I had a year's Fulbright through 2005 when I had a second Fulbright there.
For the past several years, I have been an evaluator for the Fulbright Foundation, evaluating applications from Russian scholars who wish to come to the United States to do research, primarily in American literature. One application I had read was from a professor in Ulan-Ude, Buryatia Republic, Siberia. With Fulbright's blessing, she and I began a correspondence. She teaches in an English department and is very interested in contemporary American literature, particularly American poetry. When I told her of the Deming grant, she asked if I would come teach in Ulan-Ude, if her university – Buryatskij State University - would pay for a round-trip ticket from Moscow. Immediately, I responded yes!
I arrived in Ulan-Ude after a six and a half hour overnight flight from Moscow. My host from the university met me at the airport; and she, her husband and cousin and I set out for Lake Baikal. Buryats practice a mix of Buddhism and shamanism and the cousin is apprenticing to become a shaman. On the way to Lake Baikal we stopped at shaman shrines for rituals. And at the lake, the cousin dressed in Buryat national dress, drummed and chanted to bring forth the Baikal spirits. In early February, this largest lake in the world was completely frozen. Huge shards of ice stuck out at various parts in the lake. Other areas were clear and we could see under the surface to plant life underneath. We spent a day and a half there and then headed back to Ulan-Ude, a city of about 460,000, which would be my temporary home in Siberia. It is the seat of government for the Republic of Buryatia, an ethnic minority region in Siberia. Buryats are related to Mongols but the two ethnicities don't get along, especially politically because Buryatia is part of Russia and Mongolia is an independent country.
I taught in an English Department very often called the Philology Department in Russian universities. Students study literature or language and linguistics and train for careers either as translators, to work in foreign businesses in Russia or other businesses that need people fluent in English or to teach. Most of the students and faculty are Buryats. Russian is the state language, though a small percentage speaks Buryat and it is now taught in schools after English.
My lectures ranged from contemporary American literature both fiction and poetry to one on new émigré literature of the twentieth and twenty first centuries, writers mostly from the former Soviet Union and China, to one on postmodernism. I also lectured on the teaching of creative writing in American universities, how the discipline began, how it is taught and its goals. I also spoke on the American school system as a number of the people attending my lectures, as it turns out, were teachers from other cities in Siberia. Most of the current curriculum in the English department has centered on British literature, I found out. This is partly because the British Council in Russia had provided the department with materials. (This university, as many in Russia, is underfunded and is always grateful for donated materials.) I brought a box of books with me to give to them, including ESL books provided graciously by our own ESL department and since my return, have sent them more books and supporting materials. I have also been advising on curriculum development. Always when I have lived in Russia, I felt myself an ambassador of sorts - of American culture, American literature and the American educational system. Now back at SMC, I have pledged to continue our affiliation.
As in my previous times teaching in Russia, there was a real thrill in introducing literature to the students and faculty that they had never heard of, let alone read. My colleagues were wonderful and every minute I was not in the classroom they arranged excursions for me. I went to the largest Buddhist center in Russia where there were about seven Buddhist temples, monks who lived there and a Buddhist university on a huge property. I went to a big ethnographic complex that included buildings of Old Believer houses and Mongol yurts. I even (reluctantly, I admit) went horseback riding out in the countryside with a Cossack leading the ride.
What did I learn besides seeing and experiencing a new culture? It reminded me strongly of why I love to teach. The challenge always is to pass on a love of learning, of reading and of literature. When I see the spark in the eyes of a student for whom reading was previously a chore, it is immensely satisfying. And to introduce new literature to students at SMC is one of the rewards. It was a useful reminder to be in a new place, where I was a foreigner. Although I do speak Russian, there were words I did not know and help I needed. Things that were done differently and I was aware of being the one out of place. Being in Siberia was certainly a transformative experience for me. How we interact with one another as global citizens is as important abroad as it is at SMC. And experiencing a vastly different culture reinforced the importance of global citizenship and interconnection. -Carol Davis.
English professor Carol Davis has joined a cross cultural project with Buryatia State Univ., and York Univ., UK. The aspect we are now working on is Teaching (Learning) Ethnic Diversity through Literature. This current project is a comparative analysis of British, American, Russian and Buryat literature, using a lecture Carol gave on 21st century emigre literature in America as one of the focuses.