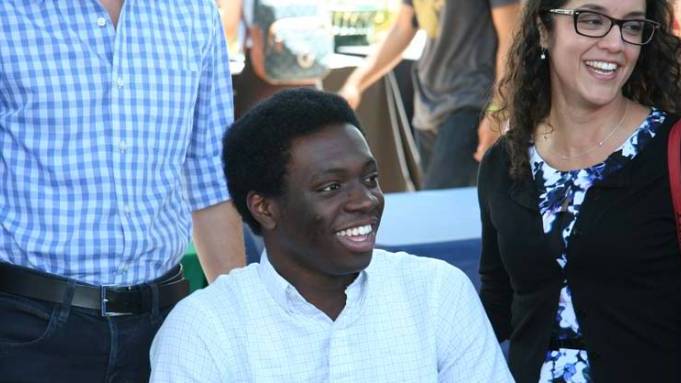 Santa Monica College student Jonah Okike-Hephzibah sat stunned on a chair in the campus's quad – unable to say anything but "Oh my God!" – as he was told that he had won the prestigious Jack Kent Cooke Foundation (JKCF) Undergraduate Transfer Scholarship, the nation's largest private scholarship for community college transfer students.
Okike-Hephzibah, a pre-engineering major, is one of 90 recipients chosen from 2,061 applicants from 540 community colleges nationwide. Chosen by a selection committee of 18 admissions professionals, mostly from selective four-year institutions, he will receive up to $40,000 a year for up to three years towards his undergraduate education.
This makes Okike-Hephzibah the fourth SMC student to receive the award in five years – previous recipients included Siamak Khakshoor-Kohan, Scott Pine and Stephen Olsen, who was the first SMC student to win the JKCF scholarship in 2011.
While other boys dreamed of being superheroes, Jonah Okike-Hephzibah just wanted to invent things. Taking things apart – radios, old cellphones, his Playstation – and putting them back together was a favorite pastime.
At Verdugo Hills High School in Tujunga, CA, he played basketball and briefly considered becoming a professional basketball player – seemingly a fast way to make money to help his mom and five younger siblings – but ditched the idea at the realization that an injury would put an end to that career. He struggled with a lack of focus on his studies until a realization dawned on him.
"I was the head of the household after my parents divorced," he says. "And I realized that I wasn't showing my brothers and sisters the best way to go about their education."
Okike-Hephzibah decided to use college as an opportunity to transform and came to SMC. He enrolled in business and computer science courses, his intended major – but would find his true calling a year later, when a counselor referred him to SMC's Science, Technology, Engineering and Math (STEM) program.
Through STEM – a program which offers tailored academic support and research opportunities to underrepresented students entering science and math-related fields, including a Summer Research Institute at UCLA - Okike-Hephzibah found out about mechanical engineering.
"As a kid, I loved engineering – I just didn't know what it was!" he says. He enrolled in the STEM program, took science and math prerequisite courses and grew more and more passionate about the field.
SMC Chemistry Professor Sehat Nauli – who recommended Okike-Hephzibah for the JKCF scholarship, along with Melanie Bocanegra, SMC's Associate Dean of STEM and Student Equity – calls him "a dedicated student" and "a humble and caring" individual.
"He's taking all these classes and works at our STEM program…when he goes home, he's responsible for taking care of his younger siblings," said Nauli. "Needless to say, Jonah is an extremely disciplined and focused person to do all this."
Bocanegra said that the JKCF scholarship could not have gone to a more deserving person.
"Jonah is a strong role model at Santa Monica College," said Bocanegra. "He is engaging, accomplished, and most importantly, approaches his work with a determination that is truly inspiring."
Okike-Hephzibah plans on majoring in robotics, after finishing his undergraduate studies in mechanical engineering. He has been accepted into the University of Michigan, and is waiting to hear back from Stanford University, Columbia University, Cornell University and the Massachusetts Institute of Technology (MIT).
"Jonah embodies what SMC strives for – excellence with responsibility," said SMC President Dr. Chui L. Tsang. "Here is a young man motivated by deep love for his family, who is willing to work hard to fulfill his own dreams. With students like Jonah, the world will truly be a better place."
SMC Transfer Center Faculty Leader Dan Nannini points out that four JKCF scholars in five years is a testament to the willingness of SMC's instructors to go the extra mile to support students – the application requires them to submit thorough, thoughtful recommendations.
"The Cooke Foundation is proud to be one of the few organizations that focuses on high-performing community college transfer students with financial need by providing the largest private scholarships to this population of students," said JKCF Executive Director Harold O. Levy. "We do this not only because of the lack of scholarships available for them but also because they bring so much to their four-year campuses – performing as well if not better than the students who started at those institutions as freshmen."
As for Okike-Hephzibah, he knows where he will be in, say, a decade – either finishing a dissertation at MIT or working at a place like engineering and robotic design company Boston Dynamics.
"When I was a boy, I dreamed about creating a super 'geeked-out' driverless car, with a robot-butler that takes care of everything," he says.
Seamless Profession
There's a secret place on campus, and maybe you've walked by it a few times. Find out what makes SMC's Photography department click. Read more. Read the Seamless Profession Article.
SMC'S Bachelor's Degree: IXD
SMC will be one of the first 15 community colleges to offer a Bachelor's Degree. Sitting right in the heart of Silicon Beach, it was a natural progression! Read the IxD Article.