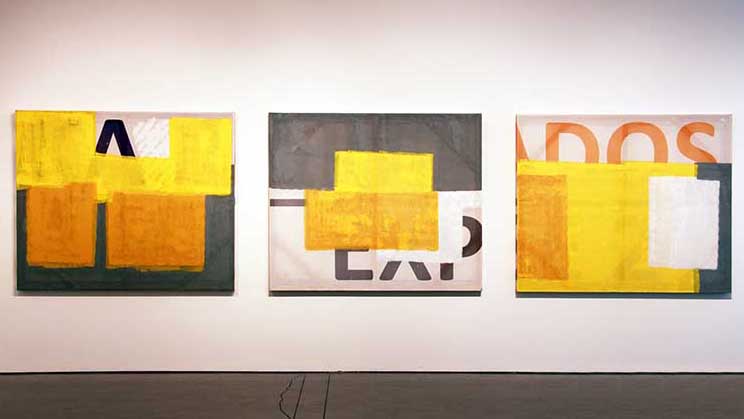 Amsi Bustillo thought he knew his identity as an artist. After all, his love for art began very early – when he was a student in Santa Monica's Lincoln Middle School. Then, as a student at Santa Monica High School (Samohi), he took advanced drawing classes.
From Samohi, he headed to Santa Monica College as an art major and became a part of SMC's Art Mentor Program (AMP), a unique learning experience for a select group of faculty-recommended students. Here, Amsi would discover his true passion: abstraction.
"Before I was just making pretty images – no meaning or content behind them necessarily," says Amsi. His professors at SMC began by asking him to consider his influences and what drives him to create. Then, through the unique experience of working intensively with faculty mentors, visiting artists and fellow students in the AMP, Amsi began to think about – and create – art in a way he had never done before.
Amsi graduated from SMC with an Associate Degree in Art and transferred to UCLA as an Art major last fall. The critical foundation that the AMP gave him influenced his decision to go to UCLA, which – like SMC – has a strong emphasis on what he calls "…a well-roundedness in every means of art-seeking."
The AMP began in the 1970s and alumni include artists like Ichiro Irie (of Jaus Gallery), Susanne Melanie Berry, and Lucas Kazansky. In the nineties, SMC also had a program called The College of Design Art and Architecture which produced prominent artists like Mark Bradford whose socially-relevant, large-scale abstract paintings have received much critical acclaim.
In a June 2015 New Yorker article, Mark describes how he saw an ad for the program at SMC that would provide mentoring and studio space for artists whose portfolios showed promise. A teacher at SMC named Jill Giegerich saw the potential in his work and kept encouraging him to apply to professional art school (she eventually recommended him to the director of the California Institute of the Arts, which Bradford began attending when he was thirty, on a full scholarship).
SMC Art professor Carlson Hatton, the current faculty mentor in the AMP, is a tour de force in his field. A graduate of the BFA program from the Cooper Union; de'Ateliers, Amsterdam; and the studio arts laureate program at the Jan van Eyck Academie in Maastricht, the Netherlands, his work has exhibited at venues like the de Appel Arts Centre in Amsterdam, Ruth Bachofner Gallery, and SMC's Pete and Susan Barrett Art Gallery.
"We require students to make work which is personal…to fuse technique, idea and their own interest," says Carlson. "A student in the program ends up with a well-rounded portfolio and gets exposure to what they will encounter in a four year school – lots of projects that don't need hand-holding and a 'looseness' so they can incorporate their own ideas. It can be intimidating for them to be given so much freedom and to have to put that out for critique."
SMC alum and UCLA architecture major Steve Martinez describes the AMP as "driving the course into unmarked territory." Like Amsi, he credits the program for shaping his goals as an artist and architect in a couple of ways.
"First, it was the emphasis on collaboration," says Steve. "SMC runs under the flag of being an incredibly diverse school, but 'Mentor' began dissecting that vast diversity within the field of art. We were encouraged to exchange and merge our ideas to form alternative questions and problems regarding someone's work."
Steve was the only architecture major in the program then and was pushed to explore without any restrictions his own body of work.
SMC alum Hertz Alegrio, a student at Art Center College of Design, said that the AMP instilled in him an interest in pursuing fine art – whereas he had come with a set idea of being just an illustrator. He points out another great appeal of the program.
"Being around so much creativity every week inspired me to no end," says Hertz. "Not only did many of my fellow SMC students become lifelong friends, but enduring artistic inspirations too."
The AMP meets every Saturday at a hangar in SMC's airport campus for five hours and consists of working sessions, demos and critique. Students also visit galleries, museums, and artist's studios. The program features open studio events, an annual group show at SMC's Pete and Susan Barrett Art Gallery, and has also featured prominent LA based artists like Meg Cranston, Zak Smith, Jay Stuckey, and Michelle Carla Handel as guest speakers.
SMC offers Associate degrees in Art and Art History and has one of the best foundation art programs in the state of California. SMC Art graduates are recruited and given scholarships by the best art schools in the country including California Institute of the Arts, Art Center College of Art and Design, San Francisco Art Institute, the Chicago Art Institute, Rhode Island College of Art and Design, and the California College of Arts and Crafts. To learn more, visit www.smc.edu/academicprograms/art
Within the last year alone, 12 AMP students have headed to UCLA, UC Berkeley, the Rhode Island College of Art and Design, and the Otis College of Art and Design, among others.
***
Santa Monica College's Art Mentor Program is for full-time students who have completed their general education requirements with a GPA of 3.0 or higher, have taken a couple studio classes in which their work has proven outstanding and are developing a portfolio to apply to four-year schools. An SMC Art professor recommends them to the program on their artistic talent.
*Photos captioned "Amsi Bustillo" includes those of his art as featured in the undergraduate juried show (curated by Helen Molesworth, Chief Curator for MOCA) and the undergraduate senior show at UCLA.