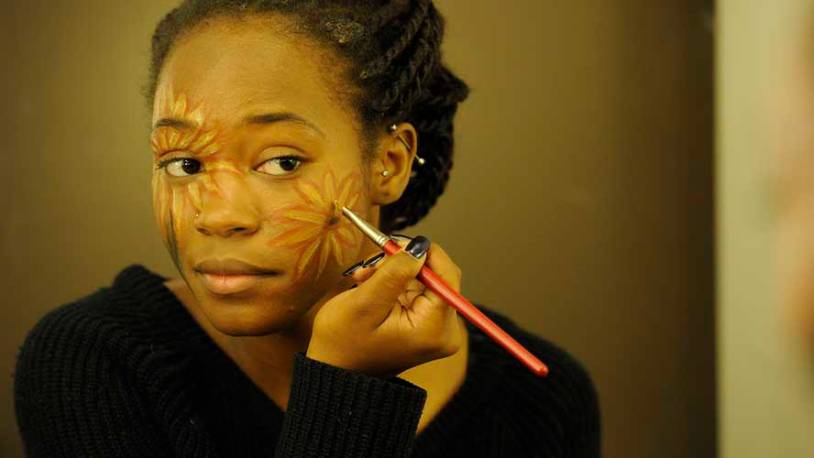 When people think 'theatre,' 'performance' is the first thing that comes to mind. The technical elements – lighting, sound, sets, scenics, costumes, make-up, and managing it all – are also present in the mind's eye, but often noticed only peripherally.
Today, technical theatre – once treated as an 'oh, yeah, that's part of it, too' subset of theatre – is finally coming into its own. Theatre technology has developed and expanded beyond the theatrical stage to related fields of entertainment, ranging from theme parks and corporate events to concerts and webcasts.
As one of its Career Technical Education (CTE) programs, Santa Monica College now offers a Certificate of Achievement in Technical Theatre to prepare students for direct entry into a variety of technical theatre careers. SMC also offers an Associate in Science (AS) degree in Technical Theatre to qualify students for transfer to a four-year college or university for advanced study in various areas of technical specialization.
The technical theatre program is offered through SMC's highly regarded Theatre Arts Department. Program courses provide rigorous academic instruction, hands-on training and experiential learning, and transferable credit.
"We launched our technical theatre certificate and degree programs because we wanted to create a pathway for advancement for our students who wanted to focus on the technical side of theatre, instead of performance," said Theatre Arts Department Chair Perviz Sawoski.
SMC student Paul Gabriel fell in love with the technical aspect of theatre after taking all the tech classes offered at the time. He is now working towards the Associate Degree in Technical Theatre and hopes to transfer to NYU, Carnegie Mellon University or CalArts.
He left choices closer to Pasadena – where he lived at the time – to come here, and spells out what he loves about SMC.
"It's a very diverse community here – not something I grew up with," says Paul. "I like to think that I've flourished since I joined the theatre arts department at SMC."
Advances in computers and other digital technology have led to new technical specializations in sound and lighting. Innovations in materials and fabrics – and even the 3-D printer – are changing how sets are designed and built and how costumes are styled and constructed, as well as how make-up is formulated and used.
All these new developments have generated new opportunities for careers in a variety of fields in technical theatre. And all these new opportunities have created a critical – and growing – need for employees with new technical skills sets.
"SMC has actually offered technical theatre courses for decades," says Perviz. "Because our theatre students working toward an AA degree are required to take the Technical Production Workshop and two technical theatre courses to gain a general understanding of the technical elements that go into creating a performance."
Technical theatre students working toward earning the certificate or degree are also required to take one general theatre course to become familiar with the traditions and basic vocabulary of the theatre.
"Students who successfully complete our tech classes will gain an overall basic understanding of the mechanics of live theatrical events and their place in the larger entertainment industry," said Perviz. "Some of our students will focus on a particular technical area that will allow them to develop skills that meet and often exceed industry requirements for entry into careers as theatre technicians."
Students in SMC's technical theatre programs learn their craft using modern, industry-standard technology and materials. Courses cover topics such as how to use intelligent lighting systems, advanced wired and wireless audio equipment, video projection equipment, and stage machinery, as well as the basics of materials and techniques for set construction, scenic painting, and creating costumes and make-up.
Over the past decades, several students who have taken technical theatre classes at SMC have won national design awards in competitions against college, university, and graduate school students.
"One of the goals of our technical theatre program," said Perviz, "is to provide our students with a network of future industry contacts through our Industry Advisory Board members. In some cases, this has already happened, and students have been given employment opportunities through our Advisory Board network."
Through connections he made at SMC, Paul is already building a substantial portfolio, working in tech roles like assistant lighting designer and stage manager for LA-based productions at venues like UCLA's Schoenberg Hall.
SMC Theatre Arts students have been accepted into NYU, Columbia University, The Juilliard School and many alumni work as professional actors and theatre technicians on and off-Broadway, as well as in National Tours, London's West End and other international theatrical venues.
On being asked if – and why – he would recommend SMC, Paul said, "I can say that if a student comes here, they will definitely be given the opportunity to learn and grow. The professors teach you well, and are more than willing to help you learn."
To find out more about SMC's technical theatre programs, please visit www.smc.edu/theatre.