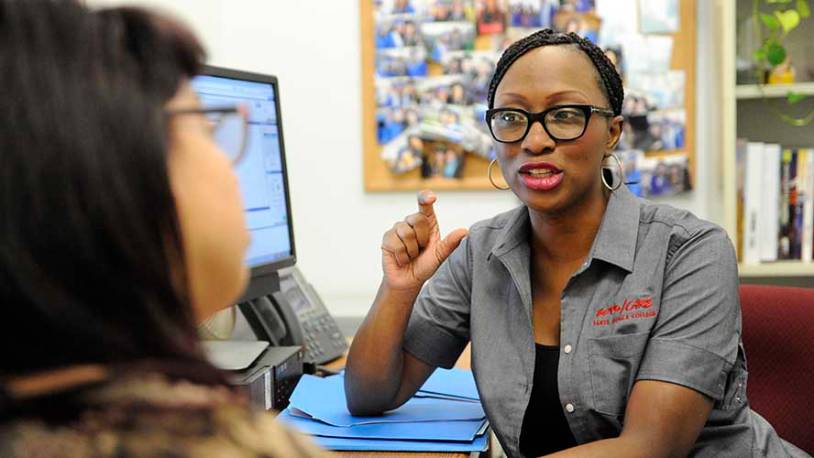 "It takes a whole village to raise a child," Glenda Johnson quotes the Nigerian proverb. "Santa Monica College was the village and I was the child."
A single mother of two who was on welfare at the time, Glenda moved to Los Angeles from Arkansas in 2002. She "just wandered to SMC," mostly because it was near the ocean – something she had never seen before coming to California. As to college, she was not even sure if it was for her. But SMC marked the beginning of a complete transformation for her and a state-funded program called EOPS/CARE* would prove to be critical to Glenda's success.
EOPS/CARE provide services – including academic and personal counseling, tutoring, and priority registration for classes – that are "over and above" those available to all SMC students, for those whose pathway to higher education is blocked by social, financial, educational and other barriers.
Glenda went on to transfer to California State University, Northridge and then on to Loyola Marymount University for graduate school, as a counseling major. And if you walk into the SMC EOPS office, you just might run into her – because she returned to work at the place that gave her a new life. Today, Glenda gets to make dreams possible for other students.
Take Kiran Chaggan, for instance. Kiran came to SMC because she could not get into the University of Southern California, her dream school. She moved to the U.S. from Pakistan in 2008. In high school, she struggled with reading and writing in English – her second language – and this affected her SAT scores. Her second choice, SMC, ended up being "the best thing," says Kiran, and here she also found the support network she needed, at EOPS/CARE.
"The EOPS counselors were always there for me – guiding me through family issues, problems, everything," says Kiran. "At SMC, I met some of the best professors ever. I became involved with the Phi Theta Kappa Honor Society. I loved every part of my life on campus." Today, she is a junior at USC, majoring in International Relations Global Business, and plans on working in the finance industry.
So, what can a student expect when they walk into the EOPS/CARE office?
"They can expect to be supported," says Nicholas "Nick" Mata, SMC Director of Special Programs who oversees EOPS/CARE and its "sister programs" CalWORKs, a state welfare program that assists needy families; and Guardian Scholars, a support service just for foster youth enrolled at SMC. "We will support them no matter what. This is a judgment-free zone." The whole idea, says Nick, is to empower students to be in control of their educational journey, and ultimately, their life. Students get to select a dedicated EOPS counselor to work with for an entire semester, and they are required to check in at least three times a semester.
"I'm like the gatekeeper," says EOPS Counselor Jackie Del Banco, herself once a first-generation student in her native Hawaii and from an immigrant family who was on welfare at one time. She loves asking students what they want to do in their future. "I open that door and show them all their options. Then, they realize, 'Oh my gosh, this is really possible!'"
Jackie filled a vacuum of support in the life of SMC Communication major Erick Rodriguez, a first-generation college student. His family was unable to support him financially in college, and this was not the only challenge.
"To this day, when I talk to my family about college, they don't understand what I'm talking about," says Erick. "There was no one at home who could guide me in the right direction…at EOPS, Jackie did all that for me." As a student in good standing, Erick also received book vouchers to help him buy textbooks.
"When I was a student, there were some days when I thought, 'How am I going to eat today?'" recalls Glenda. "But there is something here for even that. If you have a job interview and you don't have any clothes, we have something for you. Whatever the problem is, there is a solution and we can help you with it."
Nick says he "gets the chills" when he and other EOPS/CARE staff watch their students graduate.
"These are students who have come to our offices to share their deepest burdens," says Nick. "And then we see them cross that stage, having achieved their goals. When our students succeed, they are not only changing their path, they are changing the paths of their families. That's huge."
SMC's EOPS/CARE program currently serves about a thousand students, and its many services also include fee waivers for transfer applications to certain UC, CSU and private institutions, workshops, seminars, meal and transportation assistance, and so much more. To see the full scope of care and opportunity available, and to find out more about who's eligible, visit www.smc.edu/eops or call 310-434-4268.
***
*Extended Opportunity Programs and Services / Cooperative Agencies Resources for Education