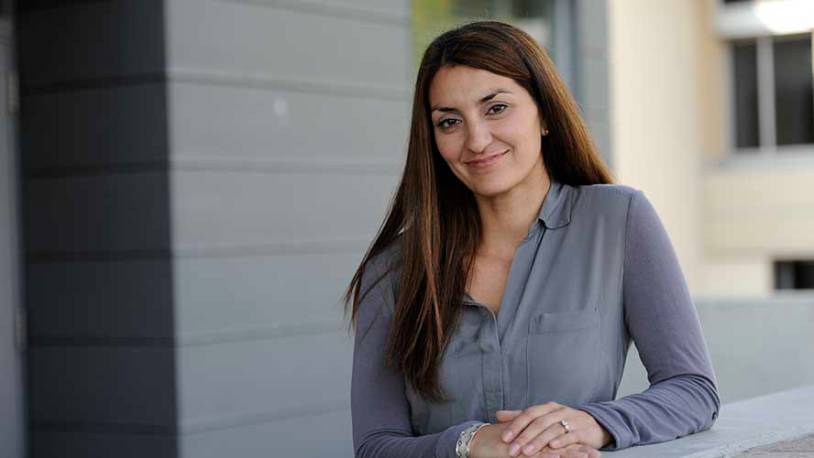 The many roadblocks that life threw in sociology professor Dr. Rebecca Romo's way only became building blocks towards success, a better life, and finding her calling.
Rebecca Romo grew up in Sacramento, the second youngest of seven children. Her father came to the U.S. from Mexico when he was 13, and was homeless for a while before working in the fields and at an iron factory. He lost his job when Rebecca was young, and they survived on welfare while living in a small house, cramped quarters for a family their size.
"I remember times when we lived in what they call a 'food insecure household,'" says Rebecca. "There wasn't enough food to last the entire month." But her difficult circumstances did not stop her from pursuing her dream to be educated, and she became the first in her family to go to college. She attended Sacramento City College, and transferred to California State University, Sacramento.
Rebecca became a single mother in her freshman year at CSU Sacramento, and worked part-time at Taco Bell, Forever 21, and UPS to make ends meet. Later, she went on to earn a master's degree and Ph.D. in sociology from the University of California, Santa Barbara.
Her life's circumstances would propel her towards her academic calling.
"Because of my background, I was driven to sociology," says Rebecca. "Sociology helps to explain societal inequality and injustice, and that's what I wanted to learn about and also try to change if I could."
While at CSU Sacramento, one of her favorite courses was an ethnic studies class she took through an EOP (Educational Opportunity Program) Summer Bridge Academy — a program that helps incoming freshmen from disadvantaged backgrounds make a smooth transition into college. Under a federal program at CSU, Rebecca also became a Ronald E. McNair Scholar, a designation for low-income, first-generation college students who want to study at the doctoral level.
At CSU Sacramento, Rebecca found a mentor and inspiration in sociology professor Dr. Manuel Barajas, who worked in the fields of Stockton until he went to college.
"Sitting in his classroom…it was like listening to a person who talked the way my family did at home, even Spanish words now and then," says Rebecca. "It inspired me because he also grew up poor. It made me feel that I, too, can be in academia…that I could also get a Ph.D."
Rebecca takes her mentor's approach when helping students, recalling how Dr. Barajas was "just who he was, and not trying to be someone else". She feels very connected to her students because many of them come from backgrounds like hers. "We are from working-class families, many of us the first in our families to go to college."
Throughout her educational journey, Rebecca sought out programs that helped low-income, underrepresented minorities, and says that she is "100% sure" that she would not be where she is today without them.
To pursue her graduate and post-graduate degrees, Rebecca uprooted herself from her close-knit family to move more than 300 miles to UC Santa Barbara with her son Emilio. She juggled the demands of parenting while researching, teaching, and writing. She also became an American Sociological Association Fellow through the prestigious Minority Fellowship Program. Inspired by her son's roots, Rebecca also wrote about the experience of individuals with a dual Latino and African-American heritage (Emilio is on the cover of Mixed: Portraits of Multiracial Kids, a popular book that has been showcased at the Japanese American National Museum).
Before joining SMC as a full-time tenure-track professor in 2014, Rebecca taught at Pasadena City College and Occidental College.
"I love my students here, and the atmosphere of Santa Monica College," says Rebecca. "One of the things that community college students complain about some of the other colleges is that they don't feel like a 'real' college — but SMC does."
Rebecca hopes that she is able to do for her students what her sociology professors did for her: understand the context of her poverty, and a substandard education in the public school system – and to understand that her world (like theirs) is connected to something larger.
Rebecca is working with fellow professor Guido Davis Del Piccolo on SMC's sociology coaching program, which helps students struggling in Sociology 1 (Introduction to Sociology). She is involved with Black Collegians and the Adelante Program and calls it "inspiring" that these two programs and their dedicated staff work side by side, for the benefit of the student populations they serve.
Dr. Christine Schultz, Chair of SMC's Philosophy and Social Science Department, is happy to have Rebecca here.
"Rebecca is a superb instructor, a generous colleague, and a lovely person," says Christine. "She has a deep empathy for the disadvantaged but also a core strength that allows her to demand excellence in herself and others."
***
Santa Monica College has several federal- and state-funded programs, just like the ones that helped Dr. Rebecca Romo navigate college. A few of these are listed below: