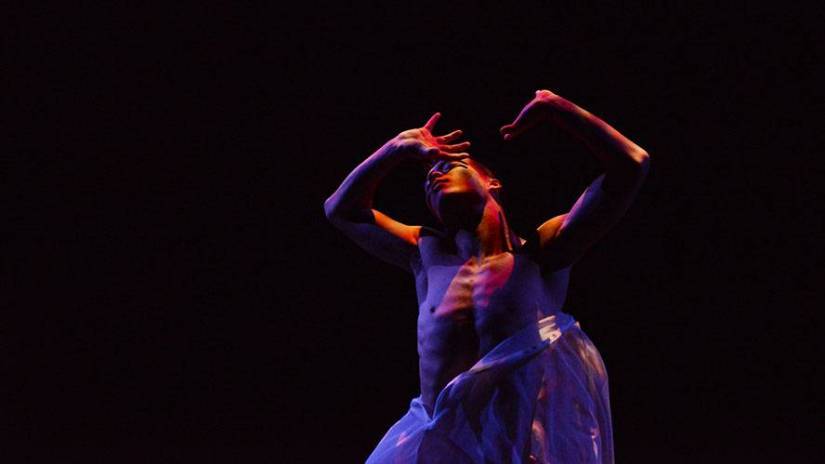 New York University (NYU) student Xiang Xu's story of how he arrived at Santa Monica College is a little unusual. After graduating from the Beijing Dance Academy (BDA) – one of China's most prestigious schools – he came to the U.S. in 2012 to enroll in the Master of Fine Arts (MFA) in Dance program at UCLA. Xiang found himself a little lost, because the program did not meet his expectations of a place where he could solidify his technique. Then, a professor at UCLA suggested he give SMC's dance department a try.
"Before I came, I thought it was just a community college," says Xiang. "But later, I thought, uh-oh, it's better than UCLA!" Xiang was also a dancer and student choreographer in SMC's world dance company Global Motion, and its contemporary dance counterpart, Synapse. In fall 2014, he transferred from SMC to the Tisch School of the Arts at NYU – a dream of a lifetime – and is just four months away from graduating with an MFA in Dance from one of the world's best schools for the performing arts.
Xiang grew up in China's Zhejiang province. The first time he saw people dance was when his grandmother took him to a temple to watch a Chinese opera. At home, he began mimicking the dancers' movements. Xiang uses his favorite expression to describe his parents' reaction to his dancing: Uh-oh. A boy who likes to dance?
They expected him to grow up, go to university and get a good "mainstream" job – but they were in for a surprise. At the age of 12, Xiang was accepted into Zhejiang Art Academy, a middle and high school that taught classical Chinese and folk dance, ballet, and some modern dance alongside traditional subjects. He then went on to the Beijing Dance Academy whose alumni include the BAFTA and Golden Globe-nominated actress Zhang Ziyi of Crouching Tiger, Hidden Dragon and Memoirs of a Geisha fame; and Chi Cao, former principal ballet dancer at the Birmingham Royal Ballet.
At BDA, Xiang majored in choreography but did not really know what he wanted to do with his passion — until he met the late Sun Ying. Sun was a pioneer of Chinese classical dance who was prominent for creating a new interpretation of the official Chinese dance known as the Han-Tang style of Zhongguo gudianwu. When Xiang met Sun, he found his identity as a choreographer and dancer, and began studying Chinese classical dance under Sun's tutelage.
On the other side of the world, Xiang has found another mentor and inspiration in Seán Curran, the Chair of the Dance Department at NYU Tisch. Curran is a renowned dancer and choreographer and founder of the NYC-based Seán Curran Company. His opera credits have included productions for the Metropolitan Opera, The Shakespeare Theater, and New York City Opera, to name a few. Curran's work has also appeared on Broadway in James Joyce's The Dead, and The Rivals at the Lincoln Center Theater.
"Xiang speaks an old language in a new way with a contemporary accent," says Curran, describing Xiang's choreography. "He has authenticity, but also a wonderful awareness of his ancestral voice – his work honors the past, while still being about invention and play."
Xiang says that at NYU, he has not let go of his classical experience but is incorporating it into his contemporary work. He hopes that American audiences will be curious to know where his technique comes from.
As for the transition from SMC to NYU, Xiang says it was not easy, but the "nice foundation" he gained at SMC helped.
"To my surprise, NYU was very similar to SMC – we are like a big family," says Xiang. "If you need help, the professors will give it." There is also a lot of interdisciplinary collaboration, he says, so as a student choreographer, he got to work with student musicians and designers from other disciplines at NYU.
No graduate school stress?
"Oh, God!" says Xiang, "The first year, I was just stressed out. It was so intense every day and then there was a required music [theory] class which I had never taken before!" He buckled down and gave it a 100 percent, and was thrilled to get a "B" in the music class.
In his first year, Xiang also had the honor of choreographing one of two pieces for NYU's annual performance at the Jewish Community Center in Manhattan. He knew nothing about Jewish culture, says Xiang, and the classes that went into preparing for the performance opened his eyes to it.
SMC in Focus asked Seán Curran what other SMC students aspiring to follow in Xiang's footsteps should know about NYU Tisch.
"At Tisch Dance, you need to be open to some new ideas, but also come with a sense of your own identity and have some ideas about what you want to do in the dance world," says Seán, who describes himself as someone who "makes dance because he is happiest when moving to beautiful music" and because he wants to be "a humanist who makes dances about what it is like to be a person alive right now."
Xiang echoes Seán's words and says that other dance students should "find their interest and follow it." As for him, he has "a big dream", one that he can see very clearly.
"I want people to know who I am and to simply be a good choreographer," says Xiang.
Seán adds that he hopes Xiang not only choreographs but that he continues to dance and even teach. Xiang came to NYU with a "discerning eye," says Seán, but has absorbed so many things that he has a kind of "new awareness."
"Xiang has a voice", says Seán.
***

Santa Monica College offers an Associate in Arts degree in Dance, as well as a Dance Teaching Certificate, and prepares the serious dance student for transfer to universities and conservatory programs like NYU. Classes include six different technique levels of ballet, commercial and modern dance, dance history and choreography. For more information, check out www.smc.edu/dance.