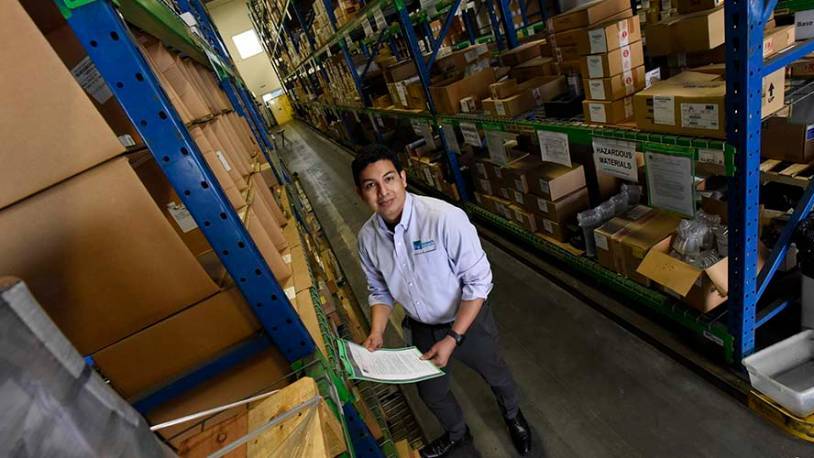 California is the nation's primary driver of job creation in the field of Global Trade and Logistics (GTL). Los Angeles and Long Beach, the nation's two largest ports, are gateways to the Pacific Rim economies. And with easy access to freight services via the Alameda Corridor, Southern California is a key logistics hub for more than 40 percent of all goods brought into the U.S., according to the Los Angeles County Economic Development Corporation (LAEDC).
So…what is logistics? "It's supply chain, transportation, distribution, and operations management," says Sal Veas, chair of the Business Department at Santa Monica College. "Simply put, logistics looks at how an item and its parts came to be one, got packaged, got delivered, and arrived to you as you ordered it, on a timely basis."
At least 47,000 California firms currently employ more than three million people in logistics/supply chain activities. In the next three years, another 12,900 jobs in logistics are expected to be created. With its Associate degrees and certificates in Global Trade and Logistics and International Business, and courses offered through both traditional and online classes, SMC is well positioned to help supply that pipeline with qualified applicants.
SMC is also part of the recently formed Pathways Regional Opportunities: Global Trade and Logistics (PRO-GTL) Consortia, a partnership between private industry and seven community colleges in Los Angeles and Orange Counties to promote career opportunities in global trade, e-commerce, logistics, and global entrepreneurship.
Local, Global, and Everywhere In Between
"We have international students and some from local high schools—and our night classes bring in entrepreneurs who have their own business and want to learn about exporting to other countries," says SMC Business instructor Katya Rodriguez who teaches courses covering principles of logistics, supply chain management, import/export, and introduction to business. Beyond those already in the field who want to move up the ladder, SMC also attracts students in other fields looking for a career change.
Making the Move
SMC student Nelson Rivas works as an account representative with a third-party logistics company that provides critical inventory, distribution, and transportation services to high-tech and medical companies.
"I've been working close to four years, and about a year ago, I began looking at the possibility of making a career change, when I stumbled upon SMC's program," he says. "I enrolled in Katya Rodriguez's logistics class, and that's pretty much what started it for me."
While he is working toward the logistics certificate, Nelson would like to get an Associate degree with a focus on logistics and supply chain management, and maybe transfer to Cal State Long Beach for the four-year degree.
Preparing for Growth
To help California's economy grow, the State of California and the community college system have made career technical education and closing the skills gap a priority for building a skilled 21st-century workforce. The PRO-GTL Consortia is one facet of that commitment, aiming to align curriculum among the partner schools, and engaging industry to bring real-world opportunities to students.
One of the benefits of being a PRO-GTL partner is that "…there are courses we can't offer all the time," says Sal Veas, "but if one of our partner schools offers it, we want our students to be able to take it there, and we want to make it a seamless experience for them."
Moving Beyond the Classroom
SMC offers more than just classroom training, however. In addition to her extensive professional background, instructor Katya Rodriguez has earned several certifications from industry and trade associations, giving her access to top companies and their contacts. She puts these connections to use for her students, offering them the chance to network, and exposing them to real-life jobs.
"It's not like accounting, where adding up numbers can be taught in a classroom," says Katya. "Students need both theory and experience. As a member of the Council of Supply Chain Management, I'm allowed to invite students to an annual global conference, where they can talk directly to and network with executives, owners, and people working in the industry. And I bring them to companies like Cool Pak, where after a tour of their plant, I asked the owner if they offered an internship. Two of our students went to interview for it, and ended up getting hired instead."
Katya says that sometimes companies want to advance the skills of their own employees. "The Senior Vice President at the Swiss forwarding and logistics company Panalpina told me he's interested in sending some of his staff to SMC for more advanced training in logistics, supply chain management, and global trade."
In addition to the certificates and degree programs, the department is working to create a noncredit program in Logistics and Supply Chain Management in hopes of introducing nontraditional students to this well-paying career.
SMC students will be prepared to apply for the highest-growth jobs expected over the next five years—in roles like Customer Service Representatives, International Sales Representatives/Associates, and Global Sourcing or Procurement Specialists/Coordinators.
Katya points out that "this industry is growing pretty fast. Long Beach has a new container terminal, and they'll be hiring, and the Port of Los Angeles hires every February, especially seeking students and recent graduates as long-term committed employees."
An International Perspective
Elmer Atjun, now enrolled in his second SMC class, is export manager for the region of Mexico at his freight forwarding company. Although he already has a degree in computer science, he's working toward the logistics certificate and eventually a Master's degree in Supply Chain Management.
Why logistics? "There are a lot of opportunities in logistics, compared to computer science," he says.
The opportunities aren't restricted by borders, either. "I could work pretty much anywhere…not just in LA, or other states—but outside the U.S. Companies will always need a logistics person. That's what makes it [so] attractive."
* * *