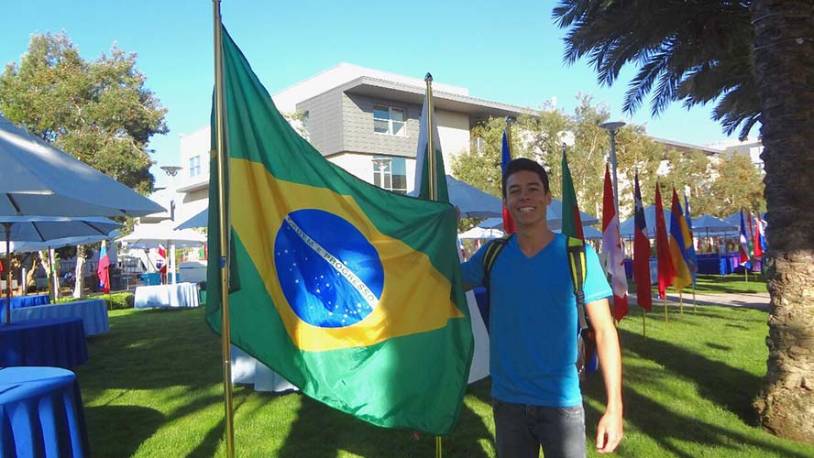 When Santa Monica College student Flavio Henrique Rahme Costa Filho stood before his peers at the 2016 international students graduation/transfer celebration, no one would have guessed that just three years ago, he could not even carry on a basic conversation in English.
But that did not stop Flavio from listening to as many conversations as possible. "I smiled a lot and occasionally said, 'Oh, really,' or 'That's interesting,'" he told those assembled, who laughed knowingly.
"It was such a powerful, well-crafted, and emotional speech," said Peggy Kravitz, counselor at SMC's International Education Counseling Center (IEC-C).
Flavio's message was how "the power of wanting" can change your life. Not the kind of wanting, he said, that he overheard in a grocery store—a child begging his mother for M&M's. Not even the kind of wanting he felt for sneakers with flashing lights in their soles, which he said he would never beg his parents for. Instead he described the kind of wanting that leads people to achieve their goals, that "…enables you to grow stronger, accept the challenges, and when life kicks you to the ground, makes you stand up once more."
For Flavio, those goals were to compete in the Olympics, to speak English, and to graduate from SMC, each accompanied by its own challenges. But, he told the audience that he "faced his fears and stepped up."
Now 21, Flavio is transferring to California Lutheran University with a 3.77 GPA, an academic scholarship, and international grant support. He was accepted at five University of California campuses, but chose Cal Lutheran because—in addition to the financial support—he can continue swimming competitively, the dream that brought him to SMC in the first place.
He began swimming in Brazil at age 8, and competed as a teenager. "I wanted to be an Olympic swimmer," he explained, "and I knew that the United States offers the best training. Our Brazilian gold medalist and record-breaking swimmer César Cielo Filho trained in America."
A chance meeting with a stranger, who mentioned that his daughter received financial support to study and play tennis in the US, led Flavio to a Brazilian agency that sends athletes here. He came to SMC from his small hometown of Cravinhos, 430 miles from Rio de Janeiro, the site of this year's Summer Olympic Games.
SMC offered a great location near the beach, and a beautiful swim center. But that was not all. "High transfer rates and good quality classes, especially ESL, because I came here with almost no English!" added Flavio. When he arrived at SMC, he placed just above the minimum score required on the English Proficiency assessment.
Flavio immersed himself in ESL, reading books and listening to conversations for eight months before he could hold one on his own. "Even though I thought I'd never get out of ESL, it prepared me for my English, and my major classes, to get good grades and be ready for my next step."
Meanwhile, he continued swimming. Flavio's SMC swim coach Steve Contarsy said, "Our swim program uses race-paced training, so swimmers are always working at or near their capacity. Flavio worked hard, matured, and got a lot faster and stronger." And it was not long before Flavio started swimming for SMC at competitive swim meets at other colleges.
But it was clear to Coach Contarsy that Flavio wasn't destined for the Olympics. "Southern California is the Mecca of Olympic sports, and even if you're number one in your country, there are a lot of fast people here."
So he advised Flavio to shift his focus to strengthening his academic credentials.
Instead of wallowing in disappointment, Flavio applied himself to the goal of graduating from SMC, and then to earning a four-year degree in political science, with a concentration on international relations.
Flavio says his family inspired him. When he was 12, they experienced a difficult financial crisis, but, he says, "I come from a strong family and my parents said, 'Don't compromise your goals, don't stay in your comfort zone, meet your challenges head on,' and that's my line, too."
Omar Bishr, a fellow swimmer and peer counselor at IEC-C, said that homestays were a challenge for Flavio, with the language barrier, not being allowed to use the refrigerator ("Swimmers need to eat a lot," Omar said), and his rigorous swimming schedule, including practice at 5:45 in the morning. Flavio finally found the perfect solution when a swim-mate's mother offered him a room in their house and made him feel at home.
Flavio is both a friend and a team player. Omar calls him amazing. "I used to go to swim meets and make jokes," he said, "but Flavio put it in my mind that I could break a minute. He was the one who said 'you can do it,' made me believe in myself, and was there for me the whole time."
And this past April, Flavio helped his team win the 4 x 100 yard freestyle relay championship at the end of the Western State Conference Championships. "The team was behind, but Flavio kept SMC close enough so that his teammate Zhen Teo could pass the Cuesta College team with about five yards to the finish," said Coach Contarsy.
"Everyone should have the opportunity to coach a young man like Flavio," added Contarsy. "He's quiet, unassuming, just puts his head down and works hard, and he's appreciative of everything that SMC has given him. He's a wonderful young man."
Flavio plans to seek an internship at the United Nations.
"I wondered what a professional swimmer can offer society, and I found you can incentivize young people through sports to be disciplined and live better, healthier lives," he said. "I'd like to do that on a large scale. It's still abstract in my mind, but I think a UN internship will help me decide the direction of my work."
Applying the skills he learned in speech class—creating common ground with the audience and sharing his personal experiences—Flavio's speech built to an inspiring conclusion.
"Whatever is your goal, your dream, your plans for after SMC, want it bad," he said, "so bad it's going to make you go insane thinking about it, and lead you to transcend all the barriers you once thought to be impossible to overcome."
And the audience cheered, for him and for themselves.
* * *