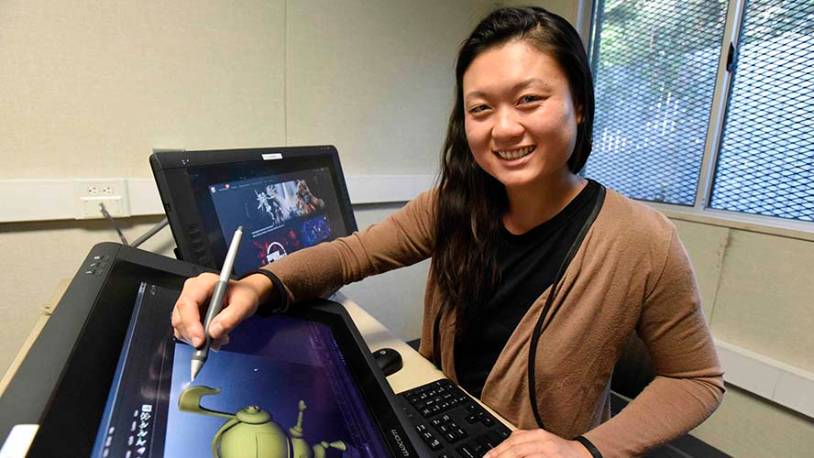 Before performers take their places in front of a green screen or in the studio, every aspect of their characters' looks and the imaginary world they inhabit has been made real by a talented coterie of visual development artists. A new Visual Development department certificate at Santa Monica College gives students the complete picture they need to join that select group, whose members give life and heft to animation, games, and other media.
The new certificate is the most recent addition to SMC's expansive Entertainment Technology program, which offers degrees and certificates in Animation and Digital Media (Visual Development also forms a new area of concentration in SMC's Associate in Science degree in Animation.). For the Visual Development concentration, SMC faculty developed new courses that cover every detail of the pre-production process used to design the characters, props, vehicles—and even whole environments—that create memorable cinematic experiences and allow players to immerse themselves in games.
Happy to Be Angry
Karina McBeth, who served as storyboard artist on The Angry Birds Movie, is one of the many entertainment professionals throughout the Los Angeles area who honed her skills and developed industry contacts at SMC. "The program has helped me in my career by refining my artistic abilities," says Karina, "and preparing me to work collaboratively!"
A California Institute of the Arts (CalArts) counselor recommended SMC's Visual Development program to Karina (SMC has a transfer agreement with CalArts). Once she arrived at SMC, in addition to the collegial spirit, Karina found herself enjoying "…the best resources available to students, like access to current software and industry-standard equipment."
Those resources also include having instructors who are professionals in the field. "The small class sizes and having those instructors allowed me to grow as an artist and learn what the industry is currently looking for," says Karina. She ultimately wants to develop her own feature or television series and adds that the techniques imparted in those intensive classroom experiences continue to prove invaluable.
"I use many of the skills I learned during my Digital Imaging class in my day-to-day workflow," she says. "In addition, learning perspective and figure drawing helped me gain a better understanding of drawing fundamentals, as well as refine my artistic skills to draw characters and environments from different angles."
Her time at SMC enhanced McBeth's job-getting skills as well. While still a student, she interned at Walt Disney Animation Studios—an opportunity gained not just through learning the technical skills of storyboarding, but also through taking a career development class that helped her prepare a résumé and cover letter.
Reason 1, Reason 2, Reason 3…
Joey Karwal was also attracted to SMC by the Animation program's strengths, as well as by the transfer agreement with CalArts. He notes another advantage offered by SMC: affordability. But even if the low cost proves to be too much—there's help. In Joey's case, he qualified for financial aid in the form of a Board of Governors (BOG) enrollment fee waiver.
"Between the affordability and just how good the program is, SMC's a great choice for anyone," says Joey, who is particularly grateful for the supportive professors who helped him get ready to succeed in his field, and for the many friends he made here.
He transferred to CalArts to complete his Bachelor's degree, but says he would have chosen SMC for his lower-division courses even if finances were not a factor. "I loved SMC, and I would go there all over again."
Gaming: Not All Fun and Games
Gaming brought Susan Tang to SMC, where she is studying game design and 3D Art. She had already earned a Bachelor's Degree in Biology before coming to SMC, but what she really wants now is to combine science and her newfound expertise in entertainment technology to create interactive educational games for children.
The best part, says Susan, are the instructors. One even set up an independent study option so that she could learn a software program not officially taught at SMC. "They care a lot," she says.
Like Karina, Susan took advantage of SMC's numerous internship opportunities, working with a Santa Monica arcade game developer. She also is looking at other internship opportunities this summer, possibly at one of Santa Monica's many educational software development companies.
Susan has made personal and professional connections through SMC's many social networks, and serves as President of the student Gaming, Animation and Special Effects (GASE) Club. They offer tutorials, workshops, guest speakers—and even volunteer to tutor and help kids with homework.
Animating Careers
"Our Animation curriculum introduces students to the fundamentals of 2D and 3D animation, storytelling, and project management before having them choose a concentration in a specific discipline," says Chris Fria, chair of SMC's Design Technology department, which includes Entertainment Technology, Graphic Design, and Interior Architectural Design. The program—with hands-on components and industry-standard software and equipment—is designed to prepare students for direct entry into careers in the animation field.
Other experience-building concentrations and certificates within the Animation degree are 2D Animation, 3D Animation, 3D Modeling, 3D Rendering, 3D Game Development, and Visual Effects. The Entertainment Technology program also offers more comprehensive certificates of achievement in Animation and various levels of Digital Media.
Start to Finish
While Visual Development addresses the needs of pre-production design, SMC's other entertainment technology courses take students to the post-production finish line of creating games and animated works. From advanced Photoshop techniques to the latest rendering software, students develop their artistry by using the same tools as today's most noted designers and animators.
Busy professionals who wish to update their skills can benefit from the courses as much as full-time students. Chris Fria adds that students who already have industry experience or are currently working professionals have the option of completing just the Visual Development courses to earn SMC's Animation certificate.
Another advantage of the new Visual Design certificate, says Fria, is that it will allow students who finish it to develop projects with peers from other areas of concentration.
Critical Raves
As students and alumni can attest, the new Visual Design certificate is just the latest example of why SMC alumni are so prized by the entertainment industry—and why the University of Southern California (USC) and CalArts number among the noted programs with transfer agreements for SMC students who want to continue their training and earn a Bachelor's degree.
And, as Susan Tang points out, SMC now offers a pioneering Bachelor of Science Degree in Interaction Design (IxD), a direct response to the needs of this thriving, rapidly expanding entertainment industry sector. "We're reaching a point in technology where everything is becoming interactive," she says. "Games are that way now, and TV—even commercials—will become interactive eventually."
Increasing interactivity is just one example of how the entertainment industry is changing more rapidly than ever in this digital age. In response, SMC continues evolving its programs to enable students to stay ahead of the curve in fulfilling these shifting needs. Entertainment Technology faculty work in and collaborate with the entertainment industry to ensure that students learn practical, job-oriented skills.
"The decision to come to SMC was truly a game changer," says Jacqueline "Yurika" Imai, who earned her Associate degree in 2016. She wants to work in either feature animation or game design. "I ate up everything I learned at SMC," she says. "It helped me so much, to the point where a couple of studios noticed me. That's a huge, huge deal for a student."
* * *