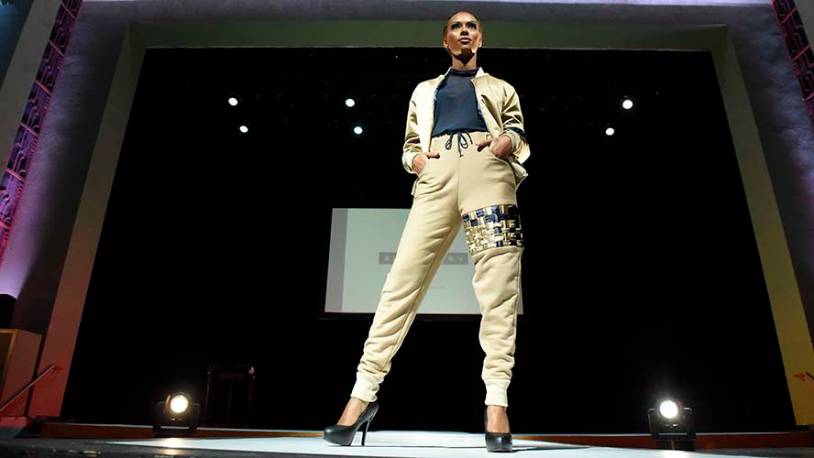 The fashion program's cross-stitching of design and merchandising appeals to students who want to understand—and prepare for—the profession's challenges. "I started off looking for a community college that offered fashion design and also a business merchandising degree," says Raquel Medina. Now an SMC graduate, Raquel assisted the producer on this year's LA Mode.
Raquel says SMC helped bring her dreams closer to reality by offering topflight training but as "an affordable place to go to." The small class sizes are another benefit, she adds. "I've been able to get a lot of experience I wouldn't have gotten at bigger schools," she says. "And the students here form tight bonds. Instead of being in competition, we're good friends who help each other grow."
Convenient scheduling was also a factor for the Corona, California, resident. "My commute's about 90 minutes each way," she explains. "SMC offers the classes I needed on two days, while other schools required four days a week."
Other students travel from much farther away. "We have people from around the world who come specifically to attend SMC," observes Raquel. "We have people from Sweden, Iran, Algeria, Mexico, Honduras, and Nicaragua. We have such a well-rounded sense of the world—and it makes our program so rich."
Foothold in Fashion
Kenta Tanaka, who won SMC's Global Citizenship President's Award this spring, can vouch for the global attraction. Originally from Yamanashi, Japan, he moved to Tokyo to study industrial design before deciding that Southern California—and SMC—would be a better place to pursue his goals. Ultimately, he wants to design shoes for Nike, so he needed to find his feet (pun intended) in fashion.
"I didn't know anything about fashion before," admits Kenta. But he is learning quickly, as evidenced by his favorite course: Apparel Construction (a sewing class for beginners). Although he found the process frustrating at first, Kenta ended up crafting eight items in the class—even though only four were required.
Raquel and Kenta both say they appreciate the faculty's supportive mentorship—and professional expertise. "Their industry experience really helps," says Raquel. "I've learned something new from each of my teachers. And because they're all so diverse in their backgrounds, you get a full picture of the fashion profession."
Under the direction of Photography & Fashion Department Chair Ford Lowcock, Lorrie Ivas and her fellow professors are continually adding details to that picture to further benefit students. For example, merchandising students now take an accounting class so they know how a business actually runs and can keep a ledger.
Putting the "Extra" in "Extraordinary"
The merchandising side, along with SMC's transfer agreements with major universities, attracted Kevin Fernando. He has since transferred to California State University, Long Beach, but came back to join the audience for LA Mode. "I love Santa Monica College so much that I still have a relationship with the school, even three years after I've left," he says.
Kevin, too, appreciates the faculty's level of caring. "In my entire academic career, I've never seen such dedication toward the betterment of a student's welfare," he says. "Lorrie Ivas would sometimes spend an hour with an alum to talk about a business plan."
Keenly interested in fashion's previous eras and present influences, Kevin ranks Jemi Armstrong's class in fashion illustration among his favorites. "What I loved was her approach—which incorporated art history into fashion—and how it blended in another realm of the arts."
Jemi and Lorrie also helped Kevin get a job at Decades, a high-end consignment store on Melrose Avenue, so he could gain practical experience. "I actually got to see these haute couture pieces up close for the first time," he says.
New Wrinkles to Iron Out
As important as fashion's history is to understanding its present, SMC students also must keep pace with the technological advances taking the field into the future. To help keep the program's equipment as sophisticated as the education, Tukatech and AIMS 360 are making important donations to SMC of software for pattern making and grading, 3D virtual apparel prototyping, enterprise resource planning, and other key functions encompassing design and merchandising.
In addition, this fall's curriculum launches an exit portfolio class, so that every student finishing the program at SMC—whether as a merchandiser or designer—will have a website and samples to share with prospective employers. Alumni who did not have the chance to take the portfolio class will have a similar opportunity to develop a portfolio through weekend workshops.
SMC's interdisciplinary Fashion Design and Merchandising program not only provides students with thorough training, but also the flexibility of figuring which aspects of fashion best fit their interests as they design their future. The results are anything but basic as these budding fashionistas tailor their futures to fulfill their professional goals and passions.
* * *
[Students from SMC's Cosmetology Department did makeup and hair at LA Mode 2016, and are also featured in the photo slideshow.]