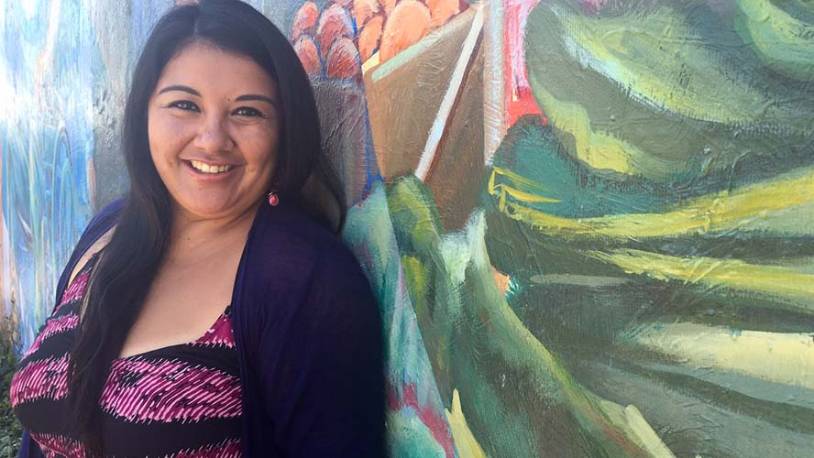 The first thing people mention about Santa Monica College alumna Elizabeth "Liz" Cruz is her warm, welcoming smile. Liz is a Santa Monican through and through: she lives in the Pico neighborhood where she was born and raised; she went to Santa Monica High School and graduated from SMC in 2000. Her path was riddled with obstacles - but Liz would transfer to UCLA, and next obtain a Master's Degree in Social Work from the University of Southern California.
"SMC was very good to me," she reminisces. But that statement can be applied to her, because Liz has been very good to her community. Today, she devotes all her free time to Virginia Avenue Park (VAP), a frequent childhood haunt. She serves as Chair of the VAP Advisory Board and is a member of ad-hoc committees envisioning new programs and services-all this in addition to her full-time job as a licensed clinical social worker at Family Service of Santa Monica, where she offers mental health counseling.
Liz was raised as one of five children by a single mother, and the family was hit by more than one major calamity. A brother was the victim of a shooting that nearly took his life; Liz and her mother nursed him back to health from multiple wounds. Not long after she started at UCLA, her sister Cindy committed suicide, and Liz put college on hold as her family recovered from the tragedy.
These tribulations might have broken a lesser person. But they only made Liz Cruz more determined to pay forward the kindnesses offered to her throughout her life. A journey of community involvement that began at Samohi would become her destiny.
The Upward Journey
At Samohi, Liz got involved in MEChA (Movimiento Estudiantil Chican@ de Aztlan). She loved how supportive the club's advisor was of promoting higher education in the Latino/a community. She enjoyed the community work-like organizing Thanksgiving and Christmas food drives to help families in need.
"In the 10th grade, I attended a Latina Youth Conference," says Liz. "One woman spoke about her job… she was a social worker. Something magical happened to me-and I knew that's what I wanted to be."
Her journey toward that goal began with the help of her brother, Jaime Cruz-an SMC alum who is a History instructor at the college-and two SMC counselors who had also been instrumental in her brother's success: Benny Blaydes and Oscar Galindo.
When Oscar first met her, Liz had been accepted at New Mexico State University. He had to be the bearer of bad news, as Liz and her family had not considered the out-of-state student costs. Instead, he directed her to SMC classes that would put her on the transfer track. She had to work her way up from pre-college level math and English, an insurmountable challenge for many students.
When Oscar told Liz she might need to repeat classes, that she had to "do what she needs to do to get where she needs to be," he remembers that she embraced that without a second thought.
Benny, then a counselor with the Extended Opportunity Program and Services (EOPS) program-which supports the academic success of students challenged by economic and educational disadvantages-connected her with programs and support services including Pico Promise, a joint partnership between SMC and the City of Santa Monica. UCLA and USC were not on Liz's radar, but Benny told her that she could get there. She began doing well, and soon those universities became a concrete goal.
Throughout high school and college, Liz also worked in different capacities for the City of Santa Monica, from administrative jobs to tutoring students at Virginia Avenue Park and through the City's CREST student enrichment program. She met many families and children, interacted with local elementary schools, and became a caseworker for Jewish Vocational Service at VAP, which found jobs for at - risk youth in the Pico neighborhood.
Empowering Others to Overcome
After receiving a Master of Social Work degree from USC, Liz began to work with severely mentally ill and suicidal children, first in the Valley, then in the South Bay - in schools, in group and family therapy. Five years later, she returned to work in Santa Monica.
"It's just great to come full circle - back here to the Park, to give back in some capacity," says Liz. "Now I get to work with a lot of the families I first saw as a City employee. Some of the kids whose parents I worked with now have kids of their own!"
Her commitment to the students she works with extends beyond the confines of a program. While a graduate student at USC, Liz had volunteered for a mentoring program for high school students planned in partnership with Youth Justice Coalition, Inglewood. While the program never got off the ground, she kept nurturing her mentee Danielle Argueta.
Danielle, who now works with The Boys and Girls Club in the Bakersfield area, says that while at first it seemed "random" that they were paired together, it turned out to be anything but. When she was young, Danielle had been a victim of a drive-by shooting that left profound psychological effects. She and Liz talked about this and other things at their monthly meetings.
"We found common ground talking about mental health, and Liz would talk about losing her sister," says Danielle. "I was a very angry kid, but she helped me process my feelings by sharing her own experiences."
Negativity was embedded in the environment she grew up in, says Danielle, but Liz changed her outlook - inspiring her with her kindness, and with how Liz has stayed focused on the positive through adversity.
Liz's SMC counselors described her as shy and unsure of what she could accomplish when they first met her. Gloria Garcia, a member of VAP's parents group - whose meetings Liz attends as a volunteer - uses those same words to describe herself. But this was until she met Liz.
"I used to be scared and shy about speaking up," remembers Gloria. "But Liz always encouraged me, saying 'You can do it,' and then I would see her smile…that always made me feel so welcome." Soon, she will join Liz on the VAP Advisory Board. And, she says, Liz was right.
"It works! Now I feel happy to say, 'Yeah, I can do it'," says Gloria. "Even if I don't know how, I know I can learn."
Her SMC counselors credit Liz's work ethic and the support of her family, especially her beloved mother, for her success. As for Liz, it has only been a matter of following her heart. "I do everything from my heart," she says. "I feel blessed to be able to give back and connect with families in my community."