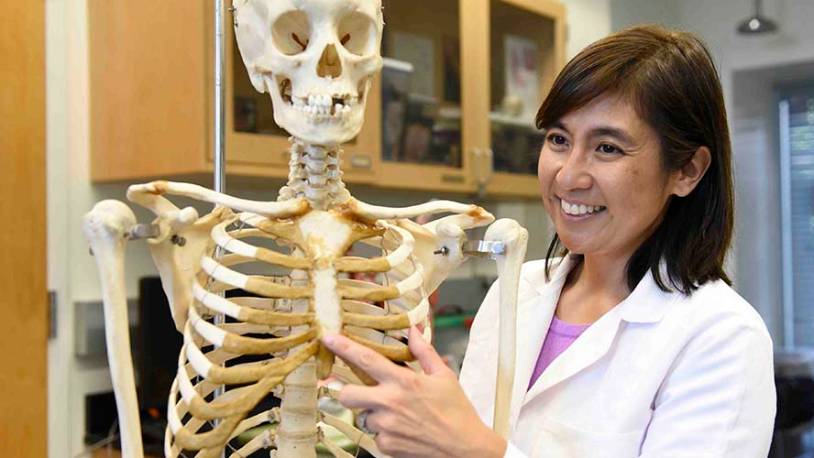 If it hadn't been for devoted teachers, Santa Monica College Professor Sandra Hutchinson's early interest in science might have been derailed. "I always liked science, and I wanted to be an astronaut. But: I have poor eyesight, I'm claustrophobic, and I'm afraid of heights!"
Fortunately for Sandra, there were other ways to explore the field. Her third grade teacher at Roosevelt Elementary School in Santa Monica imparted her love for whales to her students. Later, at Lincoln Middle School, Sandra's teacher got her involved in coaching developmentally disabled students. At Santa Monica High School, Sandra's AP biology teacher - who was also a single mom - offered weekly coaching workshops on her own time, ensuring that each of her students succeeded in the class.
All of these teachers heavily influenced Sandra's educational and career choices. While still at Samohi, she studied at SMC as an accelerated honors student, and went on to UCLA as a sophomore majoring in neuro immunology with a minor in Developmental Disabilities. She would later earn a Ph.D. in Genetics from Pennsylvania State University.
Today, as a Professor of Anatomy and Human Biology at Santa Monica College, things have come full circle for Sandra, and she repays the excitement her teachers instilled in her with her own commitment to the success of her students.
Empowerment is a Two-Way Street
Alexandra Nystrom was a UC Santa Barbara Religious Studies graduate who decided to become a physical therapist, and enrolled in an anatomy class at SMC. After receiving grades that were lower than she hoped for in prerequisite math and science classes, she lost heart, fearing she wasn't cut out for her chosen field.
Then Professor Hutchinson stepped in.
"She reminded me how badly I wanted this path, and made me believe she already knew I was going to succeed," says Alexandra, who transferred with a 4.0 GPA to Samuel Merritt University in Oakland, where she is now a first-year physical therapy student. "And it all started in Dr. Hutchinson's anatomy class!"
"Our lab setup allows me to work with each person individually," says Sandra, who likes to take what she calls "a personal approach" with all her students. Once too shy to speak to her own professors, she exhorts her students during her opening day lecture to be sure to come and talk to her outside of class. "At community colleges, we can take time with our students to get to know who they are, what their life situations are, and whether they want or need help. And this helps give them accountability."
Sandra says benefits flow both ways. "The inspiration and motivation of some of my students, who face all kinds of challenges, keeps me going. If I can help students realize their potential and they contribute to the world in their own time - that makes me feel pretty good."
Goals, Determination, Patience
Teaching was not the career Sandra ever thought she would enter - after all, she had a fear of public speaking. But after acing an interview for a post-doctoral fellowship from the National Institutes of Health, "I lost my fear," she says. Awarded the fellowship, she was given the choice to work in research or teaching. She chose teaching.
She began teaching anatomy at Sinclair Community College in Dayton, OH, while her husband served his medical residency. They were both working double time, and she was pregnant. "I logged an 8-hour work day on the day I delivered my son," she said.
An opportunity for her husband to work at the University of Southern California brought them back to California. With the birth of their second child, Sandra chose to stay home to raise the children, doing part-time online teaching for Sinclair College, and later serving as a consultant to the Keck Foundation, which provides seed money for promising research at the earliest stages.
But she had her eyes set on Santa Monica College.
"I had SMC bookmarked," says Sandra. "I waited five years for this job to open up, and I was lucky enough to get it in 2010. This is the only job I would have considered leaving my life of being a stay-at-home mom for."
At SMC, Sandra found herself surrounded by colleagues who welcomed her warmly, and soon found ways to get engaged in a meaningful way. She is one of the two faculty advisors to SMC's student-run Pre-Health Association, which organizes guest speaker events for students preparing for careers in the allied health fields.
Sandra has also found a way to give back to her elementary school - she helps out with the annual Roosevelt Elementary School Science Fair. And she serves as a volunteer judge at both the middle school and the high school levels for the California State Science Fair.
Sandra's name is visible in professional circles as well. She writes the instructor guide for the textbook Essentials of Human Anatomy and Physiology, and is a member of the 2015-16 Anatomy and Physiology advisory panel for Wiley Publishing.
When she's not teaching, writing, or volunteering, Sandra is an avid bicyclist who rides with the community group Critical Mass and often bikes to work at SMC.
And she is a baker specializing in gluten-free goodies, a necessity brought about by her daughter's extreme wheat allergy at a very young age. Today, her daughter (who is now allergy-free) surpasses her as a baker, says Sandra.
"I'm also a true-blue Bruin," adds Sandra. "I make my husband keep his USC cap in the car!"
* * *