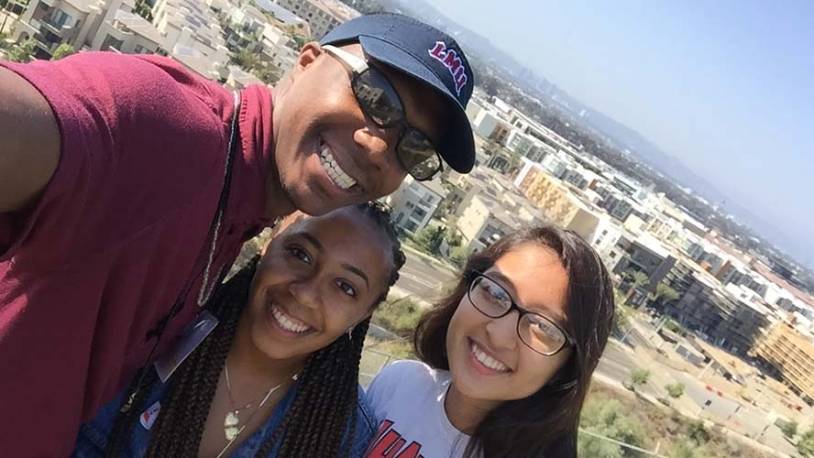 Paris Taylor faced enormous challenges, including two severe learning disabilities. While attending high school, she was her mother's primary caregiver. When her mother died of cancer, Paris became homeless. Nevertheless, she enrolled at Santa Monica College and worked hard to achieve a 3.65 GPA, and the SMC community recognized her promise. "I didn't see it in myself," she said, "but SMC counselors and professors did - and they wanted me to succeed."
Today, Paris - who once thought, "People like me don't go to schools like that" - is a recently graduated alum and a student with a full scholarship at Columbia University. Before heading to Columbia, Paris was one of 26 SMC students who participated in a 10 - day research residency this summer called URSA at Loyola Marymount University (LMU). URSA - the Undergraduate Research Scholars Academy - aims to expand educational opportunities for high-achieving, traditionally underrepresented students.
URSA partners with a number of community colleges. At SMC, the program serves students active in the Black Collegians, Adelante, and STEM (Science, Technology, Engineering and Math) communities.
URSA is rigorous. Students live for 10 days on the LMU campus, where they are paired with an LMU faculty member who guides them through a research project. At the end of the program, the SMC students present their research to an audience of peers, professors, college administrators, and others.
URSA founder and director Dr. Paul Jimenez, a professor at both LMU and SMC, called upon his own experience to create the program. Paul says he will never forget how overwhelmed he was when he first arrived as a student at UCLA. "I put the faculty on a pedestal and was afraid to speak to them," he said. One of his goals for URSA is to "humanize faculty for students," so that students will realize professors are there to help them.
Paul also points out that research - an essential skill for higher education - is something many students fear, often having little experience in it. "At URSA, we help students navigate the research process so they can gain confidence in doing research, an extra tool in their kits for academic success."
More Than Just Research
An introduction to the "nuts and bolts" of research takes place on Day One. Throughout the 10 days, students interact with professors, both one-on-one and in informal groups. There are also lectures, where students learn how to use research libraries and access databases and scholarly journals. Then, there are sessions in which "soft skills" are the focus: how to give presentations, public speaking skills, and networking.
"Networking and time management are two skills I learned from URSA and have put into regular practice ever since," said Precious Onuohah, a 2016 SMC graduate now in her first semester at UC Berkeley, pursuing Legal Studies and Rhetoric.
In just a few weeks on campus, she's learned to navigate the university to find the programs most beneficial for her and the people she needs to speak with to tackle projects of interest. In addition to a full-time course load and a job at the UC Berkeley School of Law - more familiarly known as Boalt Hall - Precious has joined the Black Students Union, the Student Association program, and the Rally Committee. It's pretty clear why time management is crucial to her success.
Finding (and Becoming) a Voice
Maria Zamudia-Lopez - an undocumented "Deferred Action for Child Arrivals" (DACA) student - is a sociology and Chicano Studies major at SMC. She hopes to transfer to LMU or UCLA, and credits URSA with showing her how valuable libraries and librarians are to researchers.
"Librarians taught me how to make sure the sources I use are credible, and to keep an open mind and seek out positions contrary to mine," says Maria. It wasn't until she attended SMC that she was able to admit to being undocumented. Now an activist for the undocumented student community, she says that URSA helped her learn how to strengthen and defend her arguments.
Through her URSA research, Maria discovered a bill moving through California's legislature proposing the creation of resource centers at public colleges to help undocumented students succeed in reaching their education goals. In their final URSA presentation, she and her research partner proposed that these centers also be established at the high school level.
"A lot of undocumented students don't see higher education as an option," says Maria, "but if they're taught at a younger age that they have options and are capable, then more students will go on to graduate from college, and society will benefit."
If we can do it, so can you.
While doing research is half the battle, sharing it in a public forum is a whole other challenge URSA works to help participants overcome. With constructive criticism from communication experts and faculty, students learn how to create an effective PowerPoint presentation and craft a speech, how to gesture with their hands and project their voices, and how to move onstage and connect with their audience.
For Jessica Rodriguez, URSA drove home some important points. One is that URSA is a competitive program (students must have a minimum 2.9 GPA), and those accepted into it should not take it for granted, and need to give it their all. Another is that giving back to the community is a fair exchange for the privilege of participating in URSA.
For a recent job fair on campus, Jessica did not have a professional wardrobe, but her counselors pointed her to SMC's Business Department, which has a "career closet" where students can "shop" to get professional clothes and accessories for free. So Jessica shopped, and when she met a representative of the Beverly Hills Bar Association at the fair, she put the communication skills she developed in URSA to work - and now has a prestigious internship in the organization.
Jessica's goal is to complete her prerequisites and raise her 3.3 GPA so she can apply to LMU or Pepperdine University. In the meantime, she is giving back as a mentor in SMC's Sister-to-Sister program. Launched by the Black Collegians and Adelante programs, the program - along with its Brother-to-Brother counterpart - pairs SMC students as mentors with John Adams Middle School students.
As Sister-to-Sister mentors, SMC students whose road to college has been full of obstacles - and who are often the first in their family to even go to college - can inspire their younger counterparts to pursue higher education, as well as offer them real-world practical advice, and help them plan their own path to college.
* * *
Equity funding from the State of California covers the costs of URSA. The funding is provided to community colleges for programs and pilot projects like URSA to reduce the disparity that exists in academic achievement between underrepresented students and their peers. (Black Collegians faculty leader Sherri Bradford, Adelante Program faculty leader Maria Martinez, and Black Collegians counselor Teresa Hall coordinate URSA activities along with Paul).