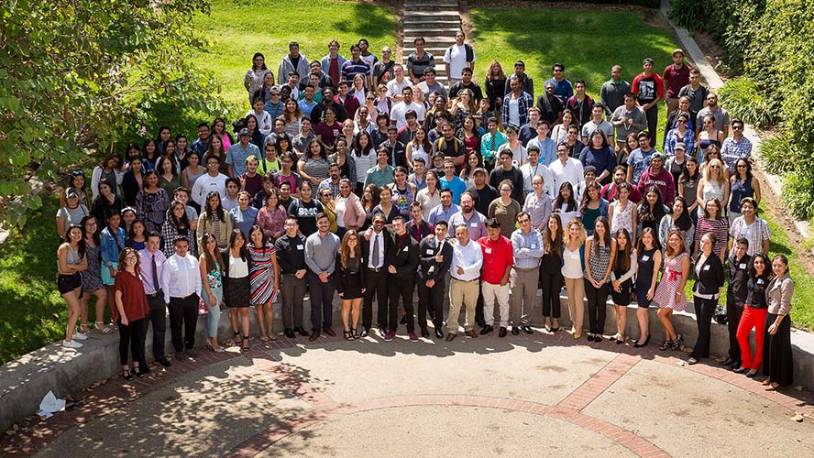 Eve Adler, Nursing professor (and certified yoga instructor!) was featured on HealthCetera on WBAI 99.5 FM in NYC. View Eve Adler's blog and HealthCetera interview which continues a series exploring how integrative healing modalities are being shared with underserved populations.
---
Nichelle Monroe, Administrative Clerk in the Science Learning Resource Center, was featured on a promo spot for WCIU Chicago doing one of the things she does amazingly well: singing!
---
SMC Biology professor Dr. Alexandra Tower and Sustainability Manager Ferris Kawar is thrilled to report that under the leadership of 40 student volunteers from the Center for Environmental and Urban Studies, ICC student clubs, and President's Ambassadors 400 volunteers from the general public and SMC community collected a total of 126 pounds of trash and recyclables from SMC's adopted site which spans the stretch of beach in Santa Monica from Tower 20 near Pico Blvd. to the Santa Monica pier (Our participation was part of the 9,500 volunteers throughout the Los Angeles area, with 29,600 pounds of trash and recyclables collected overall in LA). Known as the "Inkwell" in the days of segregation, this site is significant to the history of Los Angeles and civil rights history. For the fourth year running, SMC organizers partnered with the Black Surfers Collective, Black Underwater Explorers, and Black Historians, who are an important presence during the event. Coastal Cleanup Day is a global effort to help rid beaches and watersheds of harmful and unsightly debris, while raising awareness about ocean health and plastic pollution.
---
Art professor Anne Marie Karlsen is proud to report that she was part of a historic event in Los Angeles, along with fellow SMC Art instructors Robin Mitchel, Emily Silver, Aili Schmeltz, Sharon Kagan, Carmen Argote, and Nicole James. Over 700 women artists gathered at Hauser Wirth Schimmel Gallery and were photographed as a group. The event was reviewed nationally in several prestigious publications, including the New York Times, the LA Times and Cake and Art. The SMC Art Department was well represented in this photo, which will be archived in many museums nationwide.
---
More news from the Art department! Professor Marc Trujillo is in a new show at the Torrance Art Museum called "The Gildless Age". Curated by Denise Johnson, the show brings together work by a dozen West Coast painters, sculptors and photographers. LA Times art critic Christopher Knight wrote a review in which he praised Marc's Realist paintings as "standouts." "The precision technique effectively renders the commonplace alien," wrote Knight. "Similar subjects have been conventional in American Photorealist paintings since the 1960s, but Trujillo lavishes such extreme care and attention on his epic yet unsightly vistas that they seem somehow excruciating."
---
SMC Music professor and professional composer David Goodman was recently commissioned by Pacific Serenades to compose a work for flute and string quartet. Entitled "Walking Music", David finished this new piece in June 2016 and it was premiered by five professional musicians from the Pacific Serenades Ensemble on June 26 in a private residence in the Palisades and at the UCLA Faculty Center on June 28. David chose the program and form for this new piece after reading an email from Mary Bomba who commissioned the piece in honor of her husband Tom O'Connar's 70th birthday (Tom's passions was going for long walks at various sites around Los Angeles) and the five movements mirror a day in the life of a hiker. David Goodman was interviewed by Mark Carlson, Artistic Director of Pacific Serenades.
---
"The world is a book, and those who do not travel read only a page…" wrote St. Augustine, and History instructor Jaime Cruz is intent on reading the book! This August, he traveled to London, England; Addis Ababa, Ethiopia; Cape Town, South Africa; and Dubai, United Arab Emirates. "I traveled all by myself, and without a tour guide I managed to get around and strengthen my historical pedagogical perspectives," wrote Jaime.
---
Film studies instructor Sheila Laffey's documentary Screening of South Central Farm: Oasis in a Concrete Jungle will be screened on Wednesday, October 19, at 4:30p, in Art 214 on SMC's main campus as part of Sustainability Week. It tells the true story of the high profile controversy involving farmers, celebrities, tree sitters, the developer and the City of Los Angeles over South Central Farm, which was the largest and most bio-diverse urban farm in the U.S until 2007. The film premiered at AFI Fest at the Arclight and aired on "Natural Heroes," an Emmy Award-winning public television series. Sheila will lead a discussion along with co-executive producer Jodie Evans (co-founder of Code Pink); Tezo, farm leader; John Quigley, activist/artist; Dana Morgan, former English professor and founder of the Organic Learning Garden; Ryan Duncans, Past SMC Garden Manager and UC Santa Cruz grad; and Natalie Flores, Kiss the Ground, SMC OLG Student Manager.
---
Because I Cannot Leave this Body is the title of English professor and poet Carol Davis's latest book. Published by Truman State University Press, the book will be released in January 2017.
---
"After mass shootings and other random acts of violence, the media responds in patterns all too familiar-heart-breaking accounts of the loss, a search to understand why (as if that answer could ever really be known), a quest to do something, frequently frustrated…" reads the beginning of an article titled "How the Memory of a Handshake can Counteract the Despair of the 24-Hour News Cycle". Written by Gordon Dossett, English Professor, the article was published on Zocalo Public Square.
---
The Fashion Department is proud to report that the annual LA Mode runway show was another roaring success, summed up in the California Apparel News by Executive Editor Alison A. Nieder's front-page story "Fashion Future." Fashion Advisory Board member and California Fashion Association Founder/President Ilse Metchek received the first fashion department's Style + Substance Award. Industry advisory board members and judges voted Frida Sjoedin winner of both Marketable and Technical Achievement. Kathy Zarbakhsh won both Creative Achievement and Outstanding Collection. The Santa Monica Mirror also wrote a glowing review. Last but not the least, the show was truly a collaborative effort, with photo coverage by SMC Photo 31 students, under the guidance of Photo instructors Ed Mangus and Josh Withers.
---
SMC photo instructor Josh Withers is pleased to report that he teamed up with Craftsy.com to teach an online Photoshop course, which people can subscribe to and watch at their leisure.
---
The STEM Science and Research Initiative (SRI) would like to brag about two amazing programs that took place in August: the first involved 28 SMC students who interned in UCLA research labs, and presented their research findings at a research symposium on Aug. 20 (they also held poster sessions on Aug. 24 along with all the other UCLA summer undergraduate research scholars). In just ten short weeks, they did "amazing work." Secondly - and closer to home - the SRI conducted the Summer STEM Skills at SMC from Aug. 15-20 for newly admitted SRI Students (the fifth cohort)! Approximately 150 STEM students attended and completed intensive math workshops, counseling workshops, and forensic science sessions. They also got to hear from SMC STEM alumni, and went to the SMC-UCLA research symposium.
---
Associate professor Greg Schreiner is proud to report that his musical show Hollywood Revisited at the Greystone Mansion this summer was a huge success. He also performed to sold-out crowds for two nights at the Boston Court Theatre in Pasadena and at the Moraine Valley College Performing Arts Center in Chicago.
---
Physical Science professor Peggy Kline and her horse Grady were champions in the Low Children's/Adult Amateur Hunter Division and the Huntington Beach Surf Classic Horse Show in July.
---
Marie Fisher in the Bursar's Office spent two weeks this summer visiting her homeland, Switzerland. While staying in Verbier (in the Valais Canton, southeast region of Switzerland), she attended rehearsals during the Verbier Festival of Classical Music-and got to meet and hear world-renowned violinist Joshua Bell!
---
Judith Remmes and the English Department is pleased to report that the department held a first annual "English 1 Research Essay Contest." The winners (who won $300, $200, and $100 respectively) are: Felicity Honda (Instructor: Joelle Adams): "Understanding How to Prevent Mass Shootings by Understanding Hegemonic Masculinity"; Kaya Sakamoto (Instructor: Diane Arieff): "Threat of Extinction: How Neonics, Fungicides, and Africanized Bees Impact Honeybee Death; and Adrian Crowder (Instructor: Susan Caggiano): "Artificial Intelligence and Establishing Contingencies."
---
Communication instructor Erin Hill has just published a book on women in film production in America! Called Never Done: A History of Women's Work in Media Production (Rutgers University Press), the book is about women's labor in the American film and television industry from inception to present, particularly women in low-wage, low-status jobs during the studio era and how their work relates to the challenges facing women in Hollywood today. Widely praised, the book is available on Amazon and also through Rutgers University Press.
---
SMC Police Department Chief Johnnie Adams is proud to share an article that appears in Youth Today written by his son Benjamin Adams, a Political Science major at SMC. In "Autism: An Experience, a Story, a Proposal", Benjamin talks about his experience of living with autism, what that meant for his family, and mentions his proposals for things the government could do for children and young adults who also have to live with autism.
* * *