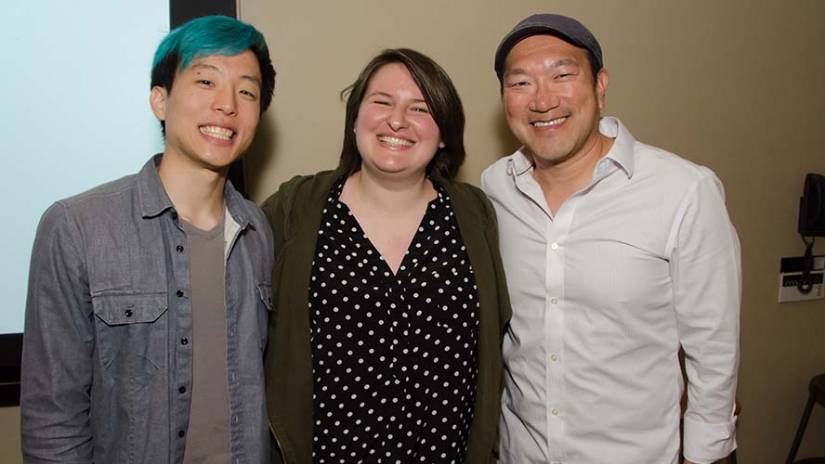 As a teenager, Sang Chi watched the 1992 Civil Unrest unfold on television, as at least 52 people died, 2,500 more were injured, and burning shops lit up the South Los Angeles night. As an associate professor at Santa Monica College, he recruited students to create a documentary that shares eyewitness accounts of the Korean-Americans who lived through those six days. The film, funded by the California Council for the Humanities, was completed in time to commemorate the event's 25th anniversary.
The documentary's title, Saigu Remembered, refers to the Korean phrase for "4/29" — the date when the Civil Unrest began. In part because the Los Angeles metropolitan area houses the nation's largest Korean-American community — many of whom operated businesses in South Los Angeles — the violence disproportionately affected them. Yet they tended to keep silent about the events, and their stories were overshadowed by the experiences of other Angelenos.
"The riots were a pivotal event in the history of Korean-Americans — not only in Los Angeles but also across the country," Chi says. "We had long seen Los Angeles and California as welcoming places, only to have perceptions revealed as being much more complicated."
To unravel those complications, Chi and his student documentarians conducted interviews with numerous second- and third-generation Korean-Americans. The students came from SMC programs in film, modern languages and cultures, and Chi's own area of expertise, history.
Like his fellow students, Korean-American Peter Lee is too young to remember those six days, having been born a year after they ended. "Growing up, my father would only talk about the riots reluctantly," he says. "My mother wouldn't talk about them at all."
Unlike many similar chronicles, Saigu Remembered does not limit itself to the recollections of one group. "Professor Chi also talked to people who had been involved in the Black-Korean alliance to get different perspectives," says Lee, who transferred to UCLA and has since earned a degree in history.
Lee, who plans to become a teacher, hopes that audiences will find the documentary as enlightening as he did when working on it. He notes that audiences have reacted positively so far, including at a screening in Koreatown. "A lot of people mentioned that they leave this time of year because they don't want to remember the riots," he says. "But they stayed to come see this documentary."
Aspiring documentary filmmaker Dean Hughes became so wrapped up in helping make Saigu Remembered that he has remained with the project even after transferring to UCLA. He was part of the crew at each interview and worked with Chi to develop the narrative and edit all of the footage. He found the experience both invaluable and challenging.
"Trying to get both sides of the story while focusing on the Korean-American perspective was complicated, but I think we pulled it off," he says. "We had to navigate complex waters making this film. It's a sensitive story."
Hughes adds that his favorite interview occurred with former gang member Sonny Kang, who was a college student in 1992. "We followed him around with a camera," Hughes recalls. "He actually took us up to one of the rooftops where he and his friends set up with rifles to defend the community."
Of the experience, Hughes says: "Documentary filmmaking is my passion. Working on this project has been a huge boon to my own career moving forward."
Hughes adds that he was "amazed at the energy" Chi put into his lectures and into his work on the film. "He was the driving force that kept us going," Hughes says. "He would not let this project be less than it needed to be."
"Making this documentary was very personal for me," says Chi, "but working with students on this project made the experience that much more meaningful. It was like I was sharing a part of my own personal history with them. And in return I learned from them as much as I believe they learned during this project."
While Saigu Remembered has been a hit at its limited screenings to date, Chi and Hughes still have some work to do in readying the film for wider release, including licensing some music and images used in the documentary.
Once those final touches are applied, viewpoints too seldom seen and voices too rarely heard will reverberate for generations to come, breaking down barriers that block empathy and cultural understanding.
* * *