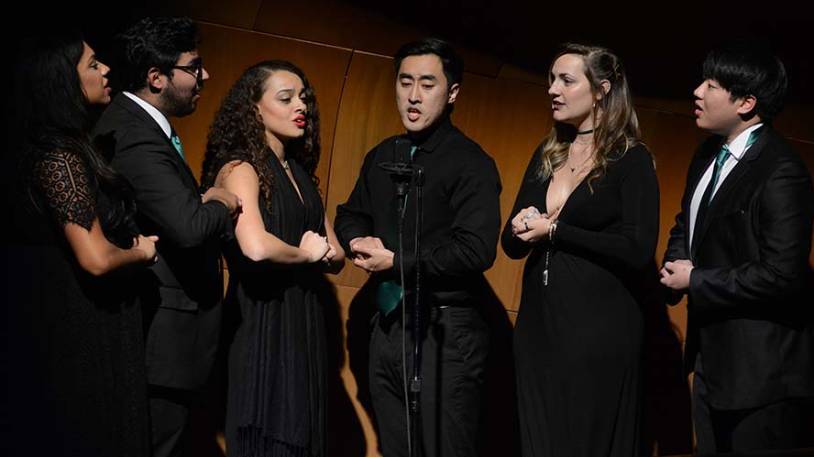 From aspiring professionals to students and community members desiring to enhance their musical understanding and have the opportunity to perform, the Santa Monica College Music Department offers something for everyone with talent and a song in their heart.
"SMC has a wonderful faculty and staff, as well as a welcoming and warm environment," says Jafet Bucaram, who studied jazz voice in the SMC Applied Music Program, which prepares students in a broad range of music disciplines for transfer to four-year institutions. "The SMC classes teach you so much more than universities require you to know before you transfer."
Even though he attended the performing arts-centered Hollywood High School, Jafet only started singing seriously during his senior year there. He auditioned for the SMC program and, he says, "the doors opened up for me, because I had so much access to the teachers there," noting the Applied Music Program's extensive private lessons that augment regular course offerings.
Jafet has since transferred to the University of Northern Colorado, where he was accepted into the School of Music. But he has fond memories of SMC — and of the preparation it provided, which, he says, extends beyond the classroom.
"They set you up for success by teaching networking and how to communicate with people in the music industry," Jafet adds of the SMC Music Department. "That's a quality that I know a lot of community colleges — and even some universities — don't have."
After finishing his bachelor's degree, he wants to pursue a master's degree and teach at the collegiate level, as well as arrange for vocal jazz ensembles.
But there's more…
As extensive as it is, the Applied Music Program is just one of the SMC Music Department's numerous offerings.
Woodwind specialist Keith Fiddmont — who teaches jazz studies, jazz in American culture and jazz ensemble — has seen the department grow and flourish during his 21-year tenure. He has recorded or performed live with such legends as Stevie Wonder, Diana Krall, The Temptations, Nancy Wilson and B.B. King. He typifies the proficiency of the department's faculty, who relish nurturing new talent among the SMC student body.
In addition to the experienced instructors and supportive atmosphere, students benefit from the new facilities in the East Wing of the SMC Performing Arts Campus, as well as areas that are being renovated or expanded. "The new wing has a lab with 25 electronic pianos and two grand pianos," Keith says. "And we have a new voice room, as well as a new theater in progress."
To accommodate multiple rehearsals and performances, the music lab and rehearsal areas are built on a floating floor with double walls to provide soundproofing from the rest of the building.
The curriculum and faculty continue to expand as well, Keith notes. "We have an opera workshop, a full symphony orchestra, a large jazz band, two classical choirs, a chamber choir and a concert chorale with 80 people." Programs include music appreciation and history, brass, composition, guitar, percussion, piano, strings, theory and musicianship, voice and woodwinds. Plans for the future include offerings in film scoring and world music.
Opera by the Sea
The opera workshop generates SMC's grandest performing endeavor — full-scale productions so complex and expensive that they can currently only be mounted biannually. "We kind of build up to it," says instructor Gail Gordon, whose tenure as SMC Opera Theater director began in 2009 and climaxed this year with a production of Carmen at the Broad Stage. Full-time faculty member and mezzo-soprano Janelle DeStefano, who portrayed Carmen, is taking the helm of the program beginning this fall.
Behind the scenes and on stage, the massive show involved the talents of students, faculty and area residents. While faculty and professionals performed the most difficult roles, student and community talent comprised most of the ample production. The production was interdisciplinary as well, with dance professor Cihtli Ocampo choreographing and SMC cosmetology students providing the make-up.
"Carmen is three hours long, with very complicated and beautiful music," Keith adds. "It was a full production with costumes and scenery and a pit orchestra and the whole bit. That's not something you're going to get at most two-year colleges."
"For a community college, we do phenomenal work," says Gail, whose own professional performance career in regional opera companies spans three decades. "We have some phenomenal singers and faculty, and our community members are very dedicated to us. You become a family when you're together that much," she says of the long hours of rehearsal required.
Vast Range, Endless Possibilities
In terms of other vocal opportunities, the SMC Music Department features a range of groups in genres from chamber to musical theater. The jazz vocal ensemble has successfully competed not only in Los Angeles but also regionally. Meanwhile, instrumentalists audition for ensembles that range from percussion, piano, strings and woodwinds to the orchestral scale of the SMC Symphony. Audiences can see at least one public performance each semester at SMC's popular Broad Stage at the SMC Performing Arts Center and Edye Second Space. The groups also welcome auditions from community members interested in joining.
"Our jazz band collaborated with our orchestra on a concert of Gershwin music," Keith adds.
The Applied Music Program, in which Jafet was a student, is geared toward students who want musical careers — which can range from composing, singing and playing for bands or orchestras to teaching, rights contracting and music therapy.
Students have transferred to such four-year programs as USC Thornton School of Music, California Institute of the Arts, and schools in the University of California and California State University systems, as well as Chapman, University of North Texas and the Berklee College of Music in Boston, to name just a few. Creators of new music fare particularly well in the program, Driscoll notes. "Over the past five or six years, we've had an almost 100 percent success rate in transferring composers."
The Applied Music Program requires students not only to perform but also to provide feedback to one another, building their critical acumen.
After all students have spoken, the instructors offer critiques that are supportive while homing in on whatever points may have been overlooked. "But, typically, the students say all the things that faculty were going cover anyway," Driscoll notes, "which is kind of neat."
However, since not everyone wants to conduct the Los Angeles Philharmonic or win The Voice, the department has much to offer those with a more casual interest.
"Anyone who has the opportunity should at least take one class," Jafet urges, "because they'll be opening themselves up to a great time and a deeper, more rewarding understanding of music."
* * *