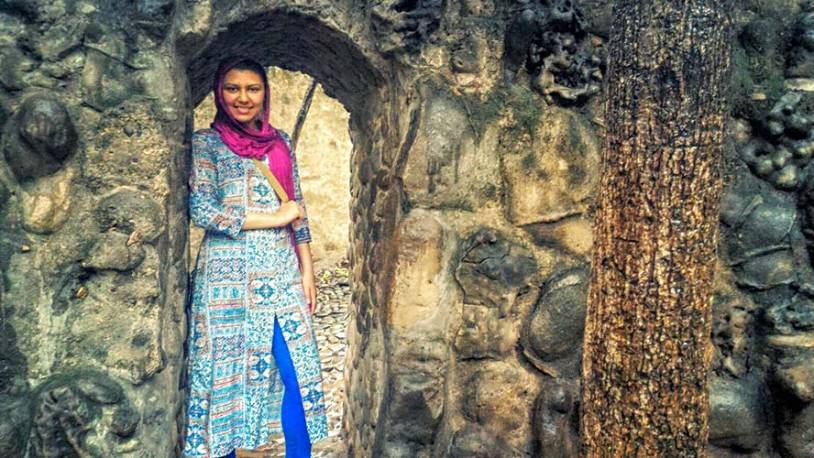 She spent last summer in India reconnecting with her father's Punjabi heritage — a journey made possible by a U.S. Department of State Critical Language Scholarship.
For two years before that, recent Santa Monica College graduate Sharon Nat was the smiling receptionist who greeted visitors to SMC's Latino Center in flawless Spanish, a gift from her Mexican-American mom.
This summer, she's at Stanford University, taking seminars in the psychology of bias and on global women leaders of the 20th century — courses leading to a certificate in human rights intensive studies.
Over at the SMC chapter of Phi Theta Kappa Honor Society and the Adelante program, they know Sharon as the perennial Dean's List student, winner of a Youth Empowerment Scholarship, a 2017 Outstanding Academic Achievement Award and a President's Circle Award.
But across campus, she's best known as the Associated Students sustainability director who successfully lobbied for vegetarian dining options at Campus Kitchen (a food vendor in the cafeteria), and helped get the weekly Corsair farmers market up and running.
For the Love of the Earth
Why sustainability director?
"I ran for this position initially because I saw that SMC's various environmental programs were all reaching out to students who already knew about sustainability," says Sharon. "I really wanted minority students at SMC to understand that this affects them—not just affluent people." To that end, she worked with faculty and administrators to change campus sustainability messaging, build more inclusive networks and create incentives that speak to all students — for example, academic credit for volunteers at the farmer's market and a 10-cent discount for bringing your own reusable utensils and dishes to the cafeteria.
Many Faces, One Determination
Leader. Scholar. Multicultural explorer. Clearly there are many facets to this Corsair's personality. But the unifying theme seems to be a determination to make a difference.
Born in Redondo Beach, the second of three children raised by Araceli and Bhupinder Nat, Sharon grew up in a cross-cultural home. But after her father's death in 2007, she lost touch with the Indian side of her family, and her Punjabi fluency faded. In 2016, she got a chance to reclaim that heritage thanks to an all-expenses-paid linguistic and cultural immersion experience. With guidance from SMC's Adelante program, she applied for and was awarded the State Department scholarship that let her spend three months studying in Chandigarh, India.
She gained much more than language skills there. The Punjab and Haryana state capital is just an hour's drive from her late father's village, and Sharon found a second home on her grandmother's small dairy farm, surrounded by doting aunts and loving cousins she'd never met before.
"Every weekend, they would pick me up and drop me off in Chandigarh," she says. "They'd help me with my homework. Everyone in the family speaks Hindi, Punjabi, English — and now they're learning Spanish to talk with my mom."
Sharon plans to spend more time with her Indian relatives, one of whom, it turns out, lives in Petaluma, California. She also intends to reapply for future State Department Critical Language Scholarship grants and keep improving her Punjabi fluency.
One Step at a Time, One Step Ahead
But for now, Sharon's primary focus is on finishing her postsecondary education. She will start Loyola Marymount University in the fall as a psychology major with a minor in women's and gender studies. Eventually she wants to pursue a doctorate in psychology. Her long-term goal: to move academic and clinical research in a multicultural direction. The problem, she explains, is that subjects in social psychology experiments are overwhelmingly "WEIRD." The acronym stands for "Western, educated, living in industrialized, rich and democratic countries." Allowing scientific studies to draw on such a narrow pool of participants, she says, can only lead to badly skewed findings with little relevance on a global scale.
Sharon is already an experienced researcher, having attended the Undergraduate Research Scholars Academy—a ten-day research residency at Loyola Marymount University for high-achieving, underrepresented SMC students. During the residency at the Westchester campus, Sharon presented her own research into children's self-control and social justice issues before a large academic audience back in 2015. It was the culmination of a year's worth of independent study, mentoring and workshops on everything from research ethics to time management to the 30-second elevator speech.
"From the moment I arrived, I loved it, and knew I wanted to transfer there," she says, recalling her first impression of LMU.
Look for this ambitious Corsair to keep making a difference in the years ahead. After her doctorate, she says she'll apply for a Fulbright to return to India to conduct meaningful psychological research. It's a safe bet that research will be sustainable, conducted in fluent Punjabi and decidedly not WEIRD.
* * *