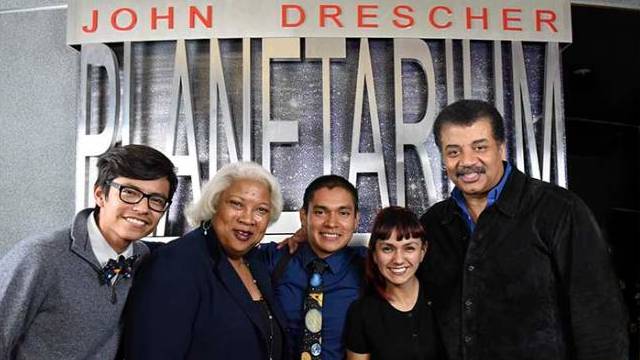 · The SMC Drescher Planetarium had a star visit—of the flesh-and-blood kind. World-famous astrophysicist Neil deGrasse Tyson was on campus on Friday, June 9 to film an as-yet-undisclosed project. Three lucky SMC STEM students—Jorge Enriquez; Catalina Lorenza Lee; and Angel Mendoza—were told to dress for a photo op with college president Dr. Kathryn Jeffery. When they showed up, they were over the moon to find that one of their idols was just a few feet away. Dr. Tyson graciously signed copies of his latest book, "Astrophysics for People in a Hurry" and gave them sage advice for their careers: "Keep looking up!"
· Dr. Eric Williams, professor and faculty leader of the Nursing department, was the only community college inductee of 2017 into the American Academy of Nursing. The American Academy of Nursing selected 173 highly distinguished nurse leaders as its 2017 class of Academy fellows, and these inductees will be honored at a ceremony to be held during the Academy's annual policy conference in Washington, D.C. this October. The Academy fellows include hospital and government administrators, college deans, and renowned scientific researchers.
· SMC will have a representative at the Tenth Gay Games to be held in Paris, France next year in August! Bookstore buyer Jo Popadynetz received an invitation, which kicks off yearlong training in all of the International Latin Dance styles. Lots of rehearsals and intensive physical therapy to recover from hamstring reattachment surgery are in the cards—but we'll be cheering her on.
· Sustainability project manager Ferris Kawar shared pictures from Tom Steyer's visit at the Center for Environmental and Urban Studies. Steyer, potential candidate for California Governor in 2018 and environmental philanthropist, wanted to meet SMC students in an intimate round table setting to hear firsthand about the education they are receiving on environmental issues especially as they relate to climate change and social justice. Steyer is the founder of national non-profit Next Gen America.
· Deirdre Weaver, Director of Student & Alumni Relations, is proud to share news from the capital…from our 2017 Dale Ride interns! Read their blog on the adventures and transformative experiences they had this summer.
· The SMC Photo/Fashion Department has a very detailed—and very brag-worthy—brag: The annual fashion show LA Mode 2017 was another big hit, showcasing the designs of students from La Tanya Louis' Fashion Show Production class, with global collections led by Jan Ardell. It was a true collaboration: Lorrie Ivas organized the panel of judges and their promos; Robert Wynn Armstrong oversaw the technology; Ed Mangus and Lorrie Ivas co-hosted the event; Josh Withers' and Ed Mangus' students did all the live-show and post-show photography; Lloyd Lowe, Jr. directed the designer interview clips; cosmetology students, led by Helen LeDonne, did hair and makeup, and Deborah Perret did the honors for the post-show honors, with La Tanya Louis coordinating designers and models, and Lorrie Ivas assisting as stylist. The event left our students' portfolios brimming full, and judges from the fashion industry voted on the following award categories of exceptional Marketability (Nozomi Nagahasu), Creativity (Kenta Tanaka and Sonia Alvarez), Technical Achievement (Nozomi Nagahasu and Kenta Tanaka), Sustainability Awareness Award (Nikkia Sipes and Ashley Ostendorf) and Outstanding Collection (Kenta Tanaka). After the show, two students were offered full-time jobs and several requests for runway orders were made!
· Lovers of the Los Angeles County Museum of Art —and fans of Santa Monica College students—rejoice! Art department chair Ronn Davis is proud to report that LACMA recently acquired SMC alum Carmen Argote's monumental sculpture 720 Sq. Feet: Household Mutations, for which Argote tore out the multi-room carpet that once covered the floors of her childhood home and resituated it in a gallery setting. This piece is currently on view at LACMA in the exhibition Home—So Different, So Appealing through October 15. Argote is also included in current exhibitions at the Denver Art Museum and the Orange County Museum of Art.
· Talk about rising to the top! The SMC Government Relations and Institutional Communications department garnered eight awards from the Community College Public Relations Organization (CCPRO)—five of these were 1st place awards in the following categories: Charles Cropsey Photography, Online Newsletter (SMC in Focus), Commencement Program, Social Media Management, and Folder. SMC also won 2nd place awards for College Promotional Video and Class Schedule; and 3rd place in the Brochure category.
· The Halsey Institute in Charleston, South Carolina will unveil, on August 25, "American Purgatory" an exhibition of SMC Art Professor Marc Trujillo's paintings; the show will be on view through October 7. Marc's paintings feature scenes that are "remarkably unremarkable" and present an anti-place: scenes that refer not to a specific place, but to uncannily similar tableaus that unfold every day in communities across America.
· Trustee Nancy Greenstein retired from the UCLA Police Department—after over 20 years of service as the Director of Community Services. Nancy was honored at a ceremony, during which a resolution from LA County Supervisor Sheila Kuehl and a plaque from her student employees from the Emergency Medical Technician Program was presented.
· Greg Schreiner, Associate Professor of Music who teaches piano, has a rather unique hobby—and one that has given him the opportunity of performing well-received shows: Greg collects old movie costumes, and this year he took his show Hollywood Revisited, to West Palm Beach, Florida by invitation of world renowned pianist/ singer/conductor Michael Feinstein. Also on the program were organist Cameron Carpenter, Broadway star Alan Cumming, opera singer Denyce Graves and pop singer Neil Sedaka.
· An instructional assistant in the English Department is a newly minted book coach! Vanessa Finney recently edited a forthcoming memoir by a Holocaust survivor and social visionary, and she's just begun co-writing an entrepreneurial memoir called If You Make It, I'll Buy It.
· English professor Mario Padilla's story collection Scales and Other Stories is currently a finalist in Snake Nation Press's Serena McDonald Kennedy Award for a collection of short fiction.
· SMC's noncredit program has a couple brags: the college held its first-ever Technical Resource Fair at the Emeritus campus June 6, 2017. Over 150 students participated, and companies that took part included Wise & Healthy Aging, Uber, Nancy's Tech Help for Older Adults, Microsoft, Junior Blind of America, EmpowerTech, and AARP Fraud Network Watch. Special thanks to Cindy Ordaz, Administrative Assistant II, for organizing! And, on a more personal note, Laura Manyweather, who helps run the college's noncredit program, participated in CSU Long Beach's commencement this May; Laura is completing her Ed.D. in Educational Leadership with an emphasis on Community Colleges. Also: Dr. Dione Carter, Dean of Noncredit and External Programs, was appointed as the Council Leader for the statewide Association of Community and Continuing (Noncredit) Education (ACCE).
· Megumi Smith, SMC Percussion Ensemble Director, is proud to share a great experience the ensemble had: SMC students taught some basic percussion to the students of the Youth Orchestra at the Heart of Los Angeles (YOLA at HOLA) where Megumi also teaches percussion, and then performed an outdoor concert. It was a wonderful moment for both the SMC and YOLA students. YOLA is supported by the LA Philharmonic and is based on the el Sistema program of Venezuela. Gustavo Dudamel, who went through el Sistema, initiated the program.
· SMC's TRIO/Upward Bound—a pre-college program sponsored by the U.S. Department of Education—pulled together an engaging workshop called "Bite of Reality" in partnership with Kinecta Federal Credit Union of Santa Monica last month. Upward Bound is a program designed to prepare teens for college—some of who are the first in their family to go to college. The students were informed on financial steps they need to take for their future and for college—and they enjoyed pizza for lunch!
* * *
The slideshow at the top of this page also features the prize-winning photos of the following Santa Monica College employees sporting their "SMC pride" this summer: Journalism professor Sharyn Professor; Maintenance Electrician Omar Plascencia; and SMC Police Officer Ruben Cadena. Congratulations!